Celebrate This Year's Oktoberfest With Rabona Casino
Look at the bright side of gambling. The iGaming Industry has evolved to such an extent that it provides online casino players with various forms of entertainment. Online casino operators feature thrilling promotional campaigns inspired by the upcoming holidays in order to make punters exude an air of pleasure. As Oktoberfest is coming you might be in the mood of drinking a pint of beer. Oktoberfest is a fest where men wear light leather shorts and the accordion player gets the chicks. Sounds intriguing, doesn't it? Unfortunately, this year you might not be able to celebrate the holiday as you are used to. Luckily, Rabona Casino knows how to entertain its players and for that reason, the reputable online casino is running a campaign energized by the spirit of Oktoberfest. Cheers!

Oktoberfest is at Rabona Casino
Because of the current situation, we will not be able to celebrate Oktoberfest as usual. However, this does not mean that you cannot have some fun. Fill in your pint with winnings in Rabona Casino's themed competition. Collect points for the leaderboard and place your hands on the amazing prize pool of €3,000. Wait, that is not all! 200 of the top players will have the amazing chance to enjoy an additional €1,000 prize pool from a raffle that will be held following the completion of the competition. Their tickets- the amount they have wagered on the raffle's qualifying slots. Nevertheless, keep in mind that you will need to comply with some easy-to-follow rules before participating. The first point to bear in mind is that you should be a fully registered member at Rabona Casino. Apart from the amazing opportunity to participate in the Oktoberfest raffle, you will have exclusive access to the most thrilling slots in the industry and some of the most generous bonus offers ever. What is more, you will be required to place some bets on the qualifying slots in order to be eligible for participation. Amongst the qualifying games, you will notice titles such as Lucky Oktoberfest, Spinning Beers, Oktober Spin fest, Oktoberfest, and Heide at the Oktoberfest.
Prize Pool of the Competition
Rabona Casino is renowned for giving away generous prizes when it comes to its promotional campaigns. The Oktoberfest raffle does not make any difference. Oktoberfest tournament runs between 18.09.2020 and 04.10.2020, meaning that you have plenty of time. The prize pool of the tournament consists of €3,000 plus additional €1,000. Moreover, for every €1 or currency equivalent stakes, the player will receive one point towards the scoreboard. At the end of the raffle, the players who finish at the top of the leaderboard will receive amazing rewards. Below you can see what are the potential prizes you might happen to win.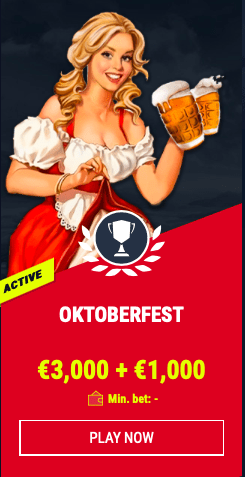 1st Place- €600

2nd Place- €350

3rd Place- €250

4th Place- €200

5th Place- €150

6th Place- €100

7th Place- €90

8th Place- €80

9th Place- €70

10th Place- €60

11th- 15th Place- €50

16th- 20th Place- €40

21st- 30th Place- €30

31st- 40th Place- €20

41st- 50th Place- €10
However, that is not everything! The participants who managed to secure a rank in the top 200 in the Oktoberfest tournament will participate in a special raffle where each 1 EUR they have wagered on the selected games during the promotional period will grand them 1 ticket. The draw will be held on the 5th of October and you can win the following prizes:
1x €250

3x €100

5x €50

20x €10
In terms of the prizes, they will be credited to the customer accounts within 72 hours of the tournament's end. Most importantly, rest assured that you will not be required to comply with any wagering requirements.
Final Considerations
Rabona Casino is an innovative online casino operator. Constantly replenishing its game library with the latest releases from top providers, the brand conveniently categorizes them for you. Also, Rabona Casino is famous for offering a fun and pleasant gaming environment to its players. Currently, the famous and respected online casino invites you to celebrate Oktoberfest with them. Fill in your pint of beer and start winning big with Rabona. Nevertheless, before doing so, make sure you read carefully the terms and conditions of the promotional campaign. Last but certainly not least, we do encourage you to play responsibly, without being tipsy of course, and we wish you a bit of good luck and amazing winnings.

Finally, you can still take advantage of our overall listing of the best online casinos, currently, on the market, so do not miss this exciting opportunity.

First deposit bonus:
1. 100%/€500+100 FS or...
2. 200%/€100 or...
3. €200 Casino CashBack
Review

First Deposit Bonus:
100%/500€/$ + 200 FS

Review

First deposit bonus:
100%/500€ + 250FS
Review

First Deposit Bonus:
100%/250€ + 15 FS
Review

First deposit bonus:
125%/100€ + 50FS
Review




Exclusive Bonus:
125%/500€ + 250 FS
Review

Welcome Pack:
1000 EUR + 50 FS on "Book of Dead"

Review

First deposit bonus:
20 FS + 100% Bonus + 50 FS
Review

First Deposit Bonus:
100%/300€/$ + 150 FS

Review

First deposit bonus:
100%/500€ + 200FS

Review




First Deposit Bonus:
100%/300$ + 100 FS

Review

First Deposit Bonus:
100%/$300 + 100FS

Review

10% Daily Cashback

Review

First deposit bonus:
100%/300€ + 300FS
Review

First Deposit Bonus:
100%/1,500$/£/€ + 200 FS

Review




First Deposit Bonus:
100%/300$ + 300 FS

Review

First Deposit Bonus:
100%/€200 + 60 FS

Review

First Deposit Bonus:
200%/100€ + 25 FS

Review

First Deposit Bonus:
100%/500€

Review

First deposit bonus:
100%/300€ + 200FS
Review



First Deposit Bonus:
100%/300€

Review

First deposit bonus:
200%/2500€ + 50 FS
Review

25% Cashback

Review

First deposit bonus:
100%/1500$
Review

Total bonus package:
575%/1750$ + 290 FS
Review




First deposit bonus:
100%/200€ + 100 FS

Review

First deposit bonus:
200%/300$ + 125FS
Review

First deposit bonus:
100%/200€ + 50 FS
Review

First Deposit Bonus:
120%/240€

Review

First Deposit Bonus:
100%/250$ + 100 FS

Review



7 different welcome bonuses

Review

First deposit bonus:
100%/500€ + 100 FS
Review

First deposit bonus:
100%/500€ + 200FS
Review

First Deposit Bonus:
150%/350€ + 50FS

Review

First Deposit Bonus:
100%/500€/$

Review