No Tricks, Just Treats This Halloween At Twin Casino
Halloween is Coming
Halloween is one of the most fascinating holidays. Over the centuries, Halloween has evolved from a way of begging for food to one of the most commercialized days of the entire year. Being the second-largest commercial holiday, Halloween is particularly important for the iGaming Industry as well. This is because all famous and respected online casino operators begin to host thrilling Halloween 2020 Casino Bonuses and promotional campaigns in an attempt to attract as many players as possible. Even though it is not a demanding task to find a spooky offer, it is difficult to find the promotion that will live up to your expectation. Fortunately, our team of professionals is here to assist. This time, we would like to bring to your attention to the most recent Halloween- inspired promotional campaign, organized by Twin Casino.

Twin Casino Did It Again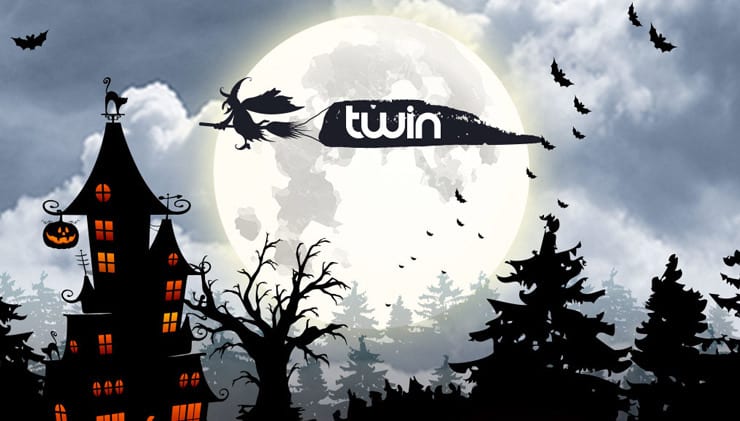 Twin Casino is a clear-cut online casino operator created for those who love casino games and good online entertainment. The brand is renowned for making ordinary things extraordinary and thus, it has been internationally recognized as one of the most promising operators in the iGaming Industry. What the brand strives to achieve is to bring the fundamentals of casino play to the forefront and root them in great user-functionality. Building upon its resounding success, Twin Casino has been doing its utmost in order to ensure a safe and secure gambling environment to its players as well as the most thrilling experience possible. Additionally, Twin Casino is famous for being a party animal. It appears that the reputable operator is preparing for some Halloween celebration as it is offering to its new players no tricks, just treats this Halloween. Make sure you join Twin Casino this Halloween and you will walk away with a goodie bag full of tasty treats. In fact, Twin Casino already offers a special welcome bonus of two separate 100% cash match deposits of up to €200 each + 200 Free Spins for all new members. Nevertheless, in order to make this Halloween more special, Twin has added another surprise for all those who enter this casino's haunted house. In particular, all newly registered punters will be given 166 extra Free Spins to play on the slot game Helloween, created by Play'n GO. Now, let's make the maths. Each new casino player will be eligible to land up to €400 cash + 400 Free Spins to play on the slot game Book of Dead, as well as an extra 166 Free Spins in Halloween style; that totals 566 Free Spins. Nevertheless, in order to claim this significant offer, you will need to comply with some general rules. Apart from activating a new account, you will need to make a deposit of just €10 and make use of the following bonus code: TREAT. Do not waste your time as the promotional offer is valid until the 31st of October 2020.
Why Choose Twin Casino
We definitely believe that Twin Casino deserves your attention. This is because this is a brand which has proven to deliver nothing but excellence. The renowned online casino operator shares the view that the most ordinary things become extraordinary when you do them the right way. So, that is what Twin Casino does- it makes it better, simpler, and a lot more fun. What is more, by delivering excellent games, great promotional campaigns and offers, and cutting-edge user-functionality that gives you an unparalleled casino experience, it comes as no surprise that Twin Casino has become so popular amongst punters. Game developers such as NetEnt, Microgaming, Pragmatic Play, and many more will take care of your overall well-being while gambling. Besides, behind Twin, there is a team of driven individuals with extensive experience from the iGaming Industry. In other words, the team of the casino knows exactly what each type of casino player wants and does its best to ensure that it can be found on the casino's website. Last but certainly not least, the operator works in compliance with the law, which is of paramount importance when it comes to the iGaming market. Twin Casino is run under a European gaming license, issued by the Malta Gaming Authority. The MGA is an independent regulatory authority body that makes sure casinos adhere to the practices and regulations that apply to online casinos in Europe. This means that Twin follows the most rigorous practices when it comes to player's protection and responsible gaming. Therefore, we wholeheartedly can recommend this awesome brand to you.
To Summarize
Twin Casino is a brand which deserves to be given a try. The brand puts immense efforts into entertaining its customers and so far we believe that it has achieved a resounding success. Moreover, Twin's huge selection of the latest and most popular games constantly offers players the chance of life-changing bonuses, which can be viewed on Twin's regularly updated promotions page. This Halloween, Twin has started with the celebration quite earlier as it is in a spooky mood. Make sure you become a member of Twin before the 31st October 2020 to grab a goodie bag with amazing bonuses hidden inside. All you need to do is set up an account, make a deposit and use the 'TREAT' bonus code. Be that as it may, make sure you familiarize yourself with the terms and conditions of the Halloween-inspired promotion as we do not want you to be disappointed in the end. Lastly, we encourage you to play responsibly and we wish you a stroke of good luck and many treats this Halloween. Happy Halloween Twinners, get ready for your most magical treat under this month's full moon!

Finally, you can still take advantage of our overall listing of the best online casinos, currently, on the market, so do not miss this exciting opportunity.