Play'n GO Continues Ambitious Release Year With Dawn Of Egypt
There are many reasons why online casino players prefer online slots. The clang of the bells when winning and the entertainment value of slots makes them a great way to spend your spare time. Whether going to a traditional casino of visiting an online operator, slot machines are a wonderful choice to maintain your overall well-being, not to mention the big winnings possible. However, playing online slots at an online casino has many positive aspects, which you cannot experience in a traditional casino. For instance, they offer better payback percentage odds and a variety of different games. Likewise, you can play from the comfort of your home and increasing your bank account while wearing your pyjamas. Nevertheless, in order to take full advantage of a particular slot, you must be able to work out which one fits your requirements perfectly. For that reason, you need to try out a great number of games so as to rest assured that you have found the best game. Our team of experts, on the other hand, is here to assist you. We regularly research what the leading game suppliers can offer and as a result, bring these offerings to your attention. This time we found out Play'n GO's latest release, Dawn of Egypt. Even though the game seems to be similar to many others, it is definitely a bolt from the blue.

Dawn Of Egypt Slot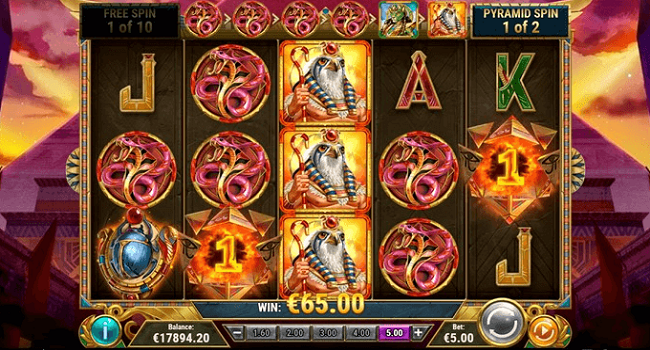 Play'n GO continues ambitious release year with its latest addition to its tremendous portfolio, Dawn of Egypt. The renowned game supplier has recently announced the latest title out of its stable, as part of the brand's 52-game release year. Dawn of Egypt is a 5-reel slot with a focus on amazing symbols. Likewise, the game is set in an alternate reality where ancient Egypt is governed by the great god Ra. Did you know that the first temple dedicated to Ra was built at Abusir by Pharaoh Userkaf? Since then, Ra was regarded as the supreme power in the cosmic universe. Gaining on Ra's significance, many stories and legends were inspired by the most powerful deity. Thus, online slots in which you have the opportunity to meet god Ra are one of the most widespread and thereby most preferred within players. What is more, Play'n GO is famous for the quality of its Egyptian-themed games, a favorite among regular slot players. Besides, Dawn of Egypt is the second Egyptian release following the brand's 2020 debut Legacy of Dead.

Ambition And Drive For Success
Play'n GO has the ambition to launch 52 games throughout the year. This perfectly exemplifies the brand's ambition and drive to deliver the most diverse content in the entire gambling industry. So far, we believe that their attempts are successful as we look forward to trying every release by the supplier. Until now, Play'n GO released titles such as Wildhound Derby, Wild Blood II and Coywolf Clas. More importantly, there are plenty more on the horizon. Furthermore, the CEO of the industry leaders, Johan Törnqvist spoke about the immense importance of variety. "We have already given the market a lot of variety so far this year, and that will continue, but you also have to give your audience things they want, as well as showing them something new, it's a delicate balance and one which we respect in our plans." We wish Dawn of Egypt slot a stroke of good luck and we cannot wait to get to know who will be the next lucky player from the slot.

Final Considerations
Dawn of Egypt is the latest offering by Play'n GO. The online slot has amazing features you want to experience first-hand for sure. These include Scatter Pyramid, Wild Scatter and Pyramid Spins rounds. Earn up to 20 Pyramid Spins and you will have the chance of winning up to 5000x your bet. By and large, the game appears to satisfy even the most demanding player's needs. Hence, we wholeheartedly encourage you to give it a go. In order to do so, you need to visit a Play'n GO-powered online casino. These include brands such as Casoo Casino, King Billy Casino and ZetCasino. Nevertheless, keep in mind that this list is not exhaustive, meaning that you can gain access to the game at many different operators. Last but certainly not least, we advise you to play responsibly and we wish you a bit of good luck.
Finally, you can still make use of our overall listing of the best online casinos right now, so give it a go.

First deposit bonus:
1. 100%/€500+100 FS or...
2. 200%/€100 or...
3. €200 Casino CashBack
Review

First Deposit Bonus:
100%/500€/$ + 200 FS

Review

First deposit bonus:
100%/500€ + 250FS
Review

First Deposit Bonus:
100%/250€ + 15 FS
Review

First deposit bonus:
125%/100€ + 50FS
Review




Exclusive Bonus:
125%/500€ + 250 FS
Review

Welcome Pack:
1000 EUR + 50 FS on "Book of Dead"

Review

First deposit bonus:
20 FS + 100% Bonus + 50 FS
Review

First Deposit Bonus:
100%/€500 + 100 FS

Review

First deposit bonus:
100%/500€ + 200FS

Review




First Deposit Bonus:
100%/300$ + 100 FS

Review

First Deposit Bonus:
100%/$300 + 100FS

Review

10% Daily Cashback

Review

First deposit bonus:
100%/300€ + 300FS
Review

First Deposit Bonus:
100%/1,500$/£/€ + 200 FS

Review




First Deposit Bonus:
100%/300$ + 300 FS

Review

First Deposit Bonus:
100%/€200 + 60 FS

Review

First Deposit Bonus:
200%/100€ + 25 FS

Review

First Deposit Bonus:
100%/500€

Review

First deposit bonus:
100%/300€ + 200FS
Review



First Deposit Bonus:
100%/300€

Review

First deposit bonus:
200%/2500€ + 50 FS
Review

25% Cashback

Review

First deposit bonus:
100%/1500$
Review

Total bonus package:
575%/1750$ + 290 FS
Review




First deposit bonus:
100%/200€ + 100 FS

Review

First deposit bonus:
200%/300$ + 125FS
Review

First deposit bonus:
100%/200€ + 50 FS
Review

First Deposit Bonus:
120%/240€

Review

First Deposit Bonus:
100%/250$ + 100 FS

Review



7 different welcome bonuses

Review

First deposit bonus:
100%/500€ + 100 FS
Review

First deposit bonus:
100%/500€ + 200FS
Review

First Deposit Bonus:
150%/350€ + 50FS

Review

First Deposit Bonus:
100%/500€/$

Review