Play'n GO Has Introduced A New Sports-Themed Title, Wildhound Derby
Sport provides a sense of belonging, a connection to a wider world. People like sports because it is aesthetically pleasing. Moreover, they like sports because, like the theatre, it is a venue for emotional expression. As a result, all leading game suppliers regularly launch new sports-themed video slots. So, do you enjoy playing sports? Further, do you love gambling? If so, now you have the opportunity to benefit from both at the same time. After just recently launching its first video slot of the new year, the reputable developer Play'n GO has now introduced its latest title, Wildhound Derby.
Wildhound Derby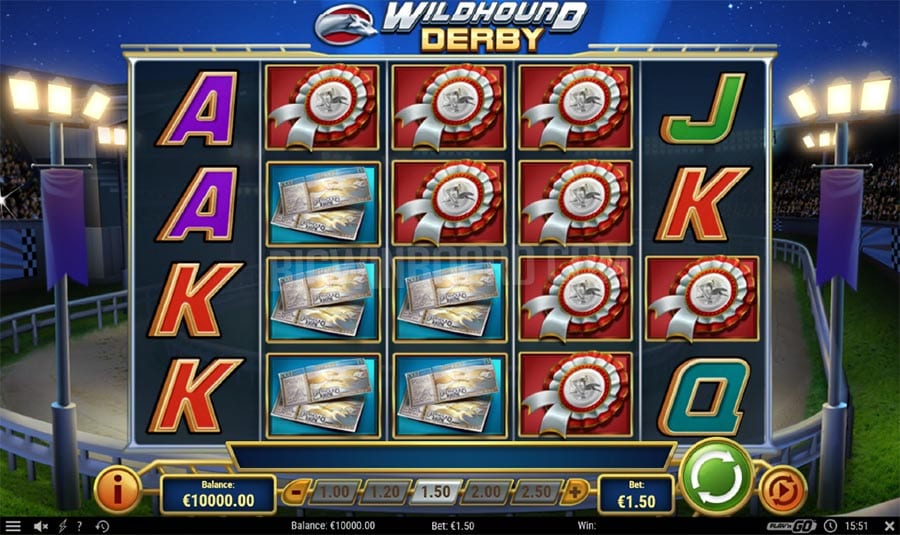 Play'n GO has proven to introduce some of the most exciting titles in the gambling industry. Hence, it comes as no surprise why many online players prefer to make use of the brand's extensive portfolio. Recently, the Swedish games developer revealed its latest sports-themed title, Wildhound Derby. This is a 5 reel, 4 row and 30 fixed pay lines slots which allows players to experience the magic of the fading sport of Greyhound racing first-hand. But have you heard of Greyhound racing? This is an organized, competitive sport in which greyhounds are raced around a track. So if you are scared of dogs and yet enjoy their presence, you can benefit from Play'n GO's latest title. Players will love the excitement and the fun of watching the dogs race, and the possibility of encountering a big win. What is more, the game is set at the dog track where crowds of sports betters support their favorite pooch. In terms of the symbols, they include a betting slip, a winner's ribbon, a form guide and cash. Likewise, the game has very high volatility, meaning that you can easily boost your revenues from this particular slot.
Features Of The Title
Apart from the interesting graphics, players will be taken aback by the outstanding features the slot offers. For instance, the game comes with five Wilds. These include the Winner's Cup, the Wildhounds of the game, Braveheart. Daring Dex, Beadle's Teabag and Oh My Dog. Furthermore, players will look forward to activating the extra spin feature. Dog Race is the slot's extra spin feature, allowing players to choose the greyhound they believe will win the race. To add more excitement, they will have the opportunity to cheer the dog in its attempt to cross the finish line first. All in all, there are exciting features, you can make use of.
Final Considerations
Play'n GO is not famous for launching sport-themed titles. However, in the brand's relentless pursuit of innovation, we can expect many sports-related titles this year. This is because this year is expected to be one of the strongest for the game suppliers. Play'n GO's main objective this year is to launch 52 brand new games, so it remains to see what will happen in due course. Likewise, John Törnqvist used an official press release to express his view on Wildhound Derby slot. "Wildhound Derby is an exciting example of what you can expect from us this year. It's a thrilling game with a new type of feature, not seen from us before. Players will love the excitement and the fun of watching the dogs race, and the possibility of a big win! We love innovating what we do at Play'n GO, and this is just one example of how we intend to innovate throughout 2020." Thus, if you are interested in such video slots, we definitely encourage you to give it a go. You can do so when you visit one of the online casinos which collaborate with Play'n GO. These include Casoo Casino, ZetCasino and Nomini Casino. However, bear in mind that the list is not conclusive, meaning that you can experience the slot at many different online operators. Lastly, we encourage you to play responsibly and we wish you good luck!
Finally, you can still make use of our overall listing of the best online casinos right now, so give it a go.

First deposit bonus:
1. 100%/€500+100 FS or...
2. 200%/€100 or...
3. €200 Casino CashBack
Review

First Deposit Bonus:
100%/500€/$ + 200 FS

Review

First deposit bonus:
100%/500€ + 250FS
Review

First Deposit Bonus:
100%/250€ + 15 FS
Review

First deposit bonus:
125%/100€ + 50FS
Review




Exclusive Bonus:
125%/500€ + 250 FS
Review

Welcome Pack:
1000 EUR + 50 FS on "Book of Dead"

Review

First deposit bonus:
20 FS + 100% Bonus + 50 FS
Review

First Deposit Bonus:
100%/300€/$ + 150 FS

Review

First deposit bonus:
100%/500€ + 200FS

Review




First Deposit Bonus:
100%/300$ + 100 FS

Review

First Deposit Bonus:
100%/$300 + 100FS

Review

10% Daily Cashback

Review

First deposit bonus:
100%/300€ + 300FS
Review

First Deposit Bonus:
100%/1,500$/£/€ + 200 FS

Review




First Deposit Bonus:
100%/300$ + 300 FS

Review

First Deposit Bonus:
100%/€200 + 60 FS

Review

First Deposit Bonus:
200%/100€ + 25 FS

Review

First Deposit Bonus:
100%/500€

Review

First deposit bonus:
100%/300€ + 200FS
Review



First Deposit Bonus:
100%/300€

Review

First deposit bonus:
200%/2500€ + 50 FS
Review

25% Cashback

Review

First deposit bonus:
100%/1500$
Review

Total bonus package:
575%/1750$ + 290 FS
Review




First deposit bonus:
100%/200€ + 100 FS

Review

First deposit bonus:
200%/300$ + 125FS
Review

First deposit bonus:
100%/200€ + 50 FS
Review

First Deposit Bonus:
120%/240€

Review

First Deposit Bonus:
100%/250$ + 100 FS

Review



7 different welcome bonuses

Review

First deposit bonus:
100%/500€ + 100 FS
Review

First deposit bonus:
100%/500€ + 200FS
Review

First Deposit Bonus:
150%/350€ + 50FS

Review

First Deposit Bonus:
100%/500€/$

Review