Set Sail with Captain Glum: Pirate Hunter Slot, a Thrilling High Seas Adventure
Ahoy, mateys! Get ready to embark on a swashbuckling journey with Captain Glum: Pirate Hunter, the latest release from renowned software provider Play'n GO. While pirate-themed slots are aplenty, Captain Glum brings a unique twist to the genre by placing you in the shoes of a fearless pirate hunter. Prepare to sail the treacherous seas, seek out notorious buccaneers, and claim your share of the hidden treasures.
Captain Glum: Pirate Hunter Slot – Make Your Foes Walk the Plank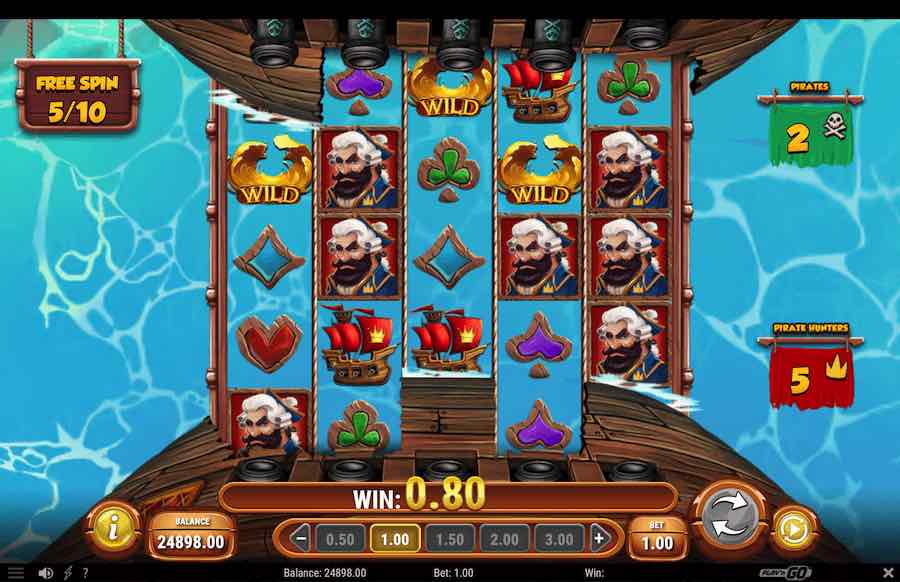 Captain Glum Pirate Hunter takes a refreshing approach to the pirate slot theme, offering players a bird's eye view of the action. The game's backdrop features picturesque blue seas, golden sandy beaches, and lush palm trees. However, don't be fooled by its friendly and cartoony appearance—Captain Glum Pirate Hunter packs a punch when it comes to excitement and rewards.
Setting sail on any device, from 5 pence/cents per spin up to £/€100 per spin, Captain Glum Pirate Hunter offers a maximum return to player (RTP) value of around 96%. The game unfolds on a 5-reel grid with 3 rows as the default setting, but brace yourself for expanded reels during the free spins feature. With a high volatility level, every spin is filled with anticipation and the potential for big wins.
When it comes to symbols, Captain Glum Pirate Hunter showcases 8 regular paying icons. These include low-pay diamonds, spades, clubs, and hearts, as well as pirate ships, pirate hunter ships, a cunning pirate, and the legendary Captain Glum himself. Look out for the Wake Wilds, which not only substitute for any pay symbol but also carry the same value as Captain Glum, increasing your chances of securing wild wins.
Prepare for an arsenal of exciting features as you navigate the high seas. The base game introduces the Permanent Wild, a symbol that is always present on the middle three reels. This wild moves to a new position on each regular spin and can substitute for any symbol except the scatter. Additionally, the Captain's Due feature is triggered when one or more scatter symbols land, replacing a chosen scatter with the Permanent Wild and creating additional Wake Wilds.
The real adventure unfolds during the free spins bonus round, which is triggered by landing 3 or more scatter symbols in the base game. As the reels spin, players are treated to a thrilling battle between Pirate Hunter and Pirate flagships. The Broadside feature comes into play, with ships firing at each other and destroying segments of the hull. This destruction can expand the reels up to 5 positions in height, enhancing your chances of forming lucrative winning combinations. Cannons require time to reload, taking 1, 2, or 3 spins, adding to the suspense and anticipation.
But the excitement doesn't end there. As the battle rages on, points are awarded when flagships sink their opponents' ships. If the Pirate Hunters come out victorious, the Treasure Hunt feature is triggered. This thrilling feature presents players with three treasure chests, each hiding a multiplier of x2, x3, or x10. The chosen multiplier is then applied to the total win achieved during the free spins round, potentially leading to massive payouts.
Our Final Thoughts
With its engaging gameplay, vibrant visuals, and rewarding features, Captain Glum: Pirate Hunter offers a high-seas adventure like no other. While it may not boast the grim and gritty atmosphere of traditional pirate slots, the game's charm and potential for massive wins, up to 9,000 times the bet, make it a captivating choice for players seeking thrilling escapades on the reels.
So, don your captain's hat, grab your cutlass, and prepare to set sail with Captain Glum: Pirate Hunter. Play'n GO has crafted an immersive and action-packed slot that promises hours of entertainment and the chance to uncover untold riches. Get ready to navigate the treacherous waters, outwit cunning pirates, and emerge victorious in this thrilling high seas adventure!