Win A Brand New Audi A1 From PlayOJO's Catch A Car Spinoff
Fancy getting behind the wheel of a brand new Audi A1? If you want to experience first-hand this luxury motor, then we have some great news for you. PlayOJO has launched an exciting spinoff competition. This amazing online casino competition could put you in the driving seat to win this thrilling prize. The fairest online casino in the UK invites you to take part in its brand new spinoff Catch A Car, which gives all fully registered casino players a chance to win an Audi A1 car. Money cannot buy you happiness but it can but you an Audi. Actually, PlayOJO provides you with the opportunity to have one while letting off the steam from the comfort of your home.

Catch A Car Spinoff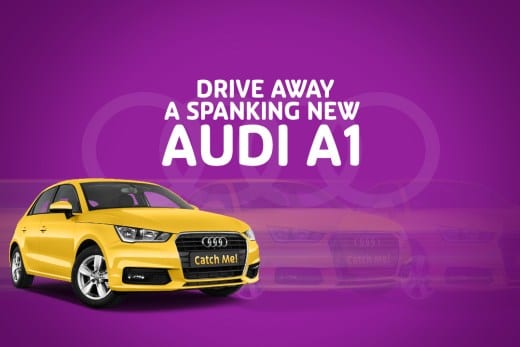 This month, PlayOJO is giving away a spanking new Audi A1 in an exciting new spinoff. If you would like to get your hands on this flashy pair of wheels, you should fill your tank, put your foot on the gas and head to PlayOJO's Catch A Car spinoff. Whoever finishes at 1st position on the leaderboard will drive away with a brand new car. As a result, we encourage you to speed on over to PlayOJO's Catch A Car spinoff between the 1st and 30th of April 2020 to compete in the ultimate race to win yourself a shiny new car. As usual, in order to take part in the raffle, you will need to comply with some general rules. To begin with, you should be a member of PlayOJO. If you have not set up your account with the reputable online operator yet, we advise you to do so in due course as you will be able to engage with the casino's stunning promotional campaigns. What is more, after logging in, you will have to go to OJO's Catch A Car spinoff. Following this, you must buy a ticket for £1. Each ticket triggers 20 Tournament Spins on Spinning Wilds and the result of the 20 spins is added to the spinoff leaderboard. Rest assured that you can enter the spinoff as many times as you like. Play your Tournament Spins and the wins will convert into points. The more points you gain towards the scoreboard, the higher you chances of walking away with a new car are.
What To Keep In Mind
We believe that you look forward to signing up for this amazing online casino competition. At the end of the Catch A Car spinoff, the best performing player will be awarded an Audi A1. The exact model of the car is an Audi A1 Citycarver 30 TFSI 6-speed petrol with a manual gearbox and no extras. The colour of the car will be shell white. Furthermore, the lucky player will have the opportunity to add upgrades to the car, however, the winner will have to cover the cost of upgrades. Additionally, the winner can choose between claiming the car of a cash alternative of €10,000 in its equivalent currency instead. A further point you might want to take into account is that it will take a minimum of 45 days for PlayOJO to complete the delivery of the Audi A1 car. Last but certainly not least, PlayOJO is not responsible for taxation fees such as license, insurance, registration fees, or other expenses related to the ownership and driving of the car. Accordingly, PlayOJO is not liable for any damages that occur during the transportation, delivery or pick-up of the car. It sounds fair, doesn't it? Why not find the most comfortable place at your home and enter the Catch A Car spinoff.
Final Considerations
PlayOJO features a stunning Catch A Car spinoff which will run between April 1st and April 30th. You can take part in the spinoff by simply going to the operator's website and buying a ticket for €1. Gain point towards the leaderboard and drive away with a brand new Audi A1 Citycarver. Nevertheless, before making up your mind to participate in the Catch A Car spinoff, we wholeheartedly encourage you to read thoroughly the terms and conditions of the promotion. Lastly, we advise you to play responsibly and we wish you a bit of good luck and a flashy new Audi A1.

Finally, you can still make use of our overall listing of the best online casinos right now, so give it a go.

First deposit bonus:
1. 100%/€500+100 FS or...
2. 200%/€100 or...
3. €200 Casino CashBack
Review

First Deposit Bonus:
100%/500€/$ + 200 FS

Review

First deposit bonus:
100%/500€ + 250FS
Review

First Deposit Bonus:
100%/250€ + 15 FS
Review

First deposit bonus:
125%/100€ + 50FS
Review




Exclusive Bonus:
125%/500€ + 250 FS
Review

Welcome Pack:
1000 EUR + 50 FS on "Book of Dead"

Review

First deposit bonus:
20 FS + 100% Bonus + 50 FS
Review

First Deposit Bonus:
100%/300€/$ + 150 FS

Review

First deposit bonus:
100%/500€ + 200FS

Review




First Deposit Bonus:
100%/300$ + 100 FS

Review

First Deposit Bonus:
100%/$300 + 100FS

Review

10% Daily Cashback

Review

First deposit bonus:
100%/300€ + 300FS
Review

First Deposit Bonus:
100%/1,500$/£/€ + 200 FS

Review




First Deposit Bonus:
100%/300$ + 300 FS

Review

First Deposit Bonus:
100%/€200 + 60 FS

Review

First Deposit Bonus:
200%/100€ + 25 FS

Review

First Deposit Bonus:
100%/500€

Review

First deposit bonus:
100%/300€ + 200FS
Review



First Deposit Bonus:
100%/300€

Review

First deposit bonus:
200%/2500€ + 50 FS
Review

25% Cashback

Review

First deposit bonus:
100%/1500$
Review

Total bonus package:
575%/1750$ + 290 FS
Review




First deposit bonus:
100%/200€ + 100 FS

Review

First deposit bonus:
200%/300$ + 125FS
Review

First deposit bonus:
100%/200€ + 50 FS
Review

First Deposit Bonus:
120%/240€

Review

First Deposit Bonus:
100%/250$ + 100 FS

Review



7 different welcome bonuses

Review

First deposit bonus:
100%/500€ + 100 FS
Review

First deposit bonus:
100%/500€ + 200FS
Review

First Deposit Bonus:
150%/350€ + 50FS

Review

First Deposit Bonus:
100%/500€/$

Review