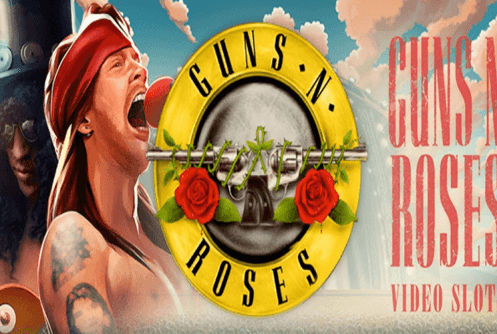 Our Opinion
Graphics & Gameplay - 85%
Review
Superhauska peli pelaamisen ja hard rockin ystäville!
Game Information
Name:
Guns N' Roses
Game Type:
3D Slot
Paylines:
20
Progressive:
Yes
reels:
5
Where to play?



Guns N' Roses on 5 kiekon ja 20 voittolinjan videokolikkopeli, jota pyörittää Net Entertainmentin ohjelmisto. Kyseessä on Guns N' Roses -bändin 30-vuotisjuhlan innoittama uusi peli. Kolikkopeli pursuaa uusia ja jännittäviä ominaisuuksia. Se omaa kiehtovaa animaatiota ja kiekkojen taustana näkyy konserttilava. Voit up to valita haluamasi laululistan, joka soi sitten kiekkojen pyöriessä. Täällä voit kokeilla peliä ilmaiseksi, ja jos haluat pelata aidolla rahalla, voit siirtyä jollekin NetEnt-kasinolle.
Ennen pelin aloittamista sinun on asetettava panoksesi. Kolikkovalikoima on välillä 0,01-2, ja voit valita haluamasi panoksen Kolikkoarvo-osiossa (Coin Value) olevalla nuolella. Tason (Level) kohdalla voit valita, montako kolikkoa haluat pelata linjaa kohden. Napsauttamalla Maksimipanosta (Max Bet) asetat korkeimman mahdollisen panoksen. Pyöräytä-painikkeen (Spin) muotona on kaksi kaarevaa nuolta, ja sitä painamalla peli käynnistyy, kun taas Autoplay pyöräyttää kiekkoja automaattisesti peräjälkeen niin monta kertaa kuin haluat.
Koska kolikkopeliä ei vielä ole laskettu markkinoille, voimme vain paljastaa muutamia sen pelattavuuteen liittyviä seikkoja. Ominaisuuksiin lukeutuvat tavalliset ja laajenevat jokerit, Legend Spins -ominaisuus, Appetite for Destruction -jokeri sekä Solo-kerroin.
Guns N' Roses -kuvake toimii jokerina ja voi ilmaantua mille tahansa kiekolle, Appetite for Destruction -jokeriominaisuuden aikana ei kuitenkaan 3. kiekolle. Jokeri korvaa kaikki muut kuvakkeet, bonusta lukuun ottamatta, jota edustaa vinyylilevy.
Jokerin ilmaantuessa kiekolle, se voi laajentua ja tuoda sinulle paremmat voittomahdollisuudet. Laajeneva jokeri korvaa kaikki kuvakkeet, lukuun ottamatta Appetite for Destructionia, Legend Spinsin overlay-jokeria tai Encore -ilmaiskierrosten päällekkäistä stacked wildia.
Appetite for Destruction on overlay-jokeri, joka ilmaantuu sattumanvaraisesti ja ristin muodossa, joko kokonaan tai osittain näkyvänä. Se korvaa minkä tahansa muun kuvakkeen.
Legend Spins -ominaisuus laukeaa sattumanvaraisesti ja antaa sinulle 3 uudelleenpyöräytystä joko 1 tai 2 stacked wild -kiekon kera. Näiden 3 uudelleenpyöräytyksen aikana kaikki kiekot omaavat stacked wild -mahdollisuuden. Ensimmäisellä pyöräytyksellä stacked-kiekko on numero 3, toisella kiekot 1 ja 5 ja kolmannella kiekot 2 ja 4 voivat saada kyseisen ominaisuuden.
Solo-kerroin palkitsee sinut sattumanvaraisella kertoimella, jonka arvo on välillä 4 ja 10, ja se voi aktivoitua, jos panoslinjalle osuu vähintään 3 samaa kuvaketta.
Jos saat peruspelissä 3 bonuskuvaketta, kiekoille 1, 3 ja 5, monen palkinnon bonus eli Multi-Award Bonus Wheel -ominaisuus laukeaa. Sen aikana voit saada yhden sattumanvaraisesti annetusta ominaisuudesta: Coin Wins, Encore-ilmaiskierrokset ja Crowd-pleaser -bonuspeli.
Coins Win -ominaisuus voit tuoda tullessaan 200-600 kolikkoa. Encore-ilmaiskierroksella voit voittaa 10 pyöräytystä, joista jokaisella stacked wilds saattaa ilmaantua kiekoille 2, 3 ja 4 ja mahdollistaa siten uusien ilmaiskierrosten voittamisen.
Crowd-pleaser on 3 tason "klikkaa-ja-pelaa"-peli. Saat sen aikana tehdä tietyn määrän valintoja, joista jokainen voi tuoda sinulle up to 600 kolikkoa. Taso 1 palkitsee sinut 3 klikkauksella ja 8 valittavalla vaihtoehdolla. Taso 2 aktivoituu, kun saat 1.tasolla vähintään 60 kolikkoa, ja valittavia vaihtoehtoja ei enää ole jäljellä. Tasolla 2 saat eteesi 3 uutta valinnanmahdollisuutta. Taso 3 aktivoituu, kun olet kerännyt tasoilla 1 ja 2 yhteensä vähintään 300 kolikkoa, eikä sinulla enää ole valintoja jäljellä tai olet jo noukkinut kaikki soittimet.
Play with real money