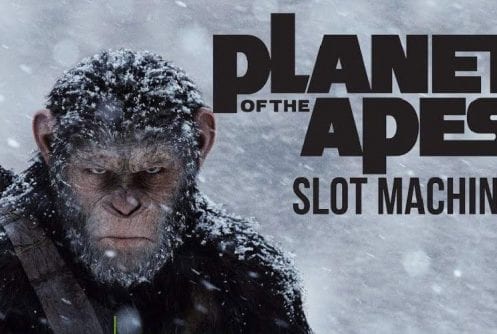 Our Opinion
Graphics & Gameplay - 85%
Review
Play the Planet of the Apes slot at the Rizk Casino.
Game Information
Name:
Planet of the Apes
Software:
NetEnt
Game Type:
Video slot
Paylines:
20
Progressive:
Yes
reels:
5
Where to play?



Planet of the Apes on 5 rullan ja 20 voittolinjan videokolikkopeli, joka toimii Net Entertainmentin ohjelmistolla. Tämä todella hämmästyttävä kolikkopeli on saanut inspiraationsa samannimisestä huippusuositusta menestyselokuvasta, jolla on myös muutamia jatko-osia. Tämä on taannut noille elokuville suuren seuraajajoukon. Peli on hyvin suunniteltu kahdella ryhmällä rullia. Tällä kolikkopelillä on loistava suunnittelu sekä hienot grafiikat ja mukana on kiinnostava elokuvamainen intro, joka on taatusti katsomisen arvoinen. Anna tälle kolikkopelille muutama pyöräytys täällä ilmaiseksi tai vieraile millä tahansa NetEnt-kasinolla jos haluat pelata oikealla rahalla.
Ennenkuin ryntäät mukaan tähän sotaan, sinun tulee asettaa panoksesi. Kolikkojen arvoksi voit valita väliltä 0.01 ja 1, sen voi myös asettaa klikkaamalla "Coin Value +/-" osiota. Valinnalla "Level +/-" voit asettaa kolikkojen määrän per linja. Klikkaamalla "Max Bet" voit asettaa saatavilla olevan maksimipanostuksen. "Spin" lähettää rullat pyörimään, kun taas "Autoplay" pyörittää rullia automaattisesti valitun määrän mukaisesti ilman keskeytyksiä.
Kolikkopelissä on 2 Wild-symbolia, yksi Rise-rullaryhmälle ja toinen Dawn-rullaryhmälle. Kummatkin niistä korvaavat minkä tahansa pelin symbolin, poisluettuna Scatter- ja Bonus-symbolit, ja molemmilla on sama arvo voitonmaksussa.
Kun Rise-pelialueella rullat ova täynnä Wildeja, Stacked Wild-ominaisuus laukeaa. Kun tämä tapahtuu, Stacked Wildit kopioituvat Dawn-pelialueelle vastaaviin kohtiin.
Apinat ovat Scattereita, niitä on myös kaksi, yksi kummallekin rullaryhmälle. Kolmen tai useamman Scatter-symbolin ilmaantuaessa minne tahansa rullilla saat palkkioksi voiton. Scatterit kummallakin rullaryhmällä katsotaan kahdeksi erilliseksi symboliksi ja ne lasketaan erikseen, kummankin arvo on kuitenkin sama.
Jos saat 3 tai useampia Scatter-symboleita minne tahansa rullilla Rise-pelialueella, Rise Ilmaispyöräytykset aktivoituvat. Kun tämä tapahtuu, saat 10 ilmaispyöräytystä. Tämän ominaisuuden aikana Wild-symbolien määrä jokaiselta pyöräytykseltä tallentuu ja viimeisellä pyöräytyksellä kaikki kerätyt Wildit sijoitetaan satunnaisesti pelialueelle.
Jos saat 3 tai useampia Scatter-symboleita Dawn-pelialueella, aktivoit Dawn Ilmaispyöräytykset. Kun nämä aktivoituvat, sinut palkitaan 15 ilmaispyöräytyksellä. Tämän ominaisuuden aikana on voimassa 3 erilaista keräiltävää symbolia, jotka aktivoivat vastaavan laskurin: Kerroin, Extra Wild and Extra Ilmaispyöräytykset. Kun keräiltävä symboli ilmaantuu, se täyttää laskuria yhdellä. Kun laskuri täyttyy, kyseinen ominaisuus aktivoituu.
Tuplaominaisuus voi aktivoitua ennen jokaista pyöräytystä. Jo tämä ominaisuus laukeaa, yksi symboli kummaltakin pelialueelta valitaan, tosin sama symboli molemmilta alueilta ei ole mahdollinen. Myöskään Wildeja ja Scattereita ei valita. Jos symboli asettuu vastaavalle pelialueelle kun rullat lakkaavat pyörimästä, se pysyy paikallaan. Jos symboli laskeutuu toiselle pelialueelle, se siirtyy oikealle pelialueelle vastaavaan kohtaan.
Jos Rise Bonussymboli asettuu ensimmäiselle rullalle, Rise Bonusominaisuus aktivoituu. Tämä on ylimääräinen kolikkovoitto, joka maksetaan jokaisesta ihmis- tai apinasymbolista, poisluettuna Scatter, ja ainoastaan Rise pelialueella. Sama tapahtuu Dawn Bonusominaisuudelle, jos Dawn Bonussymboli asettuu viimeiselle rullalle.
Play with real money