Beat the Dealer by Edward O. Thorp – Book Review and Overall Impression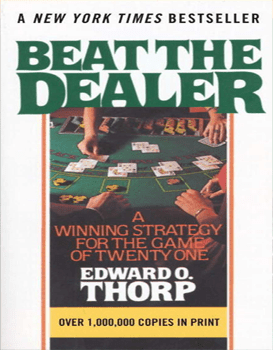 Beat the Dealer by Edward O. Thorp was published in the mid-1960s, but it's surprisingly still applicable to readers today. This book is an excellent read for anyone interested in learning more about the game of blackjack and who wants to learn Thorp's unique winning strategies.
This book stands out among other books of its kind, as it was the first book to back up its theories with mathematical equations.
Not all the information in this book will be relevant since nearly fifty years that have passed since it was published, but this book it still packed with a bunch of valuable information that any player can benefit from.
Beat the Dealer covers a variety of subjects that relate to blackjack including the rules of the game, various winning strategies, and even tricks to overcome cheating in the casinos.
There are many tables and figures scattered throughout the book that give you a better understanding of the concepts and techniques that Thorp is trying to explain.
Famous quotes by Ed Thorp:
"The people who run the casino are tough and smart is so many ways, but they belong in the Dark Ages…They explain the phenomena of their world the way the ancient astrologers did. They really believe that dice get hot."
"In the abstract, life is a mixture of chance and choice. Chance can be thought of as the cards you are dealt in life. Choice is how you play them. I chose to investigate blackjack. As a result, chance offered me a new set of unexpected opportunities."
"I wondered how my research into the mathematical theory of a game might change my life. In the abstract, life is a mixture of chance and choice. Chance can be thought of as the cards you are dealt in life. Choice is how you play them."