Mother of Dragons Slot
Chase the dragons and get adventurous with Mother of Dragons Slot!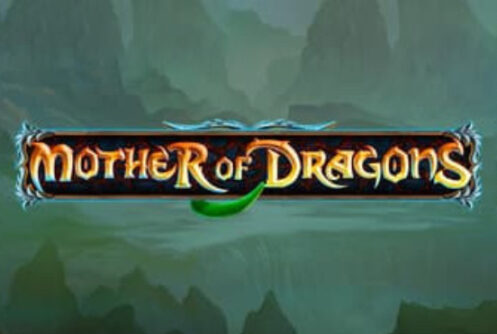 Our Opinion
Graphics & Gameplay - 95%
Review
Get into the fantasy world of Mother of Dragons Slot and win an amazing amount of money!
SLOT INFORMATION
Return to Player:

96.3 %
Volatility/Variance:

Medium to High
Slot type:

Progressive Jackpot Slot
Rows:

3
Reels:

Five Reel Slot
Paylines:

9
Slot Layout:

5×3
SLOT FEATURES
Minimum Bet:

$0.09
Maximum Bet:

$9
Maximum Win:

$22,500.00
Gamble Round Feature:

Auto Play Feature:

Bonus Buy Feature:




OTHER KEY FACTS
Date Launched:

3 august 2021
Theme:

Fantasy Themed Slots
Jackpot:

Gamification:

Special Symbols:

Wilds

Wild Multipliers

Scatters
| What we liked | What we did not like that much |
| --- | --- |
| Phenomenal gaming experience | Medium variance |
| Great variety of bonuses and free spins included | |
| Fantastic three progressive jackpots included | |
Intro to the Mother of Dragons Slot
This unique slot game is one of Simple Play's newest offerings, and it's pretty distinguishing, like many of their other slot games. But that's no surprise, since they've managed to combine some different landscapes with a Game of Thrones theme to create a genuinely remarkable slot.
Mother of Dragons Slot Online
When you enter the magical world, you'll discover that there are a variety of characters that will aid you on your way to success, as well as a variety of bonuses and features that will assist you in triggering enormous winning combos. There are also numerous prize boxes, cash incentives, and free spins bonuses to help you out.
Furthermore, the game features a classic 5 by 3 design that lets players to trigger a broad range of paylines that can result in a payout of up to 100 times their initial wager. In addition to large payouts, gamers will have the opportunity to partake in an amazing gaming experience provided by a well-known game developer. Finally, because this game is compatible with all HTML5 platforms, it may be accessed from any device, anywhere.
Mother of Dragons Slot Return to Player – RTP – 96.15 %
The Return to Player % indicates how much money players earn for every $100 they wager, and at this online casino, players receive $96 for every $100 wagered.
The RTP % of this slot game is currently unknown, as few people are aware of it.
What are Multiline Slots?
When we talk about Multi-Line slots, we're talking about online slots that offer numerous paylines to provide players with a wider range of winning chances. This slot game, for example, has 324 to 576 different ways for players to enjoy and win.
Gallery and Shots of Main Slot Features
Mother of Dragons Slot Review
Simple Play, a well-known game developer, has teamed up with HBO, the world's largest television network, to produce what might be one of the year's most anticipated slot games. This game has 5 reels, 3 rows, and 324 to 576 paylines, providing players with several winning chances.
Do we even need to mention the game's theme? If you haven't watched the TV series, brace yourself: there will be dragons, massive castles, witches, sorcerous, and most crucially noble knights to keep you company on your journey to the fabled Iron Throne, where many treasures are buried. On the other hand, if you've seen the play, you'll be well aware of the subject, but we must stress that Khalessi is your tour guide, so have fun!
Furthermore, Simple Play has already demonstrated that these sorts of slot games contain progressive jackpots, three to be exact, in their prior design. Mother of Dragons Slot, on the other hand, is practically packed with features of all types, including wilds and stacks that allow players to strike huge payouts. Furthermore, there are a variety of symbols that assist players in triggering enormous winning combos, which you will identify after you have a better grasp of the game.
Mother of Dragons Slot Paytable
For the time being, there is no clear framework for the game's paytable because it has been kept hidden, and we assume Simple Play will maintain it that way to surprise the eager public. However, given that the game has five reels and four rows, the background would undoubtedly feature one of Westeros' magnificent landscapes, such as Kings Landing or Winterfell. Furthermore, the themes can change, and you will receive a new partner for each one, although you will begin with the Mother of Dragons herself.
Mother of Dragons Slot Symbols Explained
When it comes to the symbols, we fully anticipate slot gamers who are familiar with the game's concept to be blown away, since all of your favorite characters, including the Mother of Dragons herself Daenerys Stormborn and, of course, the Night King, will appear as symbols. There are also wild symbols that have been speculated to be some of the series' most important weapons, such as Dragonglass and Valyrian Steel, for the time being. Overall, we can conclude that the game provides players with a lovely gaming experience including some of the show's most famous and known characters.
How To Play the Mother of Dragons Slot
This exceptional Mother of Dragons slot has been created to appeal to both expert and new online slot players. While the slot has not yet been published, we have a good idea of how it should be played. Players are given 5 reels, 3 rows, and over 324 paylines to choose from, providing them with a variety of winning chances. Additionally, there are a variety of features, including stacks and wilds, that allow you the opportunity to increase your profits. You will be joined on your trip by the Khalessi, who will show you how to master the playstyle of this slot.
The easiest way to learn how to play any slot machine is to play it in person in a casino. Casinos have been opened in most countries, including the United Kingdom, Australia, and the United States. The number of casino players is steadily growing. To earn a big payoff, combine wild symbol combos with normal symbols to win some extra cash. One of the biggest advantages of this game is that it holds a total of 3 jackpots which can give massive winnings to players.
Mother of Dragons Slot One-Line Betting Strategy
There is no one-size-fits-all strategy that we can recommend for obtaining a winning combination. Let us not forget that this is gambling; if there were a specific technique, everyone would be using it. While there is nothing, we can say to assist you to win, there are a few things you should be aware of. The Wilds feature and the symbols displayed on the screen must always be avoided by players who want to enjoy the gaming experience provided by Game of Thrones Slot.
Our 100 Spins Challenge on Mother of Dragons Slot
At this time, Simple Play has not revealed whether or not the game will have a free spins extra feature; however, if we come across any new information, we will make sure to let you know.
Mother of Dragons Slot Work on Mobile?
Mother of Dragons Slot is poised to have an amazing mobile version that players can enjoy from any mobile smartphone, thanks to Simple Play's design of all of their slot games to be completely compatible with all mobile devices.
Try the Free Play Mode
There is currently no demo version available that we are aware of, but one is expected to be released prior to the game's official debut so that players may have a better understanding of how the game will operate. Furthermore, this free edition allows newcomers to get a sense for what this game has to offer before risking their own money.
How To Win at Mother of Dragons Slot
The Wilds feature is the only feature in the game that can perform all of the essential functions for symbols such as scatters, regulars, and wilds. You may build the combos by alternating the lower value symbol with the higher value symbol to turn them into paid ones. You can get free spins and multipliers by using these choices, but you must understand how they operate. If you meet all of the conditions, online betting to play the casino slot will be simple.
Furthermore, this slot game has 5 reels, 3 rows, and over 324 paylines, giving players a wide range of winning chances. There are more combinations that lead to cash and prize payouts. Over and beyond that, the game is intended to have wild aspects that will allow you to unlock a slew of extra cash and prize opportunities.
Bonus Features and Free Spins
It goes without saying that such a large slot release will include a variety of features and bonuses designed to offer players a boost. This game will have the traditional Stacked Symbols, Stacked Wilds, and a slew of other helpful features, as expected.
Furthermore, one of the most prominent elements in this game is the progressive jackpot, which may result in massive payouts. The Simple Play creators have also stated that a free spins feature would be included, allowing you to enhance your earnings even more.
Mother of Dragons Slot Volatility
Based on our study, we can infer that this forthcoming slot game has a medium volatility rate, however, as with the RTP %, we cannot guarantee that this will remain the case. Once the game is published, it has to be played many more times so that we can fully understand how volatile it is.
Recent News and Promotions about Simple Play Slot and other Wazdan Slots
Our Conclusion on this Slot Review
We cannot conclusively say whether this slot will suit well all players, as it has not been released yet, so it must be taken into account that there is much that we do not know yet. However, based on the initial information released and the upcoming design and layout of the games, as well as the innovative features which it will boost, it has a promising future. Not to mention, that the theme is backed by, namely the Mother of Dragons is a tale many are familiar with especially those who have seen Game of Thrones. Ultimately, this amazing game is fully compatible with all mobile devices and it allows players to enjoy the game and the full powers of the Khalessi.
1+ More Hot Slots by Nektan
FAQ about the Mother of Dragons Slot
Why is Mother of Dragons So Popular?
Is it even necessary to explain why this slot machine is titled after just arguably one of the most successful characters on TV, namely the Mother of Dragons, Daenerys Targaryen.
Can Mother of Dragons Slot Trigger Big Wins?
Well, this slot has three tiers of progressive jackpots to choose from, so we don't think huge wins are an issue here; there are plenty.
Can You play Mother of Dragons with Bonus Money?
It should not be a problem for players to spend their bonus money when playing the slot unless the online casino's terms and conditions expressly state that they cannot.
Why Is This Slot Called Mother of Dragons?
There are two aspects to it, actually. The reference to Game of Thrones is self-evident; the subject is based on George R.R Martin's enthralling character the Mother of Dragons, the Khalessi who bring new hope to the world of Westeros, after turning legend to reality with the birth of her children the dragons.
Can You Play Mother of Dragons on Mobile?
Anyone who wants to enjoy this slot's gaming experience may do so from anywhere because the creators ensured that the game is completely compatible with both iOS and Android smartphones.
How Do You Get Free Spins on Game Mother of Dragons Slot Power Stacks?
At this time, Simple Play has not stated whether or not the game will contain a free spins bonus feature; however, if we come across any new information, we will make sure to let you know.
Play Now at Our Top Pick: