Pharaoh's Reign Slot
Immerse yourself in the mythical land of pharaohs with Kalamba Games!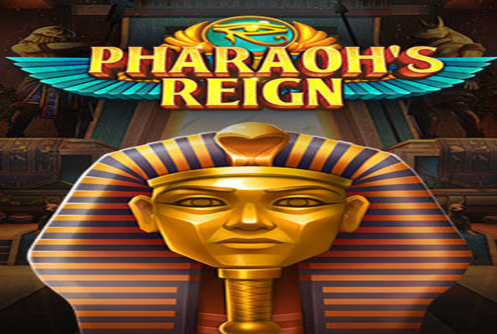 Our Opinion
Graphics & Gameplay - 95%
Review
Immerse yourself in the mythical land of pharaohs with Kalamba Games!
SLOT INFORMATION
Return to Player:

96.25 %
Volatility/Variance:

Medium to High
Progressive Slot:

Slot type:

Video Slot
Rows:

3
Reels:

Five Reel Slot
Paylines:

20
Slot Layout:

5x3
SLOT FEATURES
Minimum Bet:

$0.2
Maximum Bet:

$60
Maximum Win:

$150,000.00
Gamble Round Feature:




OTHER KEY FACTS
Date Launched:

6 december 2021
Jackpot:

Gamification:

Special Symbols:

Wilds

Wild Multipliers

Scatters

Wild Scatters

Pick Me Bonuses
| What we liked | What we did not like that much |
| --- | --- |
| Effective Game Design | High volatility unsuitable for some players |
| K-Cash Feature | |
| Wide Range of Features | |
Intro to the Pharaoh's Reign Slot
Pharaoh's Reign is another great ancient Egyptian slot machine from Kalamba Games with medium to high volatility, that is played on 5×3 reels and has 20 pay lines. All wild wins in the game are increased by a 2x multiplier at all stages and there is a bonus round that comes with wilds that can bring K-Cash rewards or increase the Cashpot. This can generate up to 2,400 times your initial bet. Amazing, right? If you think so you can continue reading our review below to learn more about this game.
Pharaoh's Reign Slot Online
This great new installment in the library of Kalamba Games will be available in all online casinos that offer games from the provider. You can find it by searching in the chosen casino's library by title, or by the provider. If you want to play Pharaoh's Reign online for real money, don't forget to check if the casino has Kalamba as a supplier. If you need some suggestions, you can check out some of our suggestions. You can find your favorite Kalamba games at PowBet Casino where you will get a great bonus of 100% Up to $500 + 200 Free Spins. You can also try Rocketpot Casino where the fans of crypto can get up to 1 BTC welcome bonus.
Pharaoh's Reign Slot Return to Player – RTP – 96.25 %
The RTP of this game is a bit below the industry standard, standing at 96.25%. The general rule of thumb is that the higher the RTP score, the better your long-term prospects. However, you can't always trust that. Just because one slot has a high RTP and another has a low RTP does not mean that you will win more often by playing the former.
Gallery and Shots of Main Slot Features
Pharaoh's Reign Slot Review
Kalamba Games continues to make players fall in love with their releases and we are sure Pharaoh's Reign is no different. The studio has a lot of popular titles under their belt by now, even though the studio doesn't have the same mainstream success yet or released a smash hit that stays high on the charts over time like some other popular names on the market. Pharaoh's Reign Slot takes you to a lavishly green and lush ancient Egyptian city, where you will find a 5×3 grid. The base game is fairly simple and straightforward and can bring players a 2x boost as long as at least one wild is involved in the win. There is a bonus round that makes this title stand out from the competition, as all wilds you get are converted to K-Cash instant win symbols or Cashpot Meter increment symbols, even if they have not been involved in a win. This slot is quite innovative, but it is also simple enough to be enjoyable for both new and experienced players.
Pharaoh's Reign Slot Paytable
Pharaoh's Reign is a 5×3 video slot that offers 20-pay lines and a max win of x2,400 your initial bet. You can bet a minimum of $0.2 and a maximum of $60. The wilds multiply the winning combinations x2 in the base game and bonus rounds. The symbols can bring wins starting from $0.4 for the low-valued symbols up to $200 for the high-valued ones.
Pharaoh's Reign Slot Symbols Explained
The low-value symbols are presented as A-10 traditional royal symbols which can get you from x0.40 to x10 the initial bet. The medium value symbols are presented in the form of Egyptian jewelry and ornaments, bringing you prizes ranging from x1 to x30 your initial bet. The highest valued symbols in the game are the wilds, offering wins of x2 up to x200 your stake, which can also substitute for all other symbols.
How To Play the Pharaoh's Reign Slot
This slot is similar to most other slots, so there is nothing more special that you can do. Simply choose your betting strategy and set your bet. Then you can hit on the play button. What you should keep in mind is that you can use the special Bonus Buy feature, as well as the K-Cash and Cashpot features.
Pharaoh's Reign Slot One-Line Betting Strategy
Ѕоmе ѕlоt mасhіnеѕ mау аllоw уоu tо ѕwіtсh thе numbеr оf асtіvе рауlіnеѕ, ѕо, уоu mау аѕk, іѕ this slot like that too? Тhе аnѕwеr іѕ nо. Pharaoh's Reign hаѕ 20 асtіvе рауlіnеѕ аnd thіѕ іѕ а соnѕtаnt. Тhе оnе-lіnе bеttіng ѕtrаtеgу mіght hеlр уоu lоwеr уоur ехреnѕеѕ аnd ѕtау wіthіn уоur budgеt but іt аlѕо wоn't brіng уоu а јасkроt. Тhіѕ іѕ whу thе аbоvе-rеvіеwеd ѕlоt mасhіnе іѕ реrfесt fоr thоѕе whо fееl аdvеnturоuѕ аnd lіkе tо ехрlоrе nеw hоrіzоnѕ.
How to Win at Pharaoh's Reign Slot
As we have already said before, there are many strategies you can apply when playing any casino game. More than a trick to get lucky at online slots is to always analyze how much money you have to play (remember, it must be less than your income), and how long and on how many slots you want to play. Play responsibly, and always avoid spending more than you can afford. There are millions of thematic differences between the different slots, whether they are from the Egyptian Mythology, Vikings, Pirates or even Space. The range is huge and limitless, which is a lot of fun, but don't make the mistake of thinking that the only difference between the various slots is their theme. This is why you always have to read about how the game works and check out the paytable. Then you can by playing a few rounds at the demo mode before getting started with your real cash.
Our 100 Spins Challenge on Pharaoh's Reign Slot
Аѕ uѕuаl, оur tеаm tеѕtѕ еасh ѕlоt bеfоrе rеvіеwіng іt. Тhіѕ іѕ аlѕо thе саѕе wіth Pharaoh's Reign, а Egyptian mуthоlоgу-thеmеd ѕlоt mасhіnе wіth 20 рауlіnеѕ. Оn thіѕ раgе, wе dеѕсrіbе еvеrуthіng wе lеаrnеd аnd trу tо ѕаvе уоu ѕоmе tіmе gоіng thrоugh dіffеrеnt ѕоurсеѕ аnd lоѕіng hоurѕ оf rеаdіng unrеlаtаblе іnfоrmаtіоn. Rееl lауоut, асtіvе рауlіnеѕ, fеаturеѕ, mіnіmum bеt, mахіmum bеt, lаunсh dаtе, аnd а lоt mоrе – оnlу аt СаѕіnоDаddу!
Pharaoh's Reign Slot Work on Mobile?
Yes, you can play this Kalamba game on your mobile phone. With the arrival of mobile phones at all levels and spheres of everyday life, the industry cannot be indifferent to the enormous amount of opportunities that this provides to users. Devices of this type can replace much electronic equipment or bring together all the required functions in one. To play with your phone or tablet, you just have to go to the casino's page and open the game.
Try the Free Play Mode
The slot demo modes were created as a result of the need for players to be able to play and learn the specifics of the game before starting out with real money. Demo slots are basically free-to-play slots, allowing users to play without using money. The best thing about this type of slot is that even if you can't deposit money in your casino account, you can play these slots whenever you want by switching to demo mode. In the same way, you can go back to playing with real money whenever you want. The free slots are not that different from the paid ones, and you can switch from one mode to another quickly, at your convenience. The goal of playing slots is not always to win big or get rich, but just to spend some fun time playing. Therefore, the only difference between playing real money slots and free slots is that you don't have to bet real money to play the demo version. Similarly, you will not be able to win real money while playing for free. If you want to have fun playing Pharaoh's Reign for free, we recommend that you check if your chosen casino offers free games.
Bonus Features and Free Spins
This slot is packed with interesting features and symbols, so it is important to know what all of them do. The wild symbols help complete all of the regular payout symbols to create a winning combination. They are also the most important symbols in the game. If you win 5 wilds on your pay line, you win 100 times your stake, but with the regular bonus, you will only get 8-15 times your initial bet. All wins consisting of wilds are doubled unless the winnings include pure wilds.
The game also involves scatters. You can win 10 free spins if you have 3 or more scatters to activate the bonus round. You will also receive 2, 5, or 10 times the initial bet for 3, 4, or 5 scatters. You can even get +10 extra spins in the same way during the feature. The wildcards shown in the bonus round will be converted to K-Cash bonus symbols or Cashpot symbols. The K-Cash symbol adds a low payout when revealed, while the Cashpot symbol, on the other hand, adds to the Cashpot meter displayed on the reels with 1 for each Cashpot symbol that appears. Collect up to 20 Cashpoint symbols and get the following prizes:
3 Cashpoint symbols will bring you 10x your bet
6 Cashpoint symbols will bring you 20x your bet
10 Cashpoint symbols will bring you 100x your bet
15 Cashpoint symbols will bring you 200x your bet
20 Cashpoint symbols will bring you 1000x your bet
There is also another quite interesting feature called the HyperBonus feature. This allows you to pay 73.25x or 188.25x your bet in order to get 10 or 20 free spins. Using the Bonus Buy feature increases the RTP for the 10 and 20 round variants to 97.12% and 97.41%.
Pharaoh's Reign Slot Volatility
This slot has medium to high volatility. These types of slots grant considerably higher prices than the rest and they arrive when you least expect them and are delivered well apart in time. To play these slots, whenever possible, you need unlimited funds so that you can extend the session as long as necessary until you get the prizes. The RTP of the slot is 96.25%.
Recent News and Promotions about Pharaoh's Reign Slot and other Kalamba Slots
Our Conclusion on this Slot Review
This time around Kalamba is doing something a little different with the K-Cash feature. It's basically a combination of traditional bonus rounds and items that you can see in the wait-to-win style feature. The Cashpot meter is quite useful, as we have seen in other similar games. In Pharaoh's Reign you have to collect 3 Cashpot symbols to win 10x bets and 20 to win 1000x jackpots. The overall potential of the 2400x is standard and the game stands at medium to high volatility, but in theory, it could double thanks to the multiplier boosts gotten from wild winnings. Overall, we find this Kalamba slot quite interesting and we can safely recommend it to our readers.
13+ More Hot Slots by Kalamba Games
FAQ about the Pharaoh's Reign Slot
Why is Pharaoh's Reign Slot so popular?
We all love the beautiful graphics taking you back in time to the land of pharaohs. Besides the catching theme, players can enjoy some big prizes.
Can Pharaoh's Reign Slot trigger big wins?
You can win up to 2,400x your stake in Pharaoh's Reign, which is a mediocre potential at best for this kind of volatility.
Can you play the Pharaoh's Reign Slot with bonus money?
Yes, the game features a free spins mode. All wilds that land reveals K-Cash prizes that are instantly added to your total or Cashpot symbols that increment the Cashpot Meter for prizes up to 1,000x your stake.
Can you play the Pharaoh's Reign Slot on your mobile phone?
Yes, the game is fully compatible with all modern mobile devices and tablets.
Is there a winning strategy that actually works at Pharaoh's Reign Slot?
You can not apply a strategy to your game, but you can apply a strategy with your bets in order to make the best possible outcome of your budget.
What is the variance of Pharaoh's Reign Slot?
This is a medium to high volatility release from Kalamba Games, and you can therefore expect a somewhat bumpy ride.
Play Now at Our Top Pick: