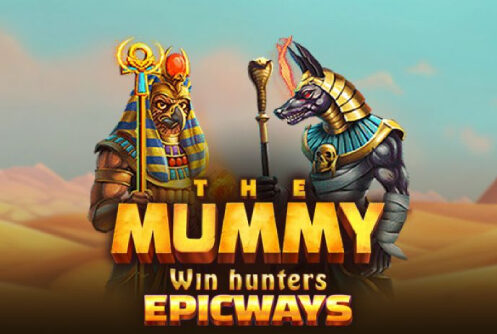 Our Opinion
Graphics & Gameplay - 95%
Review
The Mummy Win Hunters Epicways Slot is here to surprise you with many benefits so get ready!
SLOT INFORMATION
Return to Player:

95.82 %
Volatility/Variance:

Medium to High
Slot type:

Video Slot
Rows:

4
Reels:

Six Reel Slot
Paylines:

40
Slot Layout:

6×4
SLOT FEATURES
Minimum Bet:

$0.2
Maximum Bet:

$100
Maximum Win:

$1,000,000.00
Gamble Round Feature:

Bonus Buy Feature:




OTHER KEY FACTS
Date Launched:

31 june
Theme:

Mystery Themed Slots
Jackpot:

Gamification:

Special Symbols:

Wilds

Wild Multipliers

Scatters

Wild Scatters
| What we liked | What we did not like that much |
| --- | --- |
| Thrilling and satisfying gameplay | There is no jackpot |
| Huge bonuses and free spins available | |
| Medium to high volatility | |
Intro to the The Mummy Win Hunters Epicways Slot
We at CasinoDaddy.com are more than pleased to introduce you to yet another phenomenal slot by Future Gaming Solutions named The Mummy Win Hunters Epicways Slot! We warmly welcome you to its world and we are 100% sure you will be extremely pleased with the gameplay, features and other incredible details around this slot game! Fasten your seat belts because you are about to experience exclusive gaming process, full of many surprises which, trust us, will be very beneficial to you! The biggest aim of this article is to provide you with helpful pieces of information on topics that are related to the slot that you are interested in. Get ready to learn a lot of thrilling and spicy details and let's not waste more time but get started!
The Mummy Win Hunters Epicways Slot Online
The online world has conquered our day-to-day lives so much that we don't even recognize how it has become an irreplaceable part of our life. Moreover, the casino gambling doesn't make an exception, even the opposite – digital gambling has become a total hit in the last decade! Being able to play online gives you a lot of freedom and ability to experience exciting events without leaving the comfort of your house! Here we list you the best online casinos possible and talk you through their game selections and you get the chance to choose which one suites you perfectly. For example, The Mummy Win Hunters Epicways Slot will provide you with a fun and thrilling gameplay, many winning opportunities and high level of gaming experience in general so keep reading to learn more about it!
The Mummy Win Hunters Epicways Slot Return to Player – RTP – 95.82 %
Knowing the RTP percentage of a slot game will save you a lot of time and money, to be honest, as it has a big impact on how satisfied you will be of the certain slot game.
In this case, the Return to player of The Mummy Win Hunters Epicways Slot is 95,82% which is around the average percent that is accepted in the iGaming industry. However, the Bonus Bet RTP is 96,98% which is awesome!
Gallery and Shots of Main Slot Features
The Mummy Win Hunters Epicways Slot Review
In order to give you a clearer review on The Mummy Win Hunters Epicways Slot, we have to begin with the fact that this is a 6-reel, epicways video slot! To prove the fact that we mentioned above that it is a very beneficial slot we can specifically tell you that you will have up to 15 625 ways to win! There are many more advantages that are waiting for you to take them but we will share some more information in the next following sections of the article. Furthermore, the visual design of the game is extremely thrilling and authentic so you will for sure be mentally transported to another place while playing! You are promised to have a lot of fun and of course win a great amount of money as you keep in mind that bonuses and free spins will wait for you in every corner!
The Mummy Win Hunters Epicways Slot Paytable
To be honest with you, paytables can be a little bit tricky sometimes as the design of them can be confusing even if you are an experienced player. However, there are ways to make it more easy and we have decided to again do the hard work for you! In order to not let the confusion take over you, you have to firstly get correctly informed about the symbols and their alignment on the paytable of the slot game. By reading this article, you are learning useful pieces of information that will later help you while playing the actual game. There are 6 reels on the paytable of this slot and up to 5 visible symbols may appear on each reel. For more thrilling details and helpful tips and tricks, keep reading!
The Mummy Win Hunters Epicways Slot Symbols Explained
Knowing the correct meaning of the symbols when playing a slot game is key to having a successful gameplay! In fact, this is the first thing that you should pay more attention to before hitting the play button! Fortunately, the symbols of The Mummy Win Hunters Epicways Slot are very easy to understand but we feel the need to talk you through them just in case. First of all, here comes the Wild Symbol that appears in the base game only on reels 2, 3, 4, 5 and it substitutes all the other symbols except the Scatter Symbol! Also, it is important to know that only the highest winning combination on each way from either leftmost to right is paid! After that during the Free Spins, no wild symbols are present! Scatter Symbols are used to trigger free spins which is a phenomenal feature!
How To Play the The Mummy Win Hunters Epicways Slot
The Mummy Win Hunters Epicways Slot is said to be an easy to play slot game that provides you with many winning opportunities through your whole gaming experience! Now, we are going to talk you through the exact stages of the gaming process – step by step, making it more and more clear! First of all, we already mentioned that up to five symbols can appear on each reel and with each spin you have up to 15 625 ways to win! Simply explained, the way you play is by guessing the winning combination, trying your luck and inner intuition. Starting from the left most reel, a win is matching consecutive symbols no matter what their height is from left to right. After that, all of the winning combinations are added up together and payouts are multiplied by the amount of bet that you've chosen to place!
The Mummy Win Hunters Epicways Slot One-Line Betting Strategy
Our team at CasinoDaddy.com is here to surprise you with even more useful pieces of information in order to help you improve your betting skills! Having a strong and smart strategy is definitely the first thing that comes to your mind when you think of a successful gameplay! The quality of your gaming experience depends mostly on how you plan to play due to your previously thought strategy. Now, we are going to share with you a way of playing that hardly ever disappoints anyone! The one-line betting strategy is said to be one of the most successful ones when it comes to slot games but you have to keep in mind that there is no certain way that we can guarantee you to win every time you play as this depends on many things! Simply explained, you bet on one line of the slot until you hit a winning combination but again – luck is in the first place!
Our 100 Spins Challenge on The Mummy Win Hunters Epicways Slot
The Mummy Win Hunters Epicways Slot Work on Mobile?
It's the year of 2021 and we can surely say that we live in a digital world! We are coming to you with happy news as we are telling you that The Mummy Win Hunters Epicways Slot works perfectly on mobile phones! The slot game is compatible with all devices, including smartphone which means that you can definitely play it whenever you want, wherever you decide!
Try the Free Play Mode
The free play mode is a feature that nowadays is offered by the majority of the popular gambling games! It is created in order to give you the ability to try your luck and play the game without risking your own real money! That way you have a chance to gamble for free, gain experience and improve your betting skills. The Mummy Win Hunters Epicways Slot also supplies you with the ability to see from a closer point of view how the game actually works and due to that it prepares you for the real game!
How To Win at The Mummy Win Hunters Epicways Slot
Of course, winning a slot game is your biggest aim other than having fun while playing and seeing you win is a pleasure for us! It is our team's first priority to make it possible for you to land on winning combinations and outcomes and you can easily see that in many ways! First of all, we do the hard work for you to double check and test all of the gaming products that we list for you – your only obligation is to experience a fun and thrilling gameplay! Also, we provide you with the right useful pieces of information related to all of the topics you may be interested in regarding online gambling! Being correctly informed is extremely important when it comes to winning a game – to know the secret mechanics and weak places of a gaming product in order to take advantage of it! Here you can find an amazing amount of tips and tricks on building a strategy and we highly suggest you reading the terms and conditions of each and every game before hitting the play button!
Bonus Features and Free Spins
The Mummy Win Hunters Epicways Slot is said to be a very generous slot game when it comes to bonuses and free spins! In this section of the article, we are going to talk you through the bonuses and promotions campaign of this game and trust us when we say that they are phenomenal! You are about to be mind-blown by the massive bonus offers that this slot game has prepared for you!
Firstly, talking about free spins, you have to be very cautious of the Scatters symbols as 3 or more of them in the same spin initiate 10-50 free spins! Also, an ordinary symbol is randomly chosen to act as a special expanded symbol during the Free Spins. Following that thought, if enough special symbols appear, it expands and pays from anywhere on the way and awards a win on every way at once!
Moreover, there is a bonus bet feature that can be activated in the base game only! It is played at x100 from the bet amount. Once it is activated, it activates free spins as it guarantees a minimum of 3 scatter symbols on the reels!
The Mummy Win Hunters Epicways Slot Volatility
The volatility of The Mummy Win Hunters Epicways Slot is considered to be medium-low according to the RTP percentage of the slot game which in this case is 95,82%! Additionally, this is a good score for both small stakes and high rollers.
Recent News and Promotions about The Mummy Win Hunters Epicways Slot and other Fugaso Slots
Our Conclusion on this Slot Review
As final words on this fantastic slot called The Mummy Win Hunters Epicways we can make the conclusion that it is a very high quality gaming product! That is for sure due to the hard work of its developer Future Gaming Solutions that has taken care to provide players with a very beneficial slot game! It is a game that you simply can't get enough of as the gameplay is super thrilling and exciting! The visual design of the game is also very authentic, giving you an exclusive feeling in the comfort of your own house. We are more than sure that you will soon become a big fan of this slot game once you realize how advantageous it actually is for you!
7+ More Hot Slots by Fugaso
FAQ about the The Mummy Win Hunters Epicways Slot
Why should I play the Codex of Fortune?
This new slot is developed by NetEnt, one of the world-leading iGaming providers. It has everything a player needs – engagement, visual excellence, and amazing bonus features!
Is there a winning strategy in Codex of Fortune?
Although we can't predict how the game will go, we can tell you a secret – save the keys you win during the game and redeem them for free spins later.
Can I play it on my mobile?
Of course, Codex of Fortune is 100% mobile-compatible and operated smoothly on both Android and iOS.
What is the minimum bet in Codex of Fortune Slot?
The minimum bet is $0.20, so all players, even those with limited funds, can enjoy fun gambling sessions.
Play Now at Our Top Pick: Zotabet Casino