Endorphina Casinos – Hot Online Casinos that Offer Endorphina Games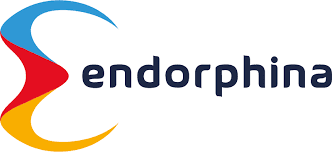 Endorphina is a top-tier software developer, established in 2012 in the Czech Republic. The company produces slot machine games for the iGaming genre, as they create at least one slot per month throughout the year. There are over 95 slots part of the Endorphina portfolio, tackling popular themes and multiple original concepts. Players will find a huge variety when picking up a title, as the passionate team behind this developer deliver products with a both traditional and innovative approach.
Often incorporated in new online casinos, Endorphina games are supporting the latest HTML 5 technology, and provide players with effortless gameplay across various platforms. Their math models and game mechanics are tested by iTech Labs, and underwent a thorough check by GLI in 2019, guaranteeing a fair and stable environment for online gambling. The company operates under the regulation of the Malta Gaming Authority and the laws of the European Union.
Endorphina is a leading B2B software developer that is used by some of the most successful platforms and operators in the iGaming industry. The developer has been present on the global market since 2012 and releases at least 12 games annually. The headquarters of the company is located in Prague. The company portfolio includes nearly 95+ top-notch online games. The software is recognized for its high quality, which makes it stand out from its competitors. All games have modern graphics, original music, thoughtful game elements, and a set of exciting features. As a result, iGaming operators choosing Endorphina products provide their customers with a unique gaming experience.
Endorphina is a successful and promising business partner. The company is constantly expanding the geography of partners and developing mutually beneficial relationships with them. Attention to detail, a professional approach to business and personalized service make the developer a leader in the gambling market.
Best Online Casinos That Offer Endorphina Games
SHOW MORE
Introduction to Endorphina Online Casinos
Endoprhina's impressive video slots are visually stunning, as they support well-crafted 3D animation and engaging sound designs. It's hard not to like a developer that's so versatile and produces top-notch creations every month while managing to keep the highest production standards for all of their games. The new decade brings new opportunities for creative developers like Endorphina. Gamblers worldwide appreciate the diversity and quality delivering by the company, and its popularity is already massive around the iGaming community.
Geisha, Urartu, Shaman, The Emirate, and Mongol Treasures explore different cultures and styles in an entirely new and exciting way, while Fairy Tale, Undine's Deep, Safari, Retromania, Origami, and Macarons are great Endoprhina slots, give us a taste of all the different themes you can find in this developer's portfolio.
What's New from Endorphina? Recent News and Articles.
New Endorphina Casinos in 2020
New Endorphina Casinos in 2020 are trying to provide players with the best gambling experience on the internet, with each new operator bringing their unique take on the genre. Diversity is Endorphina's bread and butter when it comes to their amazing slot titles, and you can often find them in already established or new casinos, valuing the same ideals.
Finding the best new operators is our mission at CasinoDaddy.com, as we always bring the safest and most trustworthy operators to our readers. We have a special page, including all the significant additions to the market coming in each month, with a full-length review or our own experience on the site, as well as all the interesting features they have to offer.
The Best Endorphina Slots and Progressive Jackpots
Slots like Fairy Tale, Voodoo Dice, Ancient Troy Dice, and Kamchatka are all testimonies to how good and diverse Endorphina games look. It's hard to find the same concept executed twice, except if it isn't a part of a series of games. Gamblers around the world have a lot of fun trying out new slots, and this provider has exactly what they are looking for – a wide array of video slot machines, with interesting concepts and outstanding visuals. Endorphina has produced hot slots games played by hundreds of gamblers worldwide on a daily basis. The hottest ones include top titles like Hell Hot 100, which is the ultimate 777-styled slot game, Chance Machine 20 featuring a luxurious setting with mega wins. 2021 Hit Slot combining the all-time favourite classic slot reels with innovative features like Gamble your wins. Lucky Streak 3 became the ultimate traditional fruits slots game with intriguing touch to the gameplay to keep things interesting. And let's not forget the Book of Santa slot, the all-time favorite Christmas slot machine that welcomes you with the warmth of the holiday, and wrapped gifts of payouts from Santa Claus himself!
| | |
| --- | --- |
| 1 | Hell Hot 100 |
| 2 | Chance Machine 20 |
| 3 | 2021 Hit Slot |
| 4 | Book of Santa |
| 5 | Lucky Streak 3 |
New slots
HELL HOT 20
AKBAR & BIRBAL
FRULETTA
JOKER STOKER
ROOSTER FURY
25+ More Hot Slots by Endorphina
SHOW MORE
Awesome Endorphina Slots
Fairy Tale is a high-fantasy slot by Endorphina, featuring beautiful aesthetics in a traditional 5×3 board. This is a high volatility slot, with 20 adjustable pay lines. The symbols here are of beautiful angelic ladies, helping you score profit in a 3D online environment. The Free Spins feature of this title is called Set the Doves Free. Every win you score during this feature will be multiplied by the current cage multiplier value and can go up to x5. You need to land a Key symbol on the 5th reel, to open the cage, and disable the current multiplier, enabling the next one. Your free rounds will continue until you collect the keys for all four cages. Similarly to other Endorphina slots, you can find a gambling feature, and you can decide if you want to collect your winnings or gamble again after each card is drawn.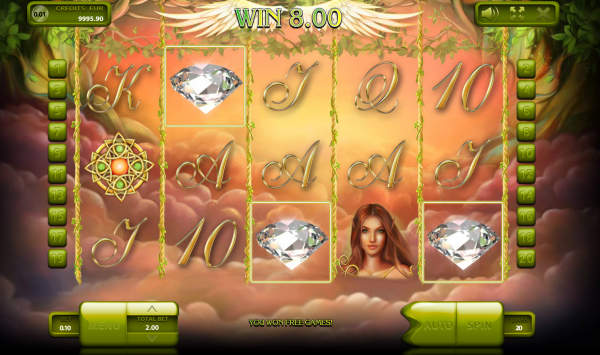 Endorphina has many dice games, which play like normal slots, but use dice as symbols on the reels. You can see this often reoccurring theme in their portfolio, in games like Lucky Dice 1, 2, and 3. A similar concept with an entirely different theme can be seen in the Voodoo Dice slot.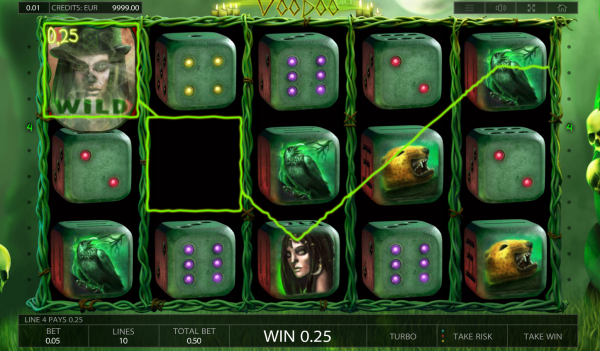 Starting from the poisonous-green colour scheme and creepy soundtrack, all the way to the candles lit at the top of the board, we already know something wicked is going on. The symbols of the game are all representing part of the Haitian Vodou culture, with a hot Papa Legba-looking guy, voodoo dolls, snakes, and scary birds that glow in a suspicious green colour. There are 10 lines and 5 reels, Wild and Scatter Symbols, as well as Free Spins and Risk games. The RTP here is 96%, which is above the average and doesn't differ much from other Endorphina slots.
Another dice variant comes in the form of the Ancient Troy Dice game. The game is set in ancient times, where we meet the familiar trio of Achilles, Hector, and Helen, who look like they have buried the hatched for a while, to let us enjoy a great looking 5 reel and 3 rows slot. The trojan horse is the wild symbol of the game, joined by a Scatter and a Free Spins feature. You can select how many pay lines you want to be active at a time, and choose the auto spin feature to set back, relax, and let luck be the major factor at hand. There is a 96% RTP and you can play the game from any Desktop, Tablet, or Mobile device.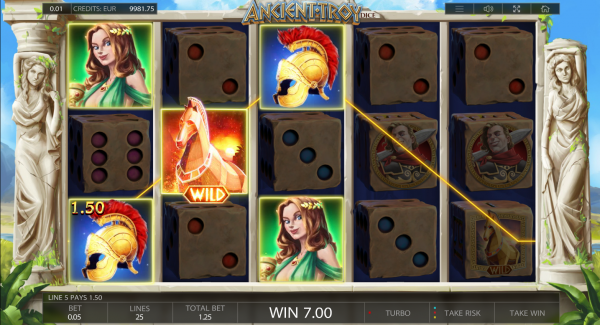 The Kamchatka Peninsula is a region in the Russian Far East, and it serves as a home to a variety of creatures. The wildlife is presented in an awesome looking Endorphina slot by the name of Kamchatka, and it portrays all kinds of animals you can actually see if you visit that part of the world someday, such as foxes, hawks, wolves, bears and lots more.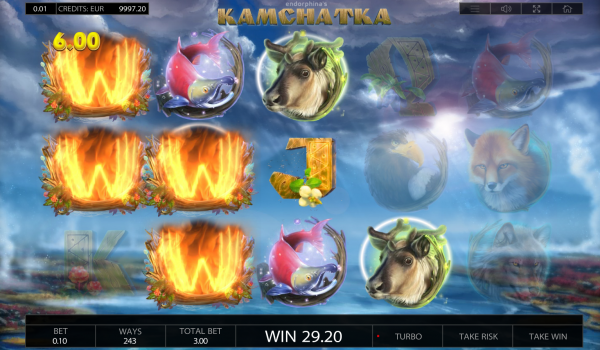 The bear is the Wild symbol here, the Scatter is an erupting volcano, and the Geyser symbol can award you anywhere from 2 to 15 free Spins. Kamchatka has a standard 96% return to player, which is typical for an Endorphina slot. It features a natural landscape and if you love to go camping, hiking or you love wildlife in general, it will undoubtedly make you settle some weekend plans for a short trip.
Top Card and Table Games at Endorphina Casinos
Dice games are a reoccurring theme throughout the Endoprhina portfolio, but they don't work as a standard dice table game. They operate on the concept of a slot game, as this developer breathes and lives slots, and manages to deliver stunning-looking titles to the audience, incorporated more and more frequently at online casinos. Slots are the only type of games Endorphina makes, but they make them so good you wouldn't miss anything else! Still, as 3D animated environments are something this company is very familiar with, so we won't be surprised to see a table or card game by their brand released soon.
Endorphina Live Casinos
There are plenty of online casinos offering great live dealer games. With dozens of top-notch developers getting their take on a specific variant, bringing a new type of excitement to players, new casinos pay extra attention to their live casino section. However, as of the time of writing this review, Endorphina Live Casinos simply don't exist, since this developer doesn't make any live games. To get the real Endorphina experience, you should try any of their exiting slot titles!
Endorphina Casino Bonuses
Endorphina Casino Bonuses are easy to come by, as this provider is supported by many highly reputable online casino platforms. The internet is a wide space, and with so many sources of information and hundreds of casinos popping up every year, it may be hard to distinguish what's best on the market. Here at CasinoDaddy.com, we investigate the online gambling world thoroughly, delivering only the fairest and trusted operators to our readers! Not only that but we also look for special casino bonuses, as they are countless offers at this very moment.
Our Casino Bonuses page features a selection of Free Spins bonuses, offered by the biggest casinos. Free Spins are always in demand, as slots are easy to understand and provide a solid amount of fun. When you find a promotion that you like, make sure to read all the terms and conditions, and keep track of the wagering requirements to know how many times you would need to bet your winnings, before being able to cash out. Sometimes, you can get your hands on bonuses with no wagering requirements that allow you to keep whatever you win, and make easy cash.
A Cashback bonus is another type of goodie you can commonly spot in a welcome package deal of an operator. This bonus allows you to get a cashback return to all of your daily, weekly, or monthly losses and can range from 5-20%.
Licenses
The mathematics and algorithms behind Endorphina games are consistently reliable. In 2019, games were thoroughly tested by GLI, guaranteeing stable and proven behavior and mathematics.
New markets
This past year in 2020, Endorphina entered the markets of Romania, Croatia, and Belarus. In the first quarter of 2021, Endorphina has successfully partnered with over 75 online casinos worldwide.
Endorphina Mobile Casinos
Endorphina games are supported by iOS, Android and Windows devices, and use the Flash and the HTML5 technologies to deliver exceptional content. Endorphina Mobile Casinos are easy to find, as many operators are transferring most of their features on mobile platforms, realizing how big of a factor mobile gambling will be in the years to come.