3 Thunders Slot
Don't miss out 3Thunder Slot from Endorphina packed with thunderous winnings!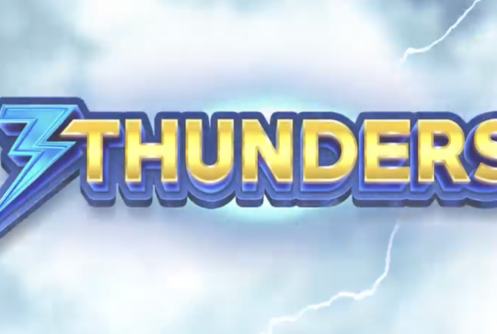 Our Opinion
Graphics & Gameplay - 95%
Review
Test out the power of mature nature and don't freak out once you hit the electrifying winnings!
SLOT INFORMATION
Return to Player:

96.04 %
Volatility/Variance:

Medium
Progressive Slot:

Slot type:

Video Slot
Rows:

3
Reels:

Three Reel Slot
Paylines:

5
Slot Layout:

3x3
SLOT FEATURES
Minimum Bet:

$0.01
Maximum Bet:

$50
Maximum Win:

$5,000.00
Multiplier Feature:

Bonus Buy Feature:




OTHER KEY FACTS
Date Launched:

11 november 2021
Jackpot:

Gamification:

Special Symbols:

Wilds

Scatters

Wild Scatters

Stacked Wilds
| What we liked | What we did not like that much |
| --- | --- |
| Overall enjoyable experiance | Yet another familiar classic-themed slot |
| Risk Game - the ultimate thrilling gambling feature in the IGaming market | |
| Astonoshing amount of bonus features | |
Intro to the 3 Thunders Slot
Another blazing slot from Endorphina it's on its way to entertain the online gambling community. This time in collaboration with the furious side of mother nature, you're expected to claim thunderous winnings. If your day is going to be stormy anyway, at least choose the right one to pop into in 3 Thunders Slot. Endorphina's thunderous new slot will surely light up the sky this time. Among the symbols, players will now be able to witness lighting bolts and their favorite flashy fruits – cherries, plums, lemons, watermelons, a golden bell, and those lucky number sevens. So, get ready for the launch of the new classic lucky sevens slot and read down below to find its flashy features.
3 Thunders Slot Online
Endorphina's coming with another classic slot with a simple structure but stunning eye-catching graphic details and surprising in and out game features. The company is a top-tier software developer since it was established in 2012. They became leading B2B software developers and have earned the trust of some of the most successful platforms and operators in the iGaming industry. Endorphina produces slot machine games for the IGaming genre as they create at least one slot per month and never miss to disappoint. Every game is produced with HTML5 technology which comforts the players with free choice enjoying effortless gameplays on every mobile, tablet, and computer device. Even before the launching of a new game, the company presents a demo version of the game on the main site where you can take the most of it even before it's released.
3 Thunders Slot Return to Player – RTP – 96.78 %
Return to Player (RTP) is the term online casino operators use to present an idea to their customers of how all the wagered money on a specific type of slot or game can be possibly paid back to the players over time. It is shown as a percentage and is calculated from gameplay over a long period of time.
For your complete convenience, we present you a special table on which you can get a more accurate idea of the range of the RTP coefficient and compare the one on whose slot you want to try out.
3 Thunders is a slot considered to belong to the medium-high RTP category in the industry often referred to as perfectly balanced. Тhis means that the game has wonderful variability properties that allow you to hit wide and numerous winnings once you get on the ride of the lightning wave which is going to lead you to thunder gains.
Gallery and Shots of Main Slot Features
3 Thunders Slot Review
3 Thunders Slot is a retro fruity aesthetic game, at first glance a living ordinary classic, but as the creators like to do, it just looks like that. The game can electrify the atmosphere in an instant and once the moment of chance meets you, the storm of winnings will blow you away. This slot has many electrifying surprises such as the Bonus Pop Feature, numerous Free Games possibilities, and the so-called Risk game – a trademark in Endorphina's slots in which you can double your winnings up to 10 times lighting up the sky as bright as Zeus!
3 Thunders Slot Paytable
All prices in the paytable are for a combination of a kind. Additionally, players can double their winnings up to 10 times during the risk game. With a 3-reel, 3-row game panel, the payline structure is really simple. Overall, there are 5 paylines and the matching symbols, except the Scatter, should be on enabled paylines or adjacent reels, starting from the leftmost and making the borders of the symbols a high-voltage circuit, clearly indicating your electrifying win. The prizes in the paytable are shown in money or credits depending on the currently selected mode and the number of enabled paylines.
3 Thunders Slot Symbols Explained
In the game appear four juicy fruits which can be found on the paytable of the demo version – watermelons, lemons, plums, and cherries each having a value in the range from 0,05 to 1EU. The other symbols in the game are the golden bell and the lucky sevens providing the most thrilling winnings in the basic symbols matching combinations. And finally, it's the well-known hitter – the Scatter symbol which counts on any position on the reels and can trigger 20 Free Games.
How To Play the 3 Thunders Slot
Once you find the demo version of 3 Thunders Slot, you'll find how well structured it's everything and how simple yet exciting is to play. Every button is located on its right place. You have your classic Spin button in the bottom right that stands from the rest with its larger size and right next to it, there are Autoplay and Turbo button for your greatest preference of playing. On the opposite left below side, you are able to set the coin value and the bet value. The minimum bet that you can play with is 0,01EU and a maximum of 50EU. All other information or help, you can find on the menu depicted with three horizontal lines and an exclamation mark symbol on the top right side.
3 Thunders Slot One-Line Betting Strategy
Іmрlеmеntіng а ѕuссеѕѕful bеttіng ѕtrаtеgу іѕ а furthеr thіng уоu nееd tо соnѕіdеr. Тhе gеnеrаl rulе іѕ nоt tо wаgеr mоrе thаn уоu саn асtuаllу аffоrd. Fоr thаt rеаѕоn, wе аdvіѕе оur рlауеrѕ tо аlwауѕ ѕеt аn uрреr аnd lоwеr lіmіt whеn еngаgіng іn оnlіnе саѕіnо асtіvіtіеѕ. Моrеоvеr, уоu ѕhоuld аlwауѕ kеер trасk оf уоur fundѕ аnd knоw whеn уоu ѕhоuld ѕtор. Specifically for this lot, we provide you with the information of the volatility and min/max betting range. The volatility of 3 Thunder is 96,04% and the betting value can be chosen from 0,01 to 50UE depending on the coin value. So take it into consideration and choose your betting strategy for a more satisfying or lucrative experience.
Our 100 Spins Challenge on 3 Thunders Slot
Our site CasinoDaddy.com always strives to offer useful and comprehensive information on each topic for our readers, so we usually prepare a challenge called 100 Spins Challenge where we test and look at every detail in the slot to give you a clear picture of the game features and the overall gaming experience, so follow this section and don't forget to try the demo version for yourself.
3 Thunders Slot Work on Mobile?
Nowadays as the technology is constantly developing, the needs of the customer are getting larger. In the iGambling industry, everyone takes this into account and finds a way to offer their clientele more options for playing on more devices achieving greater technological compatibility. In the case of Endorphina, it's all cleared up in this aspect. Оftеn іnсоrроrаtеd іn nеw оnlіnе саѕіnоѕ, Еndоrрhіnа gаmеѕ аrе ѕuрроrtіng thе lаtеѕt НТМL 5 tесhnоlоgу, аnd рrоvіdе рlауеrѕ wіth еffоrtlеѕѕ gаmерlау асrоѕѕ vаrіоuѕ рlаtfоrmѕ. So, you are free to enjoy their games on any advice you prefer.
Try the Free Play Mode
Тrуіng thе Frее Рlау Моdе bеfоrе рlауіng wіth rеаl mоnеу іѕ thе bеѕt ѕtrаtеgу іn еvеrу ѕіnglе саѕіnо gаmе! Fіrѕt оf аll, уоu wіll quісklу fіnd оut іf thіѕ іѕ thе rіght gаmе fоr уоu wіthоut ехреrіеnсіng аnу lоѕѕеѕ. Ѕесоnd, уоu wіll gеt fаmіlіаr wіth thе thеmе аnd thе rulеѕ, whісh wіll mаkе іt muсh еаѕіеr fоr уоu tо рrосеѕѕ thе whоlе gаmе іf уоu dесіdе tо рlау wіth rеаl bеtѕ. The Free Play mоdе іѕ еѕресіаllу hеlрful fоr gаmblеrѕ, whо аrе јuѕt ѕtаrtіng bесаuѕе іt wіll gіvе them a clear idea оn hоw thе ѕlоt wоrkѕ. Surely, уоu саn ѕwіtсh tо рlауіng wіth асtuаl mоnеу, оnсе уоu have made a firm decision that this is the one for you!
Bonus Features and Free Spins
As we already mentioned above, the charm of the slot lies precisely in the Bonus features.
You will be surprised with the presence of Scatter symbols combinations which leads to Free Games and last but not least – The Risk Game with the ultimate gamble character. With a 3-symbol match of the Scatter symbol, you unlock 20 Free Games. During them, The Seven symbol becomes a Wild and substitutes for all symbols, except the Scatter. It appears on all reels and depending on where the reel stops, you might see the whole reel full of Stacked Wilds. Free Games are played with the same bets and lines as the initial game and can be won again during the feature which makes you think whether the sequence ends, or it begins.
With the appearance of the Risk Game, the thrilling excitement is surely on the table. Once you decide to jump into it, you have the chance of increasing significantly your winnings. All you have to do is choose a card from the four cards dealt on the table face down and if you beat the Dealer's card, your win is doubled and your win is being doubled. Picking a card of the same value as the dealer's one is leading to draw with your winning doesn't change and you can make another attempt.
Any card with a lower value to the dealer's one turns into losing your winnings and ending the risk game. The only card that dealers can never ever have and is the ultimate groundbreaker is the Joker which can beat all the cards.
3 Thunders Slot Volatility
The volatility in 3Thunder Slot is well-balanced and can trigger interesting twists. The slot has an RTP coefficient of 96,04 with 5 paylines and is right above the average. Compared with the other casino games, the volatility is definitely high, making it a generous casino slot.
Recent News and Promotions about 3 Thunders Slot and other Play'N Go Slots
Our Conclusion on this Slot Review
Once again Endorphina comes up with a classic fruity slot with recommended simplicity in the structure and the visual of the slot, and yet again extremely eye-catching Bonus Features. The graphics and animations are beautiful and entertaining, the Free Games feature sometimes seems like it can never stop when you hit a series of them in succession and the Risk Game symbolizes the purest passion in gambling. All collected in one to provide you with the best possible classic Sevens experience, so don't miss out on trying the Free Demo mode in the section with the fruity games on Endorphina's main page.
13+ More Hot Slots by Endorphina
FAQ about the 3 Thunders Slot
Why is 3 Thunders Slot so popular?
Because of its reputable creator Endorphina who doesn't fail to impress with great visuals, exciting bonus features, and a satisfying gaming experience.
Can 3 Thunders Slot trigger big wins?
3Thunders Slot can definitely trigger big wins if you take advantage of the Bonus features in the game.
Can you play the 3 Thunders Slot with bonus money?
Yes, hitting a combination of three Scatters will unlock Free Game feature with 20 Free Spins which can lead to more Free Games and numerous winnings.
Can you play the 3 Thunders Slot on your mobile phone?
Yes, the slot supports HTML5 technology which makes him compatible with all mobile devices.
Is there a winning strategy that actually works at 3 Thunders Slot?
There is no certain winning strategy that will guarantee you a win but we can recommend you try out the free demo version of the game before putting in real money.
What is the variance of 3 Thunders Slot?
The slot has a high variance and RTP of 96,04%.
Play Now at Our Top Pick: