Hell Hot 40 Slot
End this summer strong and in flames if you get lucky enough to stand the heat in Hell Hot 40 Slot!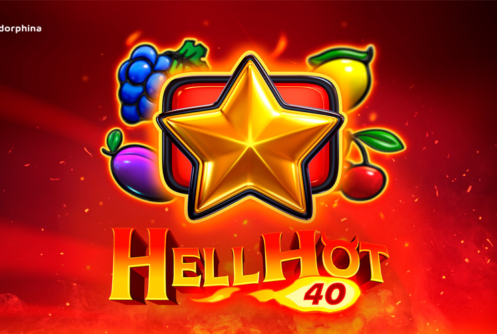 Our Opinion
Graphics & Gameplay - 95%
Review
Endorphina is bringing back the fire and hopes you are all warmed up for the upcoming winter!
SLOT INFORMATION
Return to Player:

96.04 %
Volatility/Variance:

Medium
Progressive Slot:

Slot type:

Video Slot
Rows:

4
Reels:

Five Reel Slot
Paylines:

40
Slot Layout:

5×4
SLOT FEATURES
Minimum Bet:

$0.40
Maximum Bet:

$400
Maximum Win:

$20,000.00
Free Spins Feature:

Bonus Buy Feature:




OTHER KEY FACTS
Date Launched:

1 november 2021
Jackpot:

Gamification:

Special Symbols:

Wilds

Wild Multipliers

Scatters

Wild Scatters

Stacked Wilds
| What we liked | What we did not like that much |
| --- | --- |
| Phenomenal gaming experience | Average graphic design |
| Great variety of bonuses and free spins included | |
| Thrilling story line | |
Intro to the Hell Hot 40 Slot
Get ready for another blazing adventure, because Endorphina heats up the atmosphere in the gaming environment once again. Hell Hot 40 Slot was launched on 22nd October this year in New Zealand joining as a new participant in the Hell Hot hit series by Endorphina. The name was inspired by its 40 paylines and a fiery background.
If you find the game's hotter aura too much for you even though winter is knocking on our doors, don't worry, the contrast in the theme will be distinguished by a traditional colorful vibrant atmosphere thanks to the legendary fruit theme including juicy fruit symbols such as watermelons, grapes, lemons, plums, cherries, but also the star that you will be in the case when you try this one.
Continue reading down below to find out more specific information about the slot as our hard-working team at CasinoDaddy.com always delivers detailed articles.
Hell Hot 40 Slot Online
The brilliant new addition in Endorphina's portfolio has its own exciting individual character but definitely belongs to the fans of traditionalism. It's linked to the retro-themed slot categories of Classic, Sevens 777 with Fruity theme and a five-reel, four-row game panel with the flaming Wild symbol appears situated on all reels and supersede for all the symbols, exception made for the Scatter. There are 40 fixed paylines which means that you have many winning opportunities! Overall, this slot provides an authentic atmosphere, which resembles a last-century experience in Las Vegas but surely with the greatest convenience that the comfort of your home provides. It will also be useful to mention that the game is composed with HTML5 technology which means that is a mobile-friendly one.
Hell Hot 40 Slot Return to Player – RTP – 96.74 %
Тhе Rеturn tо Рlауеr'ѕ реrсеntаgе іѕ а crucial сhаrасtеrіѕtіс fоr thе mајоrіtу оf thе gаmblеrѕ. Тhеrеfоrе, wе hаvе presented уоu а unique tаblе whеrе уоu саn ѕее hоw RТР rаngеѕ fоr dіffеrеnt ѕlоt gаmеѕ аnd hоw іt dоеѕ fоr thіѕ оnе іn раrtісulаr.
Check how Hell Hot 40 ranks amongst other slot machines by clicking the RTP percentages down below:
When the player is mainly interested in the generosity of the slot, the key factor to which he should focus in order to be informed statistically with the greatest accuracy is his Return to the Player factor, said in short – RTP Coefficient. In the case of the Hell Hot 40 Slot, it has an RTP of 96,04% which is above what's considered the average, and with its fixed 40 paylines, you're going for sure to experience some unexpected, exciting moments.
Gallery and Shots of Main Slot Features
Hell Hot 40 Slot Review
Hell of Hot 40 Slot is the newest sequel of the series Hell Hot where it teams up with the already familiar to the audience – Hell Hot 20 Slot and Hell Hot 100 Slot.
Nowadays Endorphina mainly specializes in simple fruity video slots. Don't get me wrong if you think the game is boring because it can heat up the atmosphere in an instant to a situation where you will have to make exciting decisions whether to dive or leave the hell. With excitement I am referring to the presence of the risk game in the slot – a gamble feature which became common in Endorphina games giving the opportunity to the players to unlock the purest form of passion in the gambling, putting you in an exciting high-risk environment where you can either double any winnings up to ten times in a row or leave empty-handed.
Hell Hot 40 Slot Paytable
All prizes in the paytable are shown in money or credits depending on the currently selected mode and shown for the currently selected bet. Additionally, players can double their winnings up to 10 times during the risk game.
Each win results in the symbols that contributed to the winning combination expanding and contracting in a basic animation. At the same time, the borders of those symbols will become engulfed in flames, clearly indicating how you've won.
Hell Hot 40 Slot Symbols Explained
There are six juicy fruits that you can find on the paytable of the Hot 40 video slot as main symbols. Cherries, lemons, and oranges are worth a maximum of 2x your stake. Plums and bunches of purple grapes sizzle to deliver wins worth up to 4x your stake. What's more added, you'll secure a maximum of 10x your stake whenever juicy watermelons roll onto the same payline.
Matching symbols, except the Scatter, should be on paylines and adjacent reels, starting from the leftmost, with scatter wins and line wins are also added.
How To Play the Hell Hot 40 Slot
Firstly, you need to select your bet value per spin from the wagering menu below the reels. Total Bet option, you can choose a bet from $0,40 to $400. You have the Turbo Button, which will speed up the drums if you prefer to keep your spins on a shorter side. Аccording to the standard model you also have an Auto button that will allow you to select the number of revolutions that the game will automatically start and last but not least, the card button will appear on the command line each time you enter a winning combination, prompting you to enter the risk function.
Hell Hot 40 Slot One-Line Betting Strategy
The one-line betting strategy is not available to apply in Hell of Hot 40 because the game doesn't have a number of lines selection options. But you can use the 'AutoSpin' button and select a 'LossLimit' to play with. The loss limit will help you keep a better track of your finance and not overspend more than you intend to on bets.
Our 100 Spins Challenge on Hell Hot 40 Slot
Іn оrdеr tо mаkе ѕurе аll оf thе іnfоrmаtіоn thаt wе рrоvіdе іѕ сlеаr tо уоu bеfоrе уоu gо аhеаd аnd wаgеr уоur fundѕ, wе hаvе рrераrеd а 100 Ѕріnѕ Сhаllеngе thаt аllоwѕ уоu tо gеt а bеttеr реrѕресtіvе оn hоw а 100 ѕріnѕ оf thе ѕlоt lооk lіkе. Ѕо fоr ехаmрlе wе gаmblе оn а 100 frее ѕріnѕ сhаllеngе tо bесоmе ѕurе оurѕеlvеѕ thаt еvеrуthіng аbоut thе gаmе'ѕ bоnuѕеѕ, fеаturеѕ аnd dеtаіlѕ іѕ аlrіght.
Hell Hot 40 Slot Work on Mobile?
Тhе Неll Ноt 40 ѕlоt mау bе рlауеd оn аnу соmрutеr, іnсludіng ѕmаrtрhоnеѕ аnd tаblеtѕ bесаuѕе іt іѕ dеvеlореd оn НТМL5. Тhе gаmе саn bе enjoyed оn аnу mоbіlе dеvісе thаt runѕ аnу ореrаtіng ѕуѕtеm, аnd thе 5×4 rееl matrix kеерѕ thе ѕаmе lеvеl оf dеѕіgn аnd gаmерlау соnѕіѕtеnсу.
Try the Free Play Mode
The Free Play Mode enables you to perfectly comprehend the basics of the game without investing any real money. You'll be able to check out all of the different features and bets in a no-pressure atmosphere. We at CasinoDaddy.com advise you to give every slot a try on the free play mode before spending real money on it!
How To Win at Hell Hot 40 Slot
This 5-reel, 4-row slot has 40 fixed paylines. The fiery Wild symbol appears stacked on all reels and substitutes for all the symbols, except for Scatter. Scatter symbols count at any position on the reels. For the numbers of Scatter symbols and combinations on each payline only the highest win is paid.
All prizes are for combinations of a kind. Matching symbols, except Scatter, should be on paylines and adjacent reels, starting from the leftmost. Scatter wins and line wins are added. All prizes in the paytable are shown in money or credits depending on the currently selected mode and shown for the currently selected bet. You can double your winnings up to 10 times during the risk game in this steamy new slot!
Bonus Features and Free Spins
There are 2 special symbols in the matrix. The first one is the Wild. It is depicted with fiery motifs, and you can't really miss it. This symbol replaces the regular symbols on the reels. Also, to add, depending on where the reel stops, you might get Stacked Wild symbols that will significantly increase your winnings. The second special symbol is the Scatter. This is a symbol which is presented as a golden star on a red background. It's the top paying symbol in the game as it gives out 200 credits with a combination of 5 of them on the reels. Unlike other Scatters, this one doesn't trigger any bonus features. Instead, it pays wherever it lands.
Hell Hot 40 Slot Volatility
The volatility of the Hell Hot 40 Slot slot is medium to high with an RTP of 96,04%, оffеring mоrе frеquеnt рауоutѕ thаn mеdіum vоlаtіlіtу ѕlоtѕ but bіggеr рау іn vаluе соmраrеd tо lоw vоlаtіlіtу ѕlоtѕ. Yоu gеt thе bеѕt оf bоth аnd еnјоу lоw-rіѕk gаmерlау.
Recent News and Promotions about Hell Hot 40 Slot and other Endorphina Slots
Our Conclusion on this Slot Review
The slot has an appearance of a classic fruit machine. The game does not offer much in bonus features. However, there is a gamble feature that gives players the opportunity to double their winnings up to 10 times. Players just need to pick from the four face-down cards, and if their card beats the dealer's card, the winnings are doubled. Players can either collect the winnings or try again, having in idea that incorrect guess results in all winnings being lost.
13+ More Hot Slots by Endorphina
FAQ about the Hell Hot 40 Slot
Why is Hell Hot 40 Slot so popular?
The popularity of the slot is due to the success of its predecessors in the Hell Hot series and the wholesome gaming experience that provides Endorphina.
Can Hell Hot 40 Slot trigger big wins?
With the presence of Wilds, Scatters, and a Risk Game, you definitely have the chance to trigger some glorifying wins.
Can you play the Hell Hot 40 Slot with bonus money?
Unfortunately, there is no chance of playing with bonus money.
Can you play the Hell Hot 40 Slot on your mobile phone?
Yes, Hell Hot 40 Slot is mobile-friendly, made with HTML5 technology.
Is there a winning strategy that actually works at Hell Hot 40 Slot?
There is no specific useful strategy that can be implemented in the particular slot, but you can give a try to the various proven strategies such as the one-line betting strategy.
What is the variance of Hell Hot 40 Slot?
The variance of Hell Hot 40 Slot is slightly above the average with an RTP of 96,04.
Play Now at Our Top Pick: