John Daly Spin it to Win it Slot
Golf is the sport for you - check out the new John Daly Spin it an Win it Slot!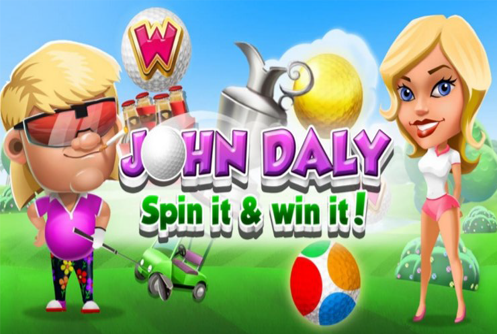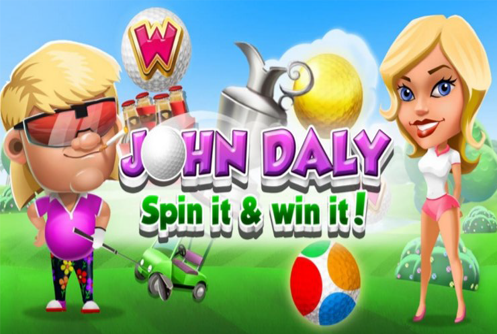 Our Opinion
Graphics & Gameplay - 95%
Review
The golf legend John Daly welcomes you to the online gambling world with this new thrilling slot!
SLOT INFORMATION
Provider:

Return to Player:

94.78 %
Volatility/Variance:

Medium to High
Slot type:

Video Slot
Rows:

3
Reels:

Five Reel Slot
Paylines:

243
Slot Layout:

5x3
SLOT FEATURES
Minimum Bet:

$0.10
Maximum Bet:

$100
Maximum Win:

$2,200,000.00



OTHER KEY FACTS
Date Launched:

16 march 2022
Jackpot:

Gamification:

Special Symbols:

Wilds

Wild Multipliers

Scatters

Wild Scatters

Splits

Stacked Wilds
| What we liked | What we did not like that much |
| --- | --- |
| Great Sports theme | Non-fixed paylines |
| Great variety of bonus features | |
| 22,000x winning potential coefficient | |
Intro to the John Daly Spin it to Win it Slot
John Daly Spin It to win It Slot is a new release by SpearHead Studios that is bound to tale the world of online slots and slot enthuziasts by storm ! This is one of the New Slots March 2022, dedicated entirely to the intriguing and exciting public figure John Daly who is an American golf icon!
You will be able to learn more about his career while gambling on this incredibly thrilling slot and taking advantage of the tons of winning opportunities that are going to be presented to you! Our team at CasinoDaddy.com is here to provide you with all of the important details of this new slot with this carefully prepared article so let's get started!
John Daly Spin it to Win it Slot Online
Gambling online has become a much more preferred and popular gambling activity in the past several years! This is because players from all around the world have started to realise how beneficial online gambling actually is.
There is no doubt that this form of gambling is much more comfortable and convenient for players since you don't have to even leave your house or you can play casino games on the go. However, the John Daly Slot is available online and you can all benefit from it now!
John Daly Spin it to Win it Slot Return to Player – RTP – 94.78%
The return to player's percentage of every new slot game is what we are always starting with because we believe that this is one of the most important characteristics of every slot game. Here you can see how the scale ranges:
When it comes to John Daly slot, the RTP here ranges from 88.05% to 94.78%. This is just above what's considered as average in the iGaming industry and it is promising to be a very beneficial slot!
Gallery and Shots of Main Slot Features
John Daly Spin it to Win it Slot Review
John Daly is a brand new slot game that has just launched on the iGaming market but has already brought a lot of attention to itself! Gambling enthusiasts from all around the world can't wait to get access to this new slot and have very high expectations for it since it is a final gaming product developed by Spearhead Studios. This is a software developer that provides players with high-quality gaming products only and we are very excited for its latest release.
There are many reasons for us to claim that this new slot is going to meet your highest requirements and expectations – there is a great number of high-quality bonus features, high volatility, thrilling idea and a beautiful design. What more could you want in a slot?
John Daly Spin it to Win it Slot Paytable
When it comes to the paytable of this slot, our team has prepared for you photos of it above in the article. There you can see how the different symbols of the game pay. The minimum bet here is 0.10 EUR and the maximum amount that you can place a bet with stays at 100 EUR. What's more, this is a video slot with 5 reels and 3 rows which is a classic layout that will make it very easy for you to absorb the information.
Additionally, the game has 243 paylines which is a clear sign for how advantageous this game is actually going to be! You will be presented to limitless winning opportunities – make sure you benefit from them well!
John Daly Spin it to Win it Slot Symbols Explained
When it comes to the symbols of John Daly Slot, keep in mind that they follow the theme of the game. This is a beautifully designed slot that is all about golf and features John Daly and a pretty blond girl that accompanies him. The simple low-pay symbols here are coloured letters and numbers while the high-pay symbols feature golf ball, the face of John Daly, and others.
The most exciting thing is that the game also has Sticky Symbols, Wilds and Scatters. Keep reading to find out what features you can trigger by knowing the symbols of the game!
How To Play the John Daly Spin it to Win it Slot
The way you play John Daly slot is very simple-to-understand and easy-to-do even by a new beginner who just now starts his experience in the online gambling world. Slots in general are games that are played very easily and all you have to do is trust your intuition and rely on luck.
Always follow your gut feeling because it never lies! Of course, there are many things that you can do to boost your winning chances and to play this game correctly and we are going to be revealing them all to you in the next few paragraphs!
John Daly Spin it to Win it Slot One-Line Betting Strategy
The one-in betting strategy is something that our team at CasinoDaddy.com always shares with you because we truly believe that it will help you! All you need to do in order to use this strategy is to hit on one reel until you hit a winning combination – as simple and easy as that! This strategy is and proven to work through the years so go ahead and try it out yourself!
Our 100 Spins Challenge on John Daly Spin it to Win it Slot
Another thing that our team at CasinoDaddy.com always does for you is our 100 spins challenge and now we have decided to do it on John Daly too! What we do is we gamble on 100 free spins to see how the game actually works and test its fair-gaming. Also, we want to provide you with more practical aspect of information so you can go ahead and read more about the slot below:
Does John Daly Spin it to Win it Slot Work on Mobile?
John Daly Slot is developed by Spearhead Studios using the latest technics and mechanics that are now trending on the iGaming industry, including the HTML5 technology. Therefore, this game is fully mobile-compatible and can be played on every device and platform. Gambling on the go is now possible when you choose this new staggering slot game!
Try the Free Play Mode
Our team of professionals has one suggestion to give to you – always try the free play mode of every new game that you have intentions of gambling on! Trying the demo free version of the game will bring you lots of benefits such as gaining much needed experience and confidence in your abilities as well as improving your betting skills and the overall quality of your gameplay. What's more, you can do all of this for free without having the need to risk your real money so what are you waiting for?!
How to Win at John Daly Spin it to Win it Slot
How to win at slots is a question that we frequently get asked. Well, first of all, slot games are based much more on luck rather than skills. Therefore, as we mentioned, you have to rely on your luck and intuition for when you have to hit that button. In order to play the game correctly, you have to also accept not having luck as a possible option. However, there are certain things that you can do that will surely boost your winning chances such as correctly educating yourself on the topics related to the game that you are interested in by reading articles, reviews and other pieces of information. Moreover, you can also try the free play mode – we will tell you later in the article why this is so important. The win potential in this slot is over 22,000x your bet which is spectacular!
Bonus Features and Free Spins
When it comes to the bonus features and free spins that John Daly Spin it and win it Slot provides you with, there is a lot to be said! This new slot game supplies you with tons of phenomenal features that will simply blow your mind! First of all, the game has three compelling base game modifying features – random wilds, a walking wild and expanding wins features. The slot also has three bonus features that are also unique and outstanding!
You can get free spins in the game with the help of win multipliers, retriggers and sticky wilds! There is also a Cash prize collection game that has regtriggers and win multipliers and it is called Sticky Balls! Additionally, the most special bonus feature in this game is the John Daly's Big Hit and there you will be able to watch how he hits the ball and the win multiplier increases while the ball is flying in the air! Of course, the game provides you with the ability to buy all six base game and bonus features if you want which makes it stand out from the average slots!
John Daly Spin it to Win it Slot Volatility
The volatility of John Daly slot depends mostly on the RTP of the game. Since the RTP here is medium to high, then the variance is also said to be high, providing you with many winning chances! No matter if you are a new beginner who is a small stake or a high-rollers who has a lot of experience in the iGaming industry, this slot game is capable of satisfying your needs!
Recent News and Promotions about John Daly Spin it to Win it Slot and other SpearHead Studios Slots
Our Conclusion on this Slot Review
In conclusion to the John Daly slot game, we can confidently say that this is one of the slot games that we are most excitingly waiting for to finally get released in February 2022! In other words, the game has everything that a player may ever need to feel satisfied and pleased by his gameplay. What makes this slot so special and unique surely is the great variety of bonus features that it has!
We are truly amazed by how beneficial this game is and how high the levels of quality of its features and functions really are! We suggest you try out this game as soon as it launches and you will definitely not regret taking advantage of such tempting and irresistible offers!
FAQ about the John Daly Spin it to Win it Slot
Can John Daly Spin it to Win it Slots Trigger Big Wins?
Yes, John Daly Spin it and Win it Slot has a win potential of over 22,000x your bet!
Why is the John Daly Spin it to Win it slot so Popular?
John Daly Spin it and Win it Slot is so popular due to its famous software developer Spearhead Studios.
How do you get Free Spins on John Daly Spin it to Win it slots?
You can get free spins here with the help of win multipliers, retriggers and sticky wilds!
Can You Play John Daly Spin it to Win it Slot With Bonus Money?
Yes, this game can be played with bonus money.
Why is This Slot Called John Daly Spin it to Win it?
This slot is called so because it is dedicated to the golf legend John Daly and his career!
Can you play John Daly Spin it to Win it on Mobile?
Yes, this slot is fully mobile-compatible!
Play Now at Our Top Pick: