Magnum Opus Slot
Ready to experience the transformation that awaits you inside Magnum Opus? Be the first to find the true Golden Elixir!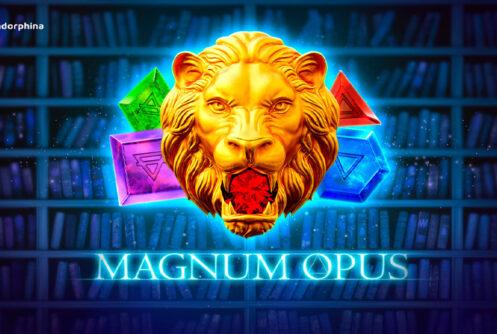 Our Opinion
Graphics & Gameplay - 95%
Review
Solve the secrets of alchemy and transform the stones into real money with Magnum Opus Slot from Endorphina.
SLOT INFORMATION
Return to Player:

96.01 %
Volatility/Variance:

Medium
Progressive Slot:

Slot type:

Video Slot
Rows:

3
Reels:

Three Reel Slot
Paylines:

5
Slot Layout:

3×3
SLOT FEATURES
Minimum Bet:

$0.01
Maximum Bet:

$50
Maximum Win:

$13,000.00
Free Spins Feature:

Bonus Buy Feature:




OTHER KEY FACTS
Date Launched:

11 november 2021
Jackpot:

Gamification:

Special Symbols:

Pick Me Bonuses
| What we liked | What we did not like that much |
| --- | --- |
| Exciting Risk Game feature | There is no Free Spins, Wilds and Scatter symbols |
| Golden Elixir Bonus Game | |
| Aesthetically pleasing graphics | |
Intro to the Magnum Opus Slot
Magnum Opus is one of the newest releases of the software developer Endorphina which is known for its high level of professionalism and loads of successful partnerships in the online gambling industry. The interesting title that the slot carries is a term that refers to an artist's greatest achievement or masterpiece which signals us this slot is definitely going to be worth playing! The theme is taking us back to ancient times and magical practices that allow players to work for creating their own elixir of life. The mystical world of alchemy awaits you with plenty of special features and exceptional design! We at CasinoDaddy.com recognize the need for quality information that every player can access before wagering real money on a given slot which is why we have created an in-depth review with everything you might be wondering about so feel free to give it a look!
Magnum Opus Slot Online
Magnum Opus is one of Endorphina's newest gems that is ready to meet all of the players' expectations and even surpass them! The CEO of the company, Jan Urbanec, shares that the slot is going to be a visual masterpiece with an amazing atmosphere that is going to guarantee players' an outstanding gaming experience. The betting range that players can choose between is a minimum bet of 0.01 coins and a maximum of 50 coins. Of course, Magnum Opus is filled with awesome special features that we have fully reviewed in the below segments. So if you are on the lookout for some new and exciting slot game, Magnum Opus is ready to take you on a mysterious adventure filled with secrets!
Magnum Opus Slot Return to Player – RTP – 96.78 %
The Return to Player rate is among the most important game characteristics that players are always looking at before playing a certain slot game. If you wonder why we are ready to explain! The RTP simply shows the percentage of the wagered money that could be potentially won back. Magnum Opus slot has an RTP of 96.01% which is around the average Return to Player rate for the online gambling industry.
Gallery and Shots of Main Slot Features
Magnum Opus Slot Review
Magnum Opus is the newest Endorphina masterpiece that is giving players the opportunity to dive into the secrets of alchemy. Players would be able to turn stones into real prizes! What else could we ask for, right? This slot game has a traditional 3×3 grid and has 5 adjustable pay lines. Only the highest win that is landed on a given payline is paid and the matching symbols should be placed on adjacent reels. It comes as no surprise that all of the current casino trends are fully integrated into Magnum Opus Slot since Endorphina is always producing fully updated content in order to keep up with the competition in the casino industry.
Magnum Opus Slot Paytable
Magnum Opus is ready to leave you open-mouthed with the quality of its design and graphics. The symbols are beautifully crafted in bright colors and they represent Air, Earth, Eye, Fire, Lion, Moon, and Water. The Air symbol resembles a green rhombus gem while the Earth one is a purple rectangular. The symbol of the Eye is one of the most impressive ones as it looks golden with loads of spikes in the back. The Fire symbol is represented by a red triangle gem. The Lion symbol is the other very eye-catching symbol which is created as a lion's head that is holding a red gem in its mouth. The moon symbol represents a metallic Moon with a blue circle gem on top. The water symbol is a blue gem that has six similar sides and has an inverted triangle inscribed on it. Overall, the symbols are incredibly detailed and they are also hiding loads of prizes that we are going to explain in the below segments.
Magnum Opus Slot Symbols Explained
The Magnum Opus slot game is all about the plot twist of players helping out the Alchemist make gold which is why the highest prizes are achieved once the players reach the gold symbols. However, this cannot be done right away as they would have to go through copper and silver before that. The gameplay would bring multipliers of 2, 4, or 8 depending on what type of element the players successfully land. Of course, there are a few combinations that can open up the special bonus games but more on that later!
How To Play the Magnum Opus Slot
We do realize it might be a bit confusing to enter a new slot game in the beginning and in order to help you out with the process, we have prepared a guide for the initial steps that you should take once you launch Magnum Opus Slot. The first thing is to choose a casino that you would like to play the game at. Next thing is to click the Spin button to start accumulating winning combinations. Payouts are done according to the paytable of the game. If you would like to adjust your betting size, you can simply do that with the plus and minus buttons on the side. Last but not least, you should not forget to have fun!
Magnum Opus Slot One-Line Betting Strategy
Some online slots allow players to choose how many paylines they prefer to bet on since they have an adjustable number of pay lines such as the Magnum Opus online slot. This means players would be able to apply the one-line betting strategy and take advantage of it. The strategy is perfect for players who are just beginning their gaming experiences as it allows them to focus only on one payline. However, you should keep in mind there is no specific strategy that works on all types of casino games as gambling is more of a luck-based activity.
Our 100 Spins Challenge on Magnum Opus Slot
The 100 Spins Challenge allows players to get a clear perspective of how the gameplay feels, what is the potential outcome, how are the symbols located, etc. It is perfect for online gamblers that are new to Magnum Opus so we highly recommend you give it a look before wagering real money.
Magnum Opus Slot Work on Mobile?
Endorphina is one of the leaders in the gaming industry and in order to stay competitive, it is always doing its best to adapt to the new casino trends such as mobile compatibility. The software developer realizes the need to give players the opportunity to play at any time and from any place since this ensures their loyalty. This is why Magnum Opus is fully compatible with all types of mobile devices thanks to the HTML5 technology that Endorphina has implemented.
Try the Free Play Mode
Another great option for players who are just starting their gambling adventure or are just new to the slot game is to try out the Free Play Mode. This feature allows them to play the actual slot without having to wager real money on it. In this way gamblers can decide whether the slot game is appropriate for them in terms of design, symbols, special features, payouts, etc. If players end up loving the game and we are sure this would be the case, they can go ahead and wager some real money on it!
How To Win at Magnum Opus Slot
To win at Magnum Opus Slot players can rely on their winning combinations or the special bonus games that we are going to take a look at in the following segment. A lot of multipliers and amazing bonus games are ready to make your day but the question is: Are you ready to find the Golden Elixir in order to help out the Alchemist? If you are, let's see what you should be looking out for!
Bonus Features and Free Spins
If players successfully land 9 symbols of the same nature element on the reels, the Golden Elixir Bonus Games is going to be launched. This is the moment when players will have the chance to join the real Alchemist in his laboratory and get a multiplier of 2, 4, or 8 times depending on the type of material they land – copper, silver of gold. There is also a classic Risk game that can double players winning up to 10 times along with the Bonus Pop feature which is also part of Magnum Opus Slot!
Magnum Opus Slot Volatility
Magnum Opus has a 96.01% RTP which is around the average percentage for the gaming industry. This online slot has low volatility which would be the perfect option for players who are looking for more regular wins but of a smaller amounts.
Recent News and Promotions about Magnum Opus Slot and other Endorphina Slots
Our Conclusion on this Slot Review
Magnum Opus is the slot you have been looking for if you are ready for some alchemy adventures that are going to leave you breathless. Endorphina's team of professionals has outdone itself with the quality of the design and graphics of the slot. The game has 9 different symbols that represent natural elements and has three different levels depending on the material of the symbol – copper, silver and gold. Of course, there are a number of special features that can be triggered if you are lucky enough. All in all, we guarantee you you are going to have one of the best gaming experiences of your life across the 3×3 grid of Endorpina's Magnum Opus!
13+ More Hot Slots by Endorphina
FAQ about the Magnum Opus Slot
Why is Magnum Opus Slot so popular?
Magnum Opus Slot owes its popularity mostly to its notorious game creator Endorphina, also its thrilling Risk Game, and Bonus Game feature.
Can Magnum Opus Slot trigger big wins?
Of course, Magnum Opus Slot players can test their luck in a classic Risk game and double their winnings up to 10 times.
Can you play the Magnum Opus Slot with bonus money?
Unfortunately, the game doesn't have a Free Spins feature.
Can you play the Magnum Opus Slot on your mobile phone?
Magnum Opus Slot provides great compatibility being able to be played on all possible PC, mobile, and tablet devices.
Is there a winning strategy that actually works at Magnum Opus Slot?
Yes, fortunately, there is one! We talked to you about the one-line betting strategy above in the article!
What is the variance of Magnum Opus Slot?
The variance of this slot is considered to be medium with an RTP of 96,01%.
Play Now at Our Top Pick: