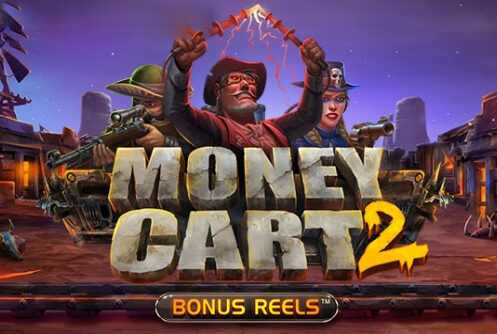 Our Opinion
Graphics & Gameplay - 95%
Review
Collect your gains and dive into the adventurous world of Money Cart 2 Slot!
SLOT INFORMATION
Return to Player:

98.0 %
Volatility/Variance:

High
Slot type:

Video Slot
Rows:

4
Reels:

Five Reel Slot
Paylines:

Slot Layout:

5×4
SLOT FEATURES
Minimum Bet:

$0.10
Maximum Bet:

$200
Maximum Win:

$1,000,000.00
Gamble Round Feature:

Bonus Buy Feature:




OTHER KEY FACTS
Date Launched:

20 july 2021
Theme:

Money Themed Slots
Jackpot:

Gamification:

Special Symbols:

Wilds

Wild Multipliers

Scatters

Wild Scatters
| What we liked | What we did not like that much |
| --- | --- |
| Satisfying gaming experience | Average graphics and design |
| Massive Bonuses and Free spins | |
| Super high variance of 98% | |
Intro to the Money Cart 2 Slot
Money Cart 2 is a new casino slot from Relax Gaming, in which a money-filled cart embarks on a new adventure in search of direct bonus games. It's a slot that, at first view, appears to be identical to its predecessor Money Train 2, and it's fair to say that this cart, too, delivers a thrilling game adventure. The main difference is that it has abandoned the primary game in favor of focusing solely on the bonus reels, which have proven to be a huge hit with players.
Money Cart 2 Slot Online
The Money Cart 2 slot, an anarchic 5-reel game from Relax Gaming, offers prizes of up to 5,000 times your wager. The Re-Spin feature is at the center of everything here. It's a streak respin bonus in which accumulating coins rewards you with cash. A variety of characters can join the action here, and a series of modifications can help you increase your chances of winning. When you fill entire reels with symbols during the feature, the game engine grows, allowing more reels to open up, increasing your winning chances. Find out more about this odd slot in our in-depth Money Cart review, which features a 98% RTP rate.
Money Cart 2 Slot Return to Player – RTP – 98%
You have the option of placing a min. bet of $0.10 or a max bet of $200. Similarly to the previous edition, which featured a 98% RTP with bonus buy, this version has a 98% RTP straight in the base game.
It has high volatility, and the lucky player can win up to 5000 times their investment.
Gallery and Shots of Main Slot Features
Money Cart 2 Slot Review
Money Cart 2 has a design that is nearly identical to Money Train 2 (Relax Gaming's most popular game). It reminded me of the cult Australian film Mad Max. With a steampunk Wild West motif, the action takes place in a Wild West-style campsite. The reels are mounted on a railroad that has been modified. Money Cart 2 is an HTML5-based game that can be played on any device, including desktops, tablets, and smartphones. The high-definition images and animations are also compatible with mobile devices. Money Cart 2's main feature is a streak re-spin bonus.
Money Cart 2 Slot Paytable
Money Cart 2 looks and sounds exactly like Money Train 2, with the same Western backdrop and steampunk-styled locomotive, explosive animations, and bursts of sound narrating the train-heist related features. Only now, instead of a transition to the bonus, there is a direct jump into the re-spin function, making the game a little more exciting. The results of a re-spin bonus round in Money Cart 2 pay a total coin multiplier. 0.10 credits equal 0.01 coin value, 1 credit equals 0.10 coin value, 10 credits equals 1 coin, and so on. The re-spin bonus round is triggered by landing three or more Bonus symbols, which appear as chain-gun barrels.
Money Cart 2 Slot Symbols Explained
During the re-spins, a variety of symbols can appear, bringing with them some potentially lucrative extras. The Bonus Symbol awards a prize of up to 1x the stake. The Golden Bonus Symbol awards a prize of 2 to 20 times the stake. Payer: a currency value is linked to this sharpshooter. The value of all the other coins on display is then multiplied by that amount. Collector: this increases the worth of the coin. This character adds up the worth of all the other coins on the grid and collects them. Collector/Payer: this symbol when combined displays the value of a coin. This value is increased by the total of the other coins. The total is then added to all of the other coins on display. Sniper: this reveals the worth of a coin. The values of 3 to 8 symbols are then multiplied by two. The sniper can shoot the same symbol many times, thus doubling the coin value. Necromancer: This brings back to life between 2 and 7 previously used symbols (Collector, Payer, Collector/Payer, or Sniper) and reactivates their feature. A coin value is also associated with the Necromancer. Reset Plus: This discloses a coin value as well as increasing the number of re-spins available by one. Persistent Payer: a coin value is tied to this. On each re-spin, this figure is added to each coin displayed elsewhere on the reels. Persistent Sniper: with each re-spin in the round, the value of between 3 and 8 symbols is doubled. It also has monetary worth. Persistent Collector: on each re-spin, this collects the values of all the coins on the reels. During the re-spins, if you fill in all four positions on a reel, an extra reel is added. This increases your chances of landing coins or modifications. You have the option of playing on a machine with up to six reels.
How To Play the Money Cart 2 Slot
The base game has been deleted, and the focus is solely on the Re-Spin function, thanks to a new method devised by Relax Gaming for the popular and adored slot Money Train 2. You begin by spinning the reels, only allowing empty positions or scatter symbols to land, with 3 or more scatter symbols triggering the Re-Spin feature. The bet size can now vary substantially more than in the previous version, with a min bet of $0.10 and a max bet of $200, as opposed to the previous min bet of $0.10 and a max bet of $20. Once you've entered the bonus round, you'll be greeted with three Re-Spins, which are reset every time a symbol appears. Symbols that land with values based on your wager are the most common, but there are also a number of interesting unique symbols that can help you win big.
Money Cart 2 Slot One-Line Betting Strategy
You'll keep spinning the reels until you hit three or more bonus symbols on the same spin, which will activate the Re-spins feature. The triggering symbols become persistent, and you're given three respin lives, to begin with. The respins tally is reset to 3 with each new symbol you land, and the function continues as long as you don't run out of lives. You can expand the grid by adding two more reels, and each ordinary reel you fill with symbols unlocks one extra reel. Money Cart 2 has modifier symbols that can benefit you in a variety of ways, just like the previous game. The conventional bonus/cash symbols have multiplier values ranging from 0.1x to 1x your bet, while the golden version has multiplier values ranging from 0.2x to 20x.
Our 100 Spins Challenge on Money Cart 2 Slot
All of the slot machines we propose to our users are reviewed by our staff at CasinoDaddy.com to ensure you get the greatest game selections! In a special 100 Spins Challenge, we bet on the Money Cart 2 slot to show you how it works and what bonus features and prizes you can expect. You may see it here:
Money Cart 2 Slot Work on Mobile?
Money Cart 2 is an HTML5-based game that can be played on any device, including desktops, tablets, and smartphones. The high-definition images and animations are also compatible with mobile devices.
Try the Free Play Mode
The Money Cart 2 Slot free play option is great if you want to acquaint yourself with the game before making a real money deposit. The free play demo is identical to the premium version because the awards are only made up of virtual money. This virtual money can assist you in keeping track of the payout frequency.
How To Win at Money Cart 2 Slot
They have lowered the theoretical maximum win from 500X to 50,000X. On the other hand, the max bet has been upped to $200, so you can theoretically win the same enormous max win as in the previous edition if you go all-in with max bet all the time, which doesn't seem realistic. Money Train 2 will still be played a lot because it has the whole concept and a high potential maximum win. They have certainly picked out the best parts of this slot and created almost perfect for the Re-Spins loving players out there, but Money Train 2 will still be played a lot because it has the whole concept and a high potential maximum win.
Bonus Features and Free Spins
The Money Cart 2 Re-spin Bonus is triggered when three or more Bonus symbols or Persistent Gold symbols appear on the reels during a basic round. To begin the round, each Bonus symbol that started the round transforms into a coin value symbol, and any Persistent Gold Modifiers take effect. Starting with a count of three re-spins, any symbols that land will reset the count to three, with the exception of spins that draw blanks. The round will continue until the re-spins have expired, you have completed the grid, or you have won the maximum amount. When you land, a counter maintains track of your current coin total, with symbols and modifications taking effect. Completing a reel will also set off dynamite blasts, which will expand the grid to a maximum of 74 squares. The totals that the modifiers play with are made up of both gold and silver coin symbols. On the reels, the silver coin symbols are the most common.
Money Cart 2 Slot Volatility
The volatility, of course, remains very high, which is fitting given the series' reputation.
Recent News and Promotions about Blue Fortune Slot and other Relax Gaming Slots
Our Conclusion on this Slot Review
Money Cart 2 is pure brilliance. Relax Gaming took the Money Train 2 bonus and turned it into a full-fledged game. The bonus round's hit frequency is ridiculous, which allows for fast-paced action that UK gamers and low rollers will enjoy. It's like making a bonus buy without paying the premium, although for half of the prize. Money Cart 2 does, however, cater to the high rollers by increasing the maximum bet to compensate for the lower coin value. Relax Gaming has proven once again that they deserve to be among the leading developers in 2021.
6+ More Hot Slots by Relax Gaming
FAQ about the Money Cart 2 Slot
Why should I play the Money Cart 2?
This new slot is developed by Relax Gaming, one of the world-leading iGaming providers. It has everything a player needs – engagement, visual excellence, and amazing bonus features!
Is there a winning strategy in Money Cart 2?
Although we can't predict how the game will go, we can tell you a secret – save the keys you win during the game and redeem them for free spins later.
Can I play it on my mobile?
Of course, Money Cart 2 is 100% mobile-compatible and operated smoothly on both Android and iOS.
What is the minimum bet in Money Cart 2 Slot?
The minimum bet is $0.10, so all players, even those with limited funds, can enjoy fun gambling sessions.
Play Now at Our Top Pick: BetMGM Casino