Claim 245 Free Spins From King's Easter Campaign At King Billy Casino
Easter celebrates the resurrection of Jesus but it is also associated with popular symbols such as eggs, candy and bunnies. To make the holiday even more exciting, King Billy has decided to launch an Eastern promotional campaign from which you will be able to make use of 245 Free Spins on Hello Easter slot, powered by BGaming. Go on egg hunt across the green meadows with stunningly charming bunny and let the King reward you. King Billy Casino perfectly knows how to treat its citizens, so do not waste your time and take part in the King's Easter Campaign 2020.

King's Easter Campaign 2020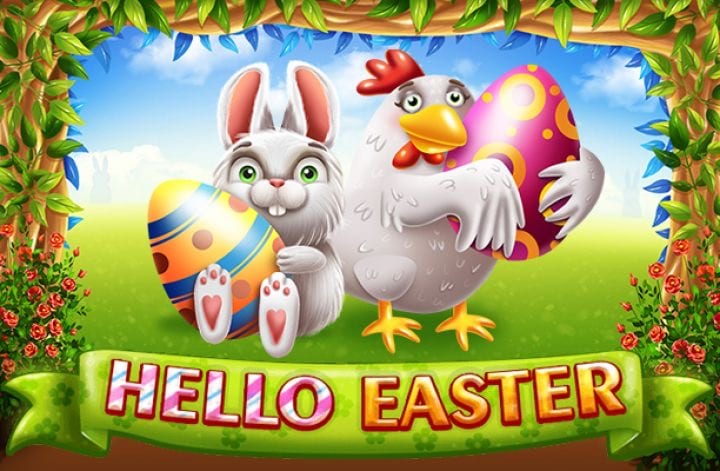 King Billy Casino has the nickname "land of joy" as it features a wide variety of table games, slots and jackpots. A Kingdom where you can encounter big winnings and take advantage of outstanding promotions and online casino tournaments, King Billy Casino can definitely satisfy the needs of the most demanding online casino players. In order to prove this, the reputable online operator has launched an amazing Easter-themed promotion, King's Easter, from which you can benefit from some Free Spins. By using the Free Spins, you will be able to try out one of the most amazing video slots created by BGaming, Hello Easter. The game transfers you to a colorful universe that will take you to the countryside and give you the impression of a rural idyll. The most thrilling aspect of the game is its Gambling Feature. Following every win, while spinning the reels, you will be taken to a separate screen with a faced down card and a bunny on one side of it, and hen on the other. Pick one of the two and wait to see whether you have been correct. Should you happen to have made the right decision, you will double your win and the slot will let you take another guess. You look forward to giving Hello Easter a go, don't you? If so, head to King Billy Casino, claim your pack of Free Spins and play the online slot without losing real money.
General Rules Of The Promotion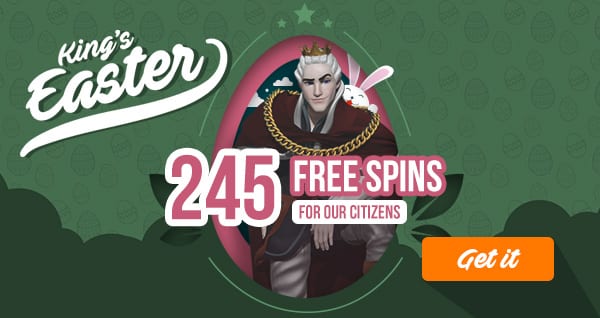 As with every promotion, you must comply with some general rules in order to be able to make use of King's Easter Campaign. Luckily for you, your beloved King is fully aware that no one is in favour of stringent rules. For that reason, he has created a small number of easy-to-follow rules at your ease. To begin with, you will need to be a fully registered member of King Billy Casino. If you have not set up your account yet, do not waste your time, as this will allow you to take advantage of amazing promotions. Following this, you will need to make a deposit. Deposit now €100 or equivalent claim your 245 Free Spins on BGaming's Hello Easter slot in 7 super packs of 35 Free Spins per day. In order to so, you will need to use one simple bonus code, which is: EASTER. The first pack of 35 Free Spins will be added immediately. Likewise, the remaining six packs of 35 Free Spins will be added, one by one, every 23 hours, provided the minimum wagering requirement (1x) for the previous pack has been reached. What is more, the maximum win you can encounter while using your Free Spins is €100. Furthermore, if you do not manage to activate your Free Spins within 24 hours, they will expire. Last but certainly not least, cancelling at least one of the Free Spins sets will mean cancelling subsequent sets of Free Spins. For that reason, be careful not to forget to activate your Free Spins.
Final Considerations
Easter is a unique time of the year and King Billy Casino could not possibly miss the opportunity to give its citizens a reason to celebrate. Easter Eggs? Chocolate bunnies? Cookies? Yes, yes, and yes. But this Easter, there is something more. The combination of an Easter-specific slot and some Free Spins might happen to be the perfect way to celebrate the holiday from the comfort of your home. King's Easter Campaign is designed for everyone, so make sure you do not miss this amazing opportunity. Otherwise, you will have to wait one year more. Nevertheless, before opting-in make sure you familiarize yourself with the general terms and conditions of the King's Easter promotion, as we do not want you to be disappointed. Lastly, we kindly encourage you to play responsibly and we wish you a bit of good luck and amazing winnings. Happy Easter!

Finally, you can still make use of our overall listing of the best online casinos right now, so give it a go.

First deposit bonus:
1. 100%/€500+100 FS or...
2. 200%/€100 or...
3. €200 Casino CashBack
Review

First Deposit Bonus:
100%/500€/$ + 200 FS

Review

First deposit bonus:
100%/500€ + 250FS
Review

First Deposit Bonus:
100%/250€ + 15 FS
Review

First deposit bonus:
125%/100€ + 50FS
Review




Exclusive Bonus:
125%/500€ + 250 FS
Review

Welcome Pack:
1000 EUR + 50 FS on "Book of Dead"

Review

First deposit bonus:
20 FS + 100% Bonus + 50 FS
Review

First Deposit Bonus:
100%/300€/$ + 150 FS

Review

First deposit bonus:
100%/500€ + 200FS

Review




First Deposit Bonus:
100%/300$ + 100 FS

Review

First Deposit Bonus:
100%/$300 + 100FS

Review

10% Daily Cashback

Review

First deposit bonus:
100%/300€ + 300FS
Review

First Deposit Bonus:
100%/1,500$/£/€ + 200 FS

Review




First Deposit Bonus:
100%/300$ + 300 FS

Review

First Deposit Bonus:
100%/€200 + 60 FS

Review

First Deposit Bonus:
200%/100€ + 25 FS

Review

First Deposit Bonus:
100%/500€

Review

First deposit bonus:
100%/300€ + 200FS
Review



First Deposit Bonus:
100%/300€

Review

First deposit bonus:
200%/2500€ + 50 FS
Review

25% Cashback

Review

First deposit bonus:
100%/1500$
Review

Total bonus package:
575%/1750$ + 290 FS
Review




First deposit bonus:
100%/200€ + 100 FS

Review

First deposit bonus:
200%/300$ + 125FS
Review

First deposit bonus:
100%/200€ + 50 FS
Review

First Deposit Bonus:
120%/240€

Review

First Deposit Bonus:
100%/250$ + 100 FS

Review



7 different welcome bonuses

Review

First deposit bonus:
100%/500€ + 100 FS
Review

First deposit bonus:
100%/500€ + 200FS
Review

First Deposit Bonus:
150%/350€ + 50FS

Review

First Deposit Bonus:
100%/500€/$

Review