California Online Gambling
There are many land casinos in the state, however, currently, the law does not permit local online gambling operators in California.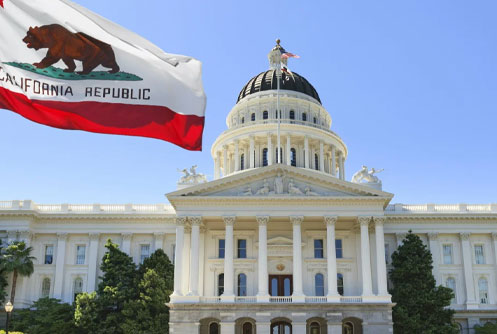 Best Casinos for California Players
Online Gambling in California is not illegal, as there are actually no laws in the constitution of the state that prohibit, outlaw or ban online gaming. This means that betting money online is not a crime within the state and residents do not have to fear prosecution. The only strict rule here is the minimum age of 21 years in order to play. California, however, prohibits residents from starting any sorts of online gambling buseinesses on the territory of the state, but as long as you are only playing, you do not need to worry.
ak While California has yet to legalize government-regulated online gambling, their dire financial situation mrs it likely that they will head in that direction sooner rather than later, especially when it comes to national sports betting. There is currently no state law that pr
ohibits or punishes online gambling through licensed and regulated out-of-state and foreign gambling sites. We still recommend that you familiarise yourself with the California gambling laws and legislations by visiting the California Department of Justice for the details and content of the legislation. Disclaimer: For professional interpretation or legal advice, we recommend that you consult a lawyer. We are not lawyers, we do not have legal degrees or legal certificates, and we do not provide professional legal services. We are just trying to keep the betting community informed on trending topics related to online gambling.
California Online Casinos
The state of California has tried to pass laws that would allow lawmakers to regulate online gambling but have been unsuccessful in this so far. There are however online gambling sites that accept residents of the State of California and it is not considered a crime for residents to gamble online. We have reviewed and ranked below the best online casinos that accept players from California.
One great choice for players from California is BetMGM, one of the fastest-growing operators in America which has already expanded in multiple states. You can expect a world-class gaming site packed with 700+ casino games, a welcome bonus worth up to $1,000, secure payment options, and a whole lot more. You'll find games from a variety of developers, including NetEnt, IGT, Everi, and DGC. You can check our in-depth review if the casino here.
Another great option is Borgata Casino. This casino offers a wide variety of games and slots and is currently one of the few that accepts players in the United States. Borgata Casino has a generous deposit bonus that is available to new players. The no deposit bonus consists of free $20 bonus funds and all you have to do is register for your new account. Once you have verified your identity at the casino, your account will be funded immediately with a $20 bonus cash and you can begin to play your favorite casino games. The casino also offers great promotions for their loyal customers. Click here to learn more.
California Sports Betting
Sports betting is not legal in California at the moment, though gaming analysts speculate that the Golden State will be one of the dozen or more US states which are likely to legalize land-based sportsbooks & online betting sites in the next 5 years. The U.S. Supreme Court repealed a 46-state federal ban on sports betting on May 14, 2018. Sports wagering is actually not legal in California right now, though experts predict that the Golden State will definitely be among the many US states which are likely to legalize land-based sportsbooks & online betting sites in the upcoming 5 years. The Supreme Court reversed a 46-state government ban on sports betting on May 14, 2018. A vote is set to be held in November 2022 which will decide whether sports betting will be allowed in the state. The state is a bit late in the game, as three years after the US Supreme Court removed legal barriers preventing states from allowing sports gambling, sports betting has been legalized in 26 states, including New York, New Jersey, Michigan and Oregon. Legalization could bring California about $ 1 billion in gross annual revenue without online gambling – as proposed by the tribal initiative – and $ 3 billion if the state expanded it to include online gambling. The state Legislative Analyst's Office said the initiative would create new spending to regulate sports betting, but also a flood of money for state coffers.
California Land Based Casinos
After the Cabazon tribe of Southern California prevailed in a 1987 US Supreme Court decision, the tribes quickly moved from tented bingo halls to complex casinos. Despite other gambling interests, such as horse racing tracks, card gambling halls, and even Las Vegas casinos. They succeeded in cleverly pushing the limits with dubious types of gambling, especially slot machines, and then defending themselves against efforts by state authorities to crack down long enough to use their gambling winnings in ballot measures to legalise what they had been doing. "The Indians of California were playing for time and as money poured into their new casinos, which got bigger and more elaborate, they were able to hire top-notch legal and political talent and become big players in their own right.", analyzes a source. In just a few years, the tribes became 'perhaps the most powerful political force in the nation's most populous state, using the money of the non-indigenous population, funneled through tribal gambling casinos, to purchase access to and unmatched influence on a Legislature that once declared them to be pests. There are now more than 80 tribal casinos in California generating an estimated $ 8 billion a year in revenue, virtually equal to Nevada's famous gambling industry, and most of that money comes from slot machines, the financial mainstay of any casino.
California Lottery
Most of the time the lottery laws are created by the state governments. California has its own lottery, as well as rules that govern how people can participate in it. Lotteries that are not officially administered or sanctioned by the state are illegal, and anyone caught participating in an unofficial lottery can be found guilty of a misdemeanor. The California lottery is massive, with tickets sold at more than 22,000 kiosks and shops within state borders. Both progressive jackpots and scratch-off tickets are available. The state of California participates in every major multi-state drawing in the country, like Powerball and MegaMillions. Residents of any city or state can play the lottery, but tickets can only be purchased from California sellers and must be delivered to the California Lottery Claims Office. Prizes of up to $ 599 can be collected at any lottery vendor; Prizes of $ 600 and more winnings are collected using an application form at the district lottery offices. The California Lottery has not changed any laws or rules regarding participation or payments in recent years. Small changes may have occurred in individual games, so it's important to read the lottery card rules and understand what to do if you get a winning card.
California Charitable/House-Based Gambling
California law allows charitable games to be played. However, such events are limited to bingo, poker and lotteries. Charitable gambling, including home poker, is legal as long as it does not violate California gambling laws. Charitable games must meet the following conditions to be legal on the board:
The owner or host does not make a monetary profit from hosting the game (i.e., "rake"). Personal income does not matter.
All players must have an equal chance of winning.
Games must be played in a private environment, such as a private home or community club, and must not be a "bank."
Illegal gambling is a crime under California law. Fines can range from $ 100 to $ 1,000. Of course, once again, online gambling at a casino or foreign gambling is not illegal gambling in California.
California Daily Fantasy Sports
California does not have a law that specifically legalizes daily fantasy sports, but the state also does not have laws that make competition illegal. California-based DFS sites continue to offer their games to gamers seamlessly. California lawmakers have made several attempts in recent years to legalize Daily Fantasy Sports. The California House of Representatives passed a bill proposing regulation and taxation of Daily Fantasy Sports, but the state Senate did not advance it. Despite the legal uncertainty, DFS remains active in California and is quite popular with gamers. DraftKings and FanDuel reach the most players and tend to be the most popular DFS sites across the country, including California.
California Social Gambling
There are no specific social game laws in California. However, case law and precedents provide guidance on social games. California case law has established that social games are not considered legal under current state law as a game of skill or if they offer any rewards. This is why any game developers and operators offer social games in the state of California for free.
California Gambling News
Follow the latest news regarding online gambling and gambling related laws in the state of California. As the gambling scene in the U.S. changes daily, you can come back to this page to check the latest news and developments.
California Gambling Legislation
California's position has historically favoured gambling. Keep in mind that the first slot machine was invented in the Golden State. In California, gambling was largely unregulated until 1984, when the Gambling Registration Act was passed, and later in 1997, the Gambling Control Act was passed to transpose it into the state gambling ordinance. In the fall of 2003, California voters approved Proposal 1A, which allows tribal gaming contracts to play appropriate Class III casino games. Any tribe that participates in an agreement between the state and the tribe can use two casinos located on land. However, there was no movement in California to develop online gambling laws and regulate this activity nationally. Instead, the state only allows personal gambling. However, because offshore casinos, sports books, and poker rooms are not subject to California law, they are freely available to residents as the only legal way to play online in the Golden State. Of the other two federal gambling laws that regulate the various forms of gambling in the United States, there is no criminal offence in online gambling. The Federal Law prohibits state-regulated sports betting from accepting bets or transmitting sports betting information by state. The UIGEA is not directed at US players, but does not allow US financial institutions (such as banks, credit unions, and P2P instant payment services) to knowingly process game payments to or from unregulated US casinos or sportsbooks. and poker rooms. There was a third major federal gambling law which affected sports betting up until 2018. The Professional and Amateur Sports Act (1992) no longer applies however as it was struck down by the U.S.Supreme Court in May 2018. All states, including California, can now legislate online and offline sports betting.
FAQ about California Online Gambling
Are California Online Casinos safe?
Absolutely! California online casinos provide both safety and fairness to their players, using the latest security measures and technologies to keep them protected from harmful threats and fraud attempts. The venues own licenses and certification from reputable jurisdictions, providing their trustworthiness.
What kinds of casino games can I gamble on at California Online Casinos?
California online casinos have divine and enriched in a variety of casino games, including slot machines, video poker, Slingo games, table games, e-sports, live casino games, lottery, bingo, scratchcards, live sports betting, sports betting, and virtual sports.
What kind of bonuses can I get in California Online Casinos?
At California online casinos, offer lucrative, generous, and smashing welcome bonuses, Deposit bonuses, Free Spins, Reload Bonuses, High Roller Bonuses, No Deposit Bonuses, Sports Betting Bonuses, No Wagering Bonuses, and so much more, available for the most popular casino games and slots.
Are No Deposit Bonuses available at CaliforniaOnline Casinos?
Absolutely! BetMGM Casino offers a No Deposit Bonus of $25 upon registration, while at Borgata you can obtain a No Deposit Bonus of $20. Check out more of our Arkansas online casinos listed on this page, for smashing No Deposit bonuses!
How much profit does California make from legalised online casinos in the state?
As online casinos are not legal within the state, California is not collecting any revenue.
What kind of Deposit Bonuses or Match Bonuses can I get at California Online Casinos?
California online casinos offer massive packs of deposit and match bonuses in the form of welcome bonuses, Reload Bonuses, and high roller bonuses, including 1st deposit bonuses to 4th deposit bonuses. They are based on your deposited amount of around 100% up to 400%.
How do I use California Online Casino bonus codes?
Bonus codes are used to unlock special and unique prizes and need to be entered at the California online casinos deposits section before submitting your deposit. If the bonus you are trying to obtain needs a bonus code, it will be listed in the bonus T&C. So make sure to read them carefully!
How do I deposit or withdrawal my winnings from California Online Casinos?
California online casinos support a variety of payment methods in USD with low-fees and instant deposit transfers, including debit/credit cards, e-wallets, bank transfers, and third-party payment providers. Such as MasterCard, Visa, Skrill, PayPal, American Express, PayNearMe, Play+, Discover, and VIP Preferred.
How has online gambling in California impacted land-based casinos?
California has not officially legalized online gambling yet, so there is no impact on land-based casinos.
Can I play at California Online Casinos from my mobile phone?
Yes! California online casinos are developed with HTML5 technology and thus are supported on mobile phones, tablets, and all hand-held devices. Including Android, iOS, and Windows.
Who operates the legal online casino sites in California?
Online casinos are not yet legal within the state, but players can enjoy out-of-state casinos like BetMGM, Borgata and Party Casino.