Louisiana Online Gambling
Online gambling is not legal in the state of Louisiana.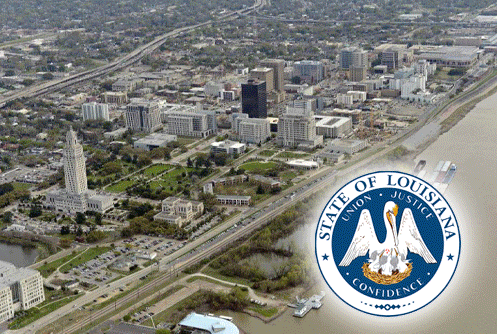 Best Casinos for Louisiana Players
Online Gambling in Louisiana
The gambling laws of Louisiana are a curious blend of liberal and restrictive statutes. Almost every popular kind of gambling in the United States is permitted in the state, and clear regulations defining what is and isn't legal have been developed. Private and philanthropic games, as well as a state lottery system, are permitted and popular. Louisiana's 14 riverboat casinos, as well as hundreds of additional commercial and tribal sites, should not be overlooked. Louisiana is a popular tourist destination, and it is home to New Orleans, which is as close to a sin den as the American environment allows. It's also a hunter's dream come true. Nearby Texas, Oklahoma, and Arkansas residents are commonly seen hunting and fishing in Louisiana's immense wilderness. People who live in surrounding states that aren't gambling-friendly are also attracted to legalized casino gambling. The state of Louisiana is well-known for its gambling. From slot machines at racetracks to full-fledged commercial casinos, riverboat casinos, and tribal resorts, the state offers a wide range of legal casino gaming alternatives.
Louisiana Online Casinos
In Louisiana, the minimum gambling age is unusually low. To participate in bingo and horse racing in Louisiana, you must be at least 18 years old. Players must be at least 21 years old to participate in the state lottery. The minimum gambling age in Louisiana casinos and convenience-style video poker is also 21 years old. All kinds of internet gambling are expressly prohibited by Louisiana gambling legislation. Participating in online gambling can result in a fine of up to $500. Louisiana is one of just two states that has specific player sanctions. While online gambling is a misdemeanor, owners of unregulated poker, casino, and sports betting sites could be charged with felonies if convicted.
MGM Resorts International, which operates multiple online betting brands under the BetMGM Inc. name, created Borgata Online Casino. Borgata Online Sportsbook and Casino, backed by one of the world's most successful casino operators, offers clients a sophisticated online gaming experience. Borgata Sportsbook began offering mobile betting in May 2019, over a year after the Supreme Court struck down the federal sports betting ban. Borgata Sportsbook has greatly increased its coverage of athletic events throughout the world since then. The Borgata bonus is simple to collect, but new clients should be aware that they must place their first wager at odds of -200 or greater. For example, wagers with odds of -200, -110, +110, +250, and so on would be eligible. Wagers with odds of -250, -300, -400, and so on would not be successful. Borgata Sportsbook requests a bonus code at registration, but users can ignore it for the time being. After placing their initial wager, everyone receives the same bonus: $100 in free bets. Borgata will provide new users ten free bets for $10 each when they place their first $20 stake. In addition, bettors must use their free bets within seven days after receiving them. Borgata's edit my bet function allows customers to make changes to their pregame, in-play, and parlay wagers before the underlying event ends. Customers can maximize their winnings by adding, swapping, or removing parts from parlays, as well as increasing their stakes for all other wager kinds. Borgata starts an early cash out and automatically produces a new wager according to the user's requests when they alter their bets. Parlays for a single game: Borgata adds a "one game parlay" designation to some games listed in the lobby, indicating that bettors can form parlays including several selections from inside that one game.
To be honest, PartyCasino has a lot of slots – possibly more than you'll ever be able to play. To keep the portfolio perfectly fresh, more spaces are introduced on a regular basis. Many visitors to the site enjoy the NetEnt slots, which include Blood Suckers and Gonzo's Quest. IGT also has a fantastic assortment of games, such as Da Vinci Diamonds and Elephant King. You'll even find a few slots that are exclusive to PartyCasino, ensuring that even the most seasoned players will find something new when they sign up. This casino has a plethora of progressive slot machines. The Mega Moolah slot is the most popular, and it can sometimes award a reward of over £15 million in each casino where it appears. You'll also find the wonderful Mega Fortune game, as well as a variety of IGT progressive slots from the Mega Jackpots series. Weather Man and Melon Madness are two additional exclusive progressive jackpot slots. Although the jackpots rarely exceed £1.5 million, the slots are nevertheless well worth playing. Table game fans will be ecstatic with what's on offer. Some casinos have begun to overlook traditional table games in favor of live dealer, but not PartyCasino. It has nine different blackjack games, including Terminator Blackjack. Then there are 14 other forms of roulette, including European, American, and French variations. PartyCasino offers baccarat and craps, both of which are uncommon in online casinos. There are seven video poker games available, including Jacks or Better and Double Double Bonus Poker. Video poker offers the greatest RTP of any casino game, which is a compelling argument to give it a try.
BetMGM Casino is one of America's major online gambling operators, having been launched in 2017 by MGM Resorts International. The online casino is housed alongside an online poker and sports betting platform, both of which are run by the same company and are accessible from the same website. There is no doubt that you will be able to discover a game to play at the Bet MGM Casino online, regardless of the type of casino player you consider yourself to be. The site has hundreds of video slots, a large assortment of virtual table games, and a live casino platform, so there's something for everyone. As you might assume, video slots make up the majority of the games collection, with notable titles from IGT, WMS, SG Interactive, and NetEnt all available. Classic games like Cleopatra, Zeus III, DaVinci Diamonds, Dancing Drums, Kitty Glitter, Dead or Alive, and Divine Fortune have a particular place in the featured games list. Apart from slots, many of which offer extraordinary progressive and other jackpots, players can also enjoy virtual versions of casino games including roulette, poker, blackjack, baccarat, and video poker. These virtual games use the same software as the slots and offer part of the excitement of Atlantic City to players' PCs. BetMGM Casino also has a live casino platform for those who don't find virtual casino games to be entertaining enough. New players at BetMGM Casino can take advantage of not one, but two fantastic welcome bonuses. The first portion is a no deposit incentive that is available to all players who register for a free account on the site. Simply create an account and you will receive a USD 25 FREEPLAY in your account, which you can use to play a variety of casino games. To cash out the profits from this offer, players must first accumulate 375 iRewards Points. When you make your initial deposit on the site, regardless of the method you pick, the BetMGM Casino bonus really starts to shine.
Gambling in the US – The legal landscape
Examining the state-by-state panorama of internet gambling in our magnificent country is a straightforward way to analyze it. Things become more complicated because "online gambling" is a broad term that encompasses sports betting, poker, and casino gambling, all of which are classified differently by state law. While the situation is constantly changing, with more and more states in the United States forming or adopting regulatory frameworks, our staff is here to give you with all of the information you need.
What is allowed in Louisiana?
Gambling has always been a huge part of Louisiana's history, and it's even bigger now. Gambling is a substantial element of the state's tourist commerce, given to the presence of commercial and tribal gaming all around the state (especially in the southern region). The state's gaming law is one of the most lenient in the country, with lotteries, licensed casino gambling, horse and dog race betting, charitable games, and authorized private gaming. Let's begin with casino gambling, which is legal and available in the state. In fact, aside from Nevada, Louisiana is the only American state where casino-style gambling is permitted throughout the state. Even New Jersey, which is known for being the location of Atlantic City, an East-coast casino center, limits gaming to Absecon Island. Riverboat gambling accounts for a sizable chunk of the state's gambling earnings. This is a cultural and political remnant from a time when only riverboats were permitted to provide chance and skill games.
Online Gambling in Louisiana
In Louisiana, online gambling is not permitted. Louisiana is one of the few states in the United States that has an outright ban on online gambling. The Internet and the World Wide Web are both covered by this statute, which is a clever distinction for a stuffy legislative body. The rule applies to all devices, so you're betting illegally whether you're using a smartphone, laptop, or tablet (or any other gadget that becomes popular in the future). Based on the severity and scope of the sanctions, Louisiana is also serious about this rule. "Whoever commits the offense of internet gambling shall be fined not more than $500 and/or imprisoned for not more than six months," according to the state penal law.
Louisiana Sports Betting
An overwhelming majority of Louisiana Parishes voted in favor of allowing sports gambling on November 4, 2020. That isn't to say that sports betting is suddenly allowed in Louisiana. What this means is that there may be a revolution in online gambling games on the way. Experts foresee a bruising legislative struggle over sports betting, but there's reason to believe it will pass. There are 52 casinos in the state. The city of New Orleans is home to five of these casinos. There are three riverboats in Baton Rouge. In Livingston Parish, there are over 20 gambling establishments, and in Ascension Parish, there are ten. As more states legalize sports betting, the state's casinos will undoubtedly advocate for it.
Louisiana Land Based Casinos
The lottery and casinos were both legalized in Louisiana in the same year. All but one of the fifteen casino licenses were intended to be located on bodies of water. The other is located in the heart of New Orleans. To avoid the water-based requirement, Harrah's New Orleans consented to a number of restrictions. It must have a workforce of 2,400 employees. In its early years, a hotel was not permitted. After Hurricane Katrina wreaked havoc on New Orleans, this Louisiana casino had a difficult time reopening. Because it is built several feet above the streets and in a location that is not inundated due to its height, the casino was not affected. The requisite number of personnel was difficult to come by. Harrah's New Orleans is currently dealing with another problem. In 2015, the New Orleans City Council passed a smoking ban at Harrah's. The other casinos in the metro area were unaffected. Harrah's immediately saw a 20-25 percent decline in business. Under the Indian Gambling Regulatory Act, four Native American tribes established gaming agreements with the state. Six Native American casinos are located on reserve territory in Louisiana. In the 1980s, video poker began to appear in truck stops and pubs. Because the games were causing a problem, the state decided to legalize them in 1991 in order to raise cash.
Amelia Belle Casino.
Belle of Baton Rouge.
Boomtown Casino & Hotel Bossier City.
Boomtown Casino New Orleans.
Coushatta Casino Resort.
Cypress Bayou Casino.
Delta Downs Racetrack & Casino.
DiamondJacks Casino – Bossier City.
Louisiana Lottery
Louisiana's state lottery was established in 1991. The "Minimum Foundation Program," which began in 2004, has used lottery proceeds to fund public education in Louisiana. Prior to that, the proceeds were mostly used for K-12 public education. The state treasury is legally required to receive at least 35 percent of the lottery proceeds (gross revenue). More than half of the funds are distributed to lottery winners. Louisiana lottery tickets must include a toll-free phone number for mental health assistance for compulsive or problem gambling, which is one of the lottery's goals.
Louisiana Poker
Poker is a part of everyday life in Louisiana. Online poker has become a way of life for some Louisiana residents over the last decade or so. Almost every online poker site that accepts US players accepts new sign-ups from Louisiana. Those who don't aren't worth your attention in the first place. If you've ever encountered a room that wouldn't let you play for real money because you were from Louisiana, you may have concluded that all online poker sites were closed to Louisiana residents. The truth is that most of the main US-facing poker networks have no qualms about allowing players from Louisiana to register, deposit, and play real-money poker in the United States.
Louisiana Daily Fantasy Sports
Just days before we started putting together this page on Louisiana gambling law, a bill that would have fully authorized betting on daily fantasy sports websites was killed. The idea was cancelled in the middle of a state legislative session by its own sponsor, thanks to a massive outcry from a handful of gambling lobbying groups. The purpose of HB475 was to create a specific carve-out in Louisiana's gaming statute that would exempt all types of fantasy sports (including daily fantasy sports) from the state's definition of illegal gambling. Rep. Lopinto, for one, claims that this was a common-sense approach intended to safeguard the bill's essence. Technically, the conduct was a "voluntary delay," not a complete death. Bills that have been deferred voluntarily are eligible for reintroduction in the next legislative session.
The Louisiana Family Forum and a group of brick-and-mortar gaming interests were among those that spoke out against HB 475. Surprisingly, the bill cleared the state house with almost no resistance, only to hit a brick wall when it reached the State Senate Judiciary Committee's desks. Lopinto avoids a potentially fatal up-or-down vote by delaying the bill, which could prevent the matter from being treated seriously in future sessions. We may be having a completely different conversation about DFS betting in Louisiana right now if Lopinto and the fantasy sports lobbying interests who backed him felt the bill could pass a simple vote. Louisiana is a progressive state when it comes to land-based gambling laws, but it is a complete no-no when it comes to online gaming. Due to worries about the state's far-reaching ban on Internet betting, DraftKings and FanDuel have long since pulled out of Louisiana. The hourly nature of DFS contests was a major source of concern among family advocacy groups; members of the Louisiana Family Forum were concerned that, unlike season-long fantasy contests, DFS bettors could "enter games hourly, if they want." The fantasy sports lobby has been hard at work in Louisiana for the past year, attempting to bring the two sides of the debate together with some solution. DFS sites are working on an education effort to dispel some of the common misconceptions about the DFS sector.
According to sources, neither these organizations nor the bill's author expected the law to succeed this session. It has always been the intention to lay the framework for future legislation. According to Lopinto, the FSTA has demonstrated through polls that roughly 70% of Louisiana residents support full legalization of fantasy sports betting. He also points out that the New Orleans Saints and the New Orleans Pelicans, two of Louisiana's most well-known professional sports teams, have signed on to his version of the measure.
Louisiana Bingo
Louisiana's charitable gambling laws are similar to those in other American states. A state-recognized charity must get 100% of the proceeds from a raffle, bingo, or casino night, and everyone who participates must be a valid member of the charity or the hosting organization. The state leaves most of the rest to local governments, so in some counties, you don't even have to be a member of an organization to play these charity games. This has resulted in broad legal access to bingo and other raffle-style games in areas of the state where casino-style bets are difficult to come by.
Louisiana Gambling News
Louisiana Gambling Legislation
Louisiana gaming law benefits gamblers in a number of ways. It lays down exactly what you may and cannot do, as well as the consequences for disobeying those rules. It also allows inhabitants of the state to play games that people of other US states cannot – such as slots, table games, and poker. For gambling enthusiasts, the availability of various commercial and tribal casino sites alone is reason enough to consider relocating to Louisiana. However, Louisiana isn't exactly gaming-friendly in other respects. Why is there a ban on online gambling? Other states in the United States are expanding their online betting options. It's evident that Louisiana is taking steps to protect the state's crucial gaming revenue. Gambling is more deeply rooted in Louisiana than in any other state in the South. It was the birthplace of the region's racing sector. It was also the site of the most notorious lottery scam in history. There are 21 casinos in Louisiana, six of which are Native American casinos, so there are lots of options.