Missouri Online Gambling
A variety of gambling types are legal in the State of Missouri.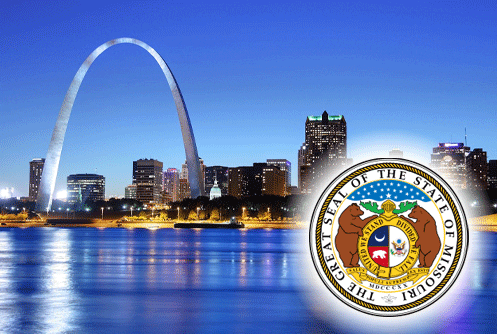 Best Casinos for Missouri Players
Online Gambling in
Missouri
Missouri gambling laws allow for riverboat casinos, social gaming, and a variety of charitable gambling enterprises. At the same time, the state does not allow brick-and-mortar casinos, sportsbooks, or online gambling within Missouri. While the state has a long and colorful history of gambling, it has strict laws perhaps influenced by that same colorful history.
To start with, Missouri has a number of idiosyncratic gambling laws. For instance, professional players caught gambling illegally are given heftier fines and sentences than amateurs. Also, anyone who aids an illegal gambling operation in any way might be charge as a gaming operator themselves. In this article, we discuss the various legal and bans forms of gambling in Missouri, while providing a list of the state's gaming venues.
Missouri Online Casinos
Online poker is not legal in Missouri. In fact, a few offshore online poker networks — such as the Merge Network — are blocked by Missouri authorities. Others are not, so Missouri poker players might find their access to certain unlicensed offshore online poker sites restricted. Those players might search for alternative iPoker sites.
Online poker and online casinos exist in a gray area. While you won't find legal online poker in Missouri, law enforcement does not have a history of prosecuting those who gamble online. Illegal operators who are active inside Missouri's boundaries will be prosecuted if caught
Missouri Sports Betting
Sports betting is not legal in Missouri at the moment. The repeal of the Professional and Amateur Sports Protection Act (PASPA) in May 2018 opened the door for legal sports betting, but the will does not appear to exist in the Missouri legislature for legal sportsbooks. As long as the Missouri casino industry is confined to riverboats, the room for large sportsbooks does not exist in Missouri's casinos. Expect to see a land-based casino bill before a sportsbook bill.
Missouri Land Based Casinos
Missouri does not have land-based casinos, but it has 13 riverboat casinos that offer most of the popular games land casinos have. Top national gaming companies like Caesars Entertainment and Penn National Gaming own riverboat casinos in Kansas City and St. Louis. The limitation of riverboat casino gambling is in the amenities and attractions because the riverboats don't have the capacity for huge hotels, retail areas, convention space, and concert halls.
Missouri Lottery
The Missouri Lottery set off a flood of pro-lottery legislation, issuing its first game in 1988. All proceeds from the lottery go into the state's education fund. Participation levels are average in terms of American state-based lottery games, having dropped off significantly since the legalization of other forms of gambling in the last thirty years.
Missouri Charitable/House-Based Gambling
Several kinds of charitable gaming exist. Charity organizations in the religious, fraternal, veteran, and service categories are allowed to run nonprofit gaming to fund their charitable organizations. Bingo, pull-tab games, merchandise coin boards, and other "free" promotional events are allowed. A few big bingo halls exist in the cities, while pull-tab games are popular across the state.
Missouri Daily Fantasy Sports
The daily fantasy sports niche is another matter. State Rep. Scott Fitzpatrick introduced House Bill 502 in 2017. HB 502 would legalize and regulate daily fantasy sports. The bill remains pending at the moment, though DraftKings and FanDuel continue to operate in an unregulated DFS environment in Missouri at the moment.
Missouri Social Gaming and Gambling
Social gaming is allowed in Missouri. Sites like Double Down, Zynga, Slotomania and Big Fish Games can be access by Missouri residents through Facebook or mobile smartphones. Download the Android or iOS app to play with your mobile device. The MyVegas social gaming site from MGM Resorts is legal, though the PlayMGM real money site is not.
Missouri Gambling News
Missouri Gambling Legislation
A variety of gambling types are legal in the State of Missouri. Riverboat casinos dominate the market. A full slate of lottery betting is available, while pull-tabs and coin boards join bingo gaming among the charitable gaming types. Missouri's lawmakers have discussed DFS regulations, but not sports betting.