South Dakota Online Gambling
Online gambling is explicitly illegal in South Dakota – for some citizens.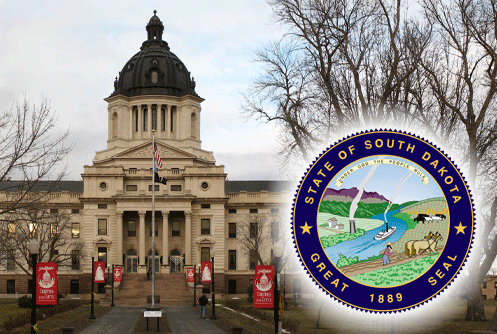 Best Casinos for South Dakota Players
Online Gambling in South Dakota
The State of South Dakota has a standard approach towards both online and land-based gambling. It permits most forms of on-site gambling as long as it is hosted at a licensed establishment or by licensed organizations.
Most land-based casinos are concentrated in Deadwood, SD but there are a couple of other casinos located in other parts of the state. Land-based casinos in South Dakota are permitted to offer slot machines, video poker, table games, and poker games.
South Dakota Online Casinos
Online betting in the state is limited to horse racing betting and DFS. There are no plans at this time for the expansion to online gambling options. In fact, South Dakota is one of the few states in the US that specifically mentions online gambling in its laws. The state has a set of laws that make it a felony for any business to be involved in unlawful gambling or accept wagers from residents of the state.
Considering this, it is unlikely that online poker or casinos will become legal in South Dakota any time soon. A change would require not only new legislation but also the change of the existing legislation. Although this isn't impossible, it indicates that South Dakota isn't ready to follow the trends set by states like New Jersey and Delaware that have already legalized internet gambling.
South Dakota Sports Betting
South Dakota doesn't have legal sports gambling currently, but there's some movement towards bringing sports gambling in the state. In January of 2018, the South Dakota Department of Revenue published a white paper with measures the state must take in case the Supreme Court rules in favor of New Jersey and repeals the national law forbidding sports gambling.
The white paper describes that South Dakota would need to amend the state constitution to allow sports wagering. That is a procedure that would require proposals to be accepted by the House and Senate followed by a statewide referendum. It's just together with the voting public's acceptance that South Dakota can govern sports gambling.
South Dakota Land Based Casinos
Gambling establishments and casinos where residents can gamble within the state:
Cadillac Jack's Gaming Resort Celebrity Casinos
Bourbon Street
Comfort Inn at Gulches of Fun Casino
Deadwood Gulch Resort
First Gold Hotel & Gaming
South Dakota Lottery
The South Dakota Lottery was created in 1987. Video lottery terminals have been approved as an extra system in 1989 to increase cash. Now, there are approximately 8900 video lotteries hosted across almost 1500 institutions throughout the state.
VLTs at South Dakota act like regular slot machines with earnings moving straight back to the lottery. Machines take a maximum wager of $2 per match with a maximum prize of $1,000. Winnings are returned to gamers in the shape of a ticket, which is later brought to the institution's cashier to be redeemed for money.
The SD lottery doesn't sell tickets on the internet and it doesn't provide a subscription service.
South Dakota Charitable/House-Based Gambling
Charitable organizations are permitted to run bingo and lottery games. These matches are lawful as long as the profits don't go to a person that works for the company. There is a maximum prize of $2000 that can be won at such events.
South Dakota Daily Fantasy Sports
Fantasy betting sites finally have the legal ability to sponsor real money competition online in the majority of states.
Gambling legislation in many states (including South Dakota) doesn't apply to DFS sites. This paved the way for enormous growth in the business. These sites now host countless short term fantasy leagues every single day of the week for most significant professional sports leagues in the US. Players in South Dakota can enjoy:
FanDuel.com
DraftKings.com
South Dakota Social Gaming and Gambling
Social (or even friendly) games are illegal within SD country lines. The country legalized games such as head-to-head blackjack and poker, but no exception was made for games played in private, however, we looked back during the previous fifty years and could not find one example of a South Dakota player being detained for participating in a private game.
South Dakota Gambling News
South Dakota Gambling Legislation
If a business is involved in illegal gambling, then the punishment would be a fine that does not exceed $10,000 and an optional prison sentence of no longer than 1 year. The punishment for players though is a $50 fine and no jail sentence. It is apparent that state lawmakers desired gambling operators to be entirely out of the internet gambling industry, although regular citizens are spared when it is time to punishment for illegal gambling.