Red Tiger Casinos – Hot Online Casinos that Offer Red Tiger Games

Red Tiger Gaming was founded in 2014 by a team of professionals, with a proven record of game developments in Asia and Europe. They are greatly passionate about video slots, implementing captivating designs and innovative features to the market. With approximately 170 employees, they operate in Malta, the Isle of Man, and Bulgaria. Heavily focused on the payer's experience above all else, Red Tiger software is implemented in the most highly-reputable casinos and is quickly becoming a valuable and desired addition to new online operators.
The game portfolio of Red Tiger Gaming includes slots and table games. Most of their slot machine games are becoming massive hits upon release, thanks to the beautiful graphic style and a high return to player percentages. Some of their greatest titles of all time are Asian-themed with elegant and stylish looks, such as Dragon's Luck, Golden Lotus, and Epic Journey. Lucky Easter, Diamond Blitz, and Vault of Anubis are some of their hottest games at the moment, exploring different themes, but sharing smooth animation and lucrative features. They have manufactured several variants of sleek-looking table games, such as Deal or No Deal Blackjack, European Roulette, and Baccarat.
Best Online Casinos That Offer Red Tiger Games
SHOW MORE
Introduction to Red Tiger Online Casinos
Red Tiger games are so well-received by the player base, that hundreds of casinos have added them to their partner's network in six short years. In 2019, the huge impact they had on the market led to NetEnt acquiring Red Tiger Gaming in a cash deal worth 200 million GBP, and possibly an additional 23 million GBP in 2022. The CEO of NetEnt, Therese Hillman, and the CEO of Red Tiger, Gavin Hamilton made public announcements, sharing that both sides are delighted to work and evolve together, bringing quality products to their customers.
Their earnings of Red Tiger Gaming for the past year of 2019 are estimated at 80 million GBP, making them a major player in the big boy's league of online gambling. Starting the new decade, the company has all the resources and talent to continue its successful journey well-beyond the 2020 timeframe.
What's New from Red Tiger? Recent News and Articles.
New Red Tiger Casinos in 2020
New Red Tiger Gaming Casinos are rising in popularity. More and more operators are beginning to list this provider on their trusted software developers' page, and there are plenty of reasons for that. All of the Red Tiger slots are hugely popular among players, and delivering smooth gameplay features to the table, thanks to the latest HTML5 technology. This version of the language allows for the optimal performance of video games on any platform, supporting different types of gamblers and playstyles.
Finding a trusted Red Tiger casino is easy. The team behind CasinoDaddy.com works hard to test and investigate all the casinos being reviewed on the site. You can visit our Newcomers of 2020 page, with the latest additions of the year, including a short review of the operators that come each month. Every casino has a full-length review page, where you can find all the software providers and license details, which might be of interest.
The Best Red Tiger Slots and Progressive Jackpots
The game designers and mathematicians of Red Tiger bring new titles to the gambling audience almost every month. Some must-try mentions have to be The Three Musketeers, Dragon's Luck, Rainbow Jackpots and the recent Vault of Anubis slot machine game. There are plenty more already existing and upcoming titles of exceptional quality, making us spin the reels in new and exciting ways.
19+ More Hot Slots by Red Tiger
Famous Red Tiger Slots
The Three Musketeers slot by Red Tiger is based on the beloved novel by Alexandre Dumas. We join Athos, Porthos, and Aramis on their adventures in this 5×4 game. There are 40 pay lines to score our wins on, giving you many chances to make a profit. As much as this topic has been explored over the years, the Red Tigar variant has memorable features and cartoony looks that will sticks with the player for a long time. There is an interesting Wilds mechanic, as each musketeer brings different bonuses to the table. Gamblers can expect a special Bonus Wheel feature and up to 1,388 times their bet with a high RTP of 95.15%.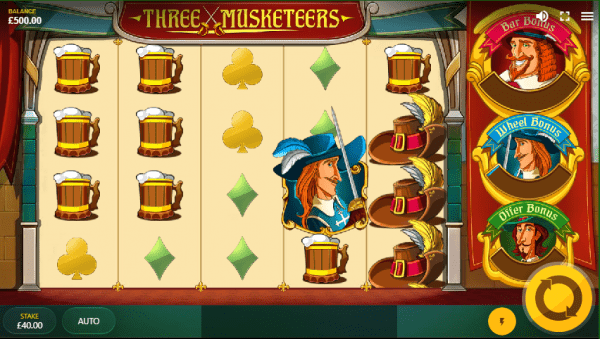 As we already mentioned, Asian themed slots are Red Tiger's specialty. The most famous one out there has to be Dragon's luck, which was released in 2015. It has an RTP of 96.29%, giving you high return value in a classic 5×3 design. In this slot, you can earn 1380 times your stake. There are vibrant colors and special features and symbols. One of the more interesting symbols you can encounter in the Mega Coin, spawning across 3 reels and helping to form different winning combinations.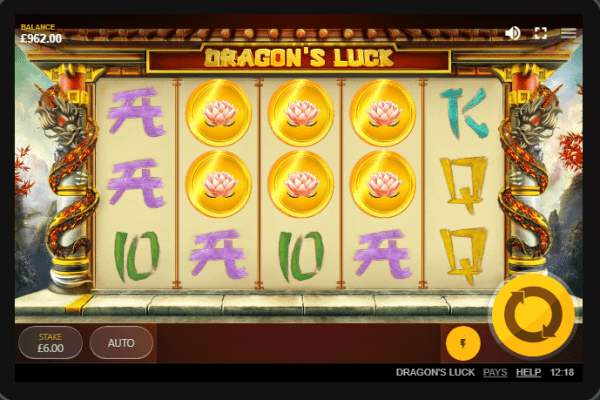 Amazing Red Tiger Casino Jackpots
Rainbow Jackpots is a leprechaun-themed slot, featuring a 5 reels board and 20 pay lines. If you possess the real Irish luck, you may get up to 100 Free Spins and up to 1000x your stake in the Beer Bonus feature of the game. The Rainbow Jackpots slot is rocking a 93.17% RTP and is a fun take on the popular leprechaun theme. One of the most-recognizable Red Tiger slot machine games out there, it brings joy to new and veteran players alike.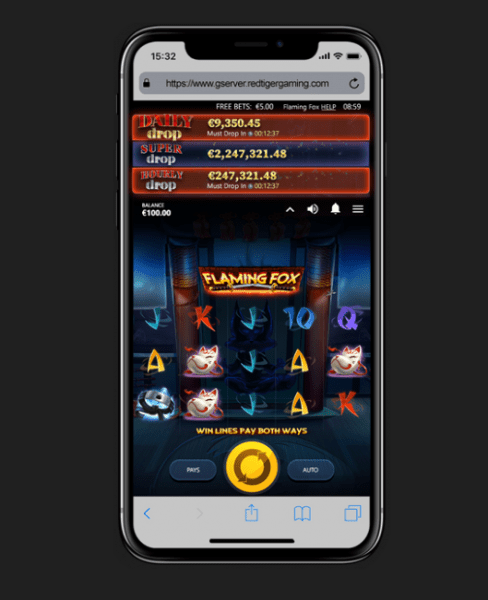 Vault of Anubis takes us to ancient Egypt. The ruler of the Underworld, Anubis, has a treasure for the bravest of the adventurers, who dare enter his domain. This is a 7×6 grid slot, with scarabs, jewels, and other Egyptian-related symbols like the eye of Horus. Spinning the reels is a thrilling experience, thanks to the immersive sound design and the chance to win 5000 times your total stake. The above-average RTP of 95.74% is a good reason to come back often, allowing punters to win more times than not.
Top Card and Table Games at Red Tiger Casinos
Red Tiger Games are created with the highest FPS rates on the market, even for the more complex titles. They are perfectly compatible with mobile devices and various operating systems, so every player can experience the true casino experience at home, or wherever feels most comfortable.
Deal or No Deal Blackjack is a modern version of the classic card game we all know and love. The difference here comes with the Deal or No Deal twist, where you have to beat the dealer by achieving a score higher than what you have, without exceeding 21. There are 5 decks of standard size. To start playing, you need to select a chip at the bottom of the screen.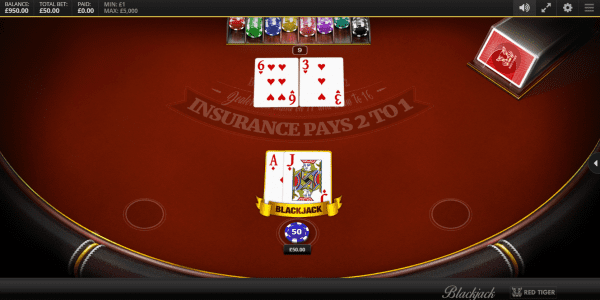 You can use the Clear button to remove already existing chips as well. There will be 2 cards dealt with each hand and two cards to the dealer. The first dealer's card is placed face down, the second face up, with its value clear from the start. The Banker's offer, similar to how the mechanic works in the TV show, will offer a cash amount per hand. If you accept the offer you will collect the value being displayed, if you decline it however, the game will go on.
Red Tiger Live Casinos
Many casinos offer Live Dealer Games in a special section, where gamblers can wager money just like in a land-based casino. With a professional host and the latest streaming technology, these live games are joined by other players and are a fair and fun way to earn some substantial profit. In the 21st century, everything can be achieved through the power of the internet, and online casinos are no strangers when it comes to the latest trends.
All the bells and whistles of the standard casino experience are here, with some interesting twists provided by the biggest software developers in the genre. There are no Red Tiger live casino games as of 2020. However, no one knows what the future holds and it wouldn't be a surprise to see them conquer these types of games soon.
Red Tiger Casino Bonuses
You can find Red Tiger Gaming Casino Bonuses easily since many gamblers love playing their high-quality video slots. Operators love making you feel at the right place, and will often offer Welcome Bonuses for new members. They will commonly include a match up bonus, which varies in size. You can get 100%, 200%, 300%, and even 400% bonuses upon depositing for the first time, depending on the casino.
The 300% deposit bonuses are not as common anymore, but you can still find operators that offer them as a part of a welcome gift. They are large cash bonuses and you can expect a lot of versatility and plenty of fun while wagering money for greater profit on the casino's webpage.
If you like Red Tiger Gaming slots, it wouldn't be hard to find deals for them either. Dragon's Luck, in particular, is one of their most popular titles, and you can regularly receive hundreds of free spins for this game. If you are interested in learning more about each type of bonus or where to find the best ones, our Casino Bonuses page is your best bet, quite literally!
Red Tiger Mobile Casinos
The multi-platform support of all Red Tiger games makes them available on any type of device. They are delivered with the latest HTML5 technology, granting users flawless performance and smooth execution of actions and implemented mechanics. You can play their games at any Mobile Casino that supports their services, through your smartphone, laptop, or tablet without any issues.