Gamification – Introduction, and Presentation of the Gamification Casinos in the US
Gamification is used in various businesses including casinos. In the casino world, gamification means including game-like elements in the online casino website. What gamification needs to achieve is creating the feeling and experience so that online casinos are perceived as online games by the players. Gamification is where the line between gaming and gambling should be as thin as possible. How do casinos achieve that gamification effect? You might have already experienced without realizing the collection of points, or powers, you need to achieve, or a particular goal, or participation in some sort of a tournament. All of the above is some form of gamification. From a psychological point of view, gamification affects the brain in such a way that it makes you come back. It is a great substitute for the well-known VIP Loyalty Programs but in a more modern way.
The Best Gamification Casinos Right Now

First deposit bonus:
100%/$500
Review

First Deposit Bonuses:
100%/€1200 +200 fs
Review

First deposit bonus:
100%/€440 +77 FS
Review

First Deposit Bonuses:
400%/€800
Review

First Deposit Bonuses:
100%/€100
Review



First Deposit Bonuses:
100%/€400
Review

First Deposit Bonuses:
400%/€800
Review

First Deposit Bonuses:
100%/€200
Review

First Deposit Bonuses:
400%/€800
Review

First Deposit Bonuses:
100%/€100
Review
One of the casino early adopters of gamification is Casumo Casino. Their gamification efforts are quite successful. Other gamification casinos include but are not limited to Kaboo Casino, Rizk Casino, Casino Heroes, Ikibu Casino, and Fantasino Casino. One of the most successful gamification casinos which launched in 2018 is Wishmaker casino. You can read the entire interview by Sami Kurvinen on Gamification in the March issue of our magazine here.
General Guide and Topics related to Gamification
| | | |
| --- | --- | --- |
| | | |
| | | |
| The use of gamification can give a casino the edge in the marketplace, as gambling at a gamified casino can be a much more enjoyable and rewarding experience than gambling at a non-gamifed one. | Unlockable content is content which a player can access once they have passed a certain stage in a game or level in a casino, or gathered a certain number of points. | Instead of simply playing against a computer, in tournaments, players get to compete with their fellow gamblers. |
| | | |
| | | |
| Casino communities are casino social networks. Those are often online nowadays. From the comfort of your home, you can connect and play with people from all over the world. | A casino's community is their customers, and there are various ways in which casinos try to make gambling at their casino more sociable. For instance, they might allow players to create user profiles, or allow them to talk to each other on forums. | A virtual currency is a currency created by a casino that can be exchanged for other items of value at that casino, such as high street shopping vouchers, or to unlock new games. |
| | | |
| | | |
| Levelling-up refers to the process by which a player moves up a level within a game, or within a casino as a whole. | | |

How Did Gamification Start for the Casino Industry?
Gamification entered a lot of different businesses and industries. Casinos are very innovative, competing constantly for the same player base, and usually early adopters of any good business initiative, strategy, technology. It is not surprising that casinos are some of the early adopters of gamification and are paying a lot of attention to it. With the increase of online casinos and mobile casinos, it was a natural progression for the industry to embrace the opportunities emerging from gamification. Players are smart and are not only expecting bonuses but also interesting incentives to keep playing. However, there are players out there that are not huge fans of the entire "let's make everything gamified" move. It is similar to other businesses and industries, where a certain group might not accept gamification. That is where the more traditional VIP programs come into place.
How Does Gamification Work in Practice?
To have gamification you need to set the scene and make sure that players have goals to achieve and points to collect. You need to provide your audience with goals. What are they fighting for, what do they need to be looking to achieve? From a casino standpoint, there should be a storytelling element to keep the audience at the edge of their seats. Casinos make sure that they are slowly revealing things in bits and pieces. They need to tease the player and slowly reveal what the players are aiming at. Gamification allows casinos to provide a few little glimpses at what awaits, in a carefully curated manner. Giving you parts and series to put you at a position to keep achieving that goal. Gamification gives you a plot line and makes the casino memorable. A casino might offer free spins or targets and then reveal the next screenplay in the game. There are many ways a casino can offer good gamification experience. At the end of the day, the experience is what makes the player come back to the casino.
Unlockable content
What does unlockable content mean in the first place? It is the way a casino is creating their storytelling elements and characters to their audience. That unlockable content is what makes the player come back. It goes back to what we discussed that the casinos are showing the player what they are fighting for and teasing you with bits and pieces of the entire information and showing you just glimpses of what awaits for you once you achieve a goal. Once you know what awaits, you know what it takes for you to get there, and then you come back to get that content unlocked. In other words, it is the next level of the game, or the next step when you advance. It is the storytelling element that the casino created to make you sit on the edge of your seat. That storytelling element creates a sense of urgency, a thrill and makes you come back again and again.
What Does the Future Hold for Gamification and Casinos?
Gamification is here to stay and most people on the receiving end of the gaming and gambling industries seem to enjoy it. Casinos are becoming very innovative in the way they incorporate gamification in their platforms. There is more and more creativity that casinos are coming up with when it comes to gamification. We will look into detail at some of the most noticeable gamification trends right now.
There are a few gamification trends that stand out at the moment:
Gamification Trend – Own Casino Currency
Casinos started implementing a variety of payment methods including cryptocurrencies and various payment platforms. Clearly, casinos are open to new currencies. What's more, at gamified casinos there will be more customized currencies than ever. Instead of real money, players will be trading with currencies which can vary widely from water to stones, gold, you name it. The casino currency is one of the most likely casino gamification trends to stay.
Gamification Trend – Virtual Reality
Virtual Reality or VR is all over the gaming world. Therefore, as casinos implement more gamification, it is logical to expect that VR will come into play in the online casino gambling. Once a casino is using gamification and is literally becoming a game of some sort, then it is easier to implement VR into the mix. All that is needed would be some additional equipment and the casino/ game will be running on a VR platform. While there are not many casinos which are offering VR at the moment, the forecast is that would change in the near future.
Gamification Trend – Gaming Turns into a Game
As previously mentioned, when casinos start implementing gaming elements and some sort of gamification, sooner or later it can be expected that a casino will become an actual game. The game-like elements are usually implemented with online casinos and slots in particular. However, most casinos seem not to be willing to implement gamification when it comes to traditional table games. The table games are left untouched, compared to the slots which have so many different variations. We should also admit, that implementing storytelling and gamification with traditional table games is much more difficult. Gamification needs to be smooth and not in your face when applied. A casino should not be focusing on creating gamification around everything just for the sake of it. It should be a natural process that seems like a natural progression of the convergence between the gaming and the gambling world.
Gamification Trend – Storytelling
Gamification is built around storytelling. It is a journey, where the storytelling is the call to action. To have a naturally developing gamification you need a story with a beginning, middle, and an end. The gamification elements will keep your story together. Gamification in the casino industry is starting now and has to develop still so that it starts telling stories, that actually turn the random players into dedicated loyal players. That is related to the entire experience, the feelings that the gamification is provoking. It is a matter of time for us to wait and see how the storytelling will develop.
Gamification Trend – Social Media
Social Media is another hot topic in the gambling industry. Gamification in combination with SM and casinos is much more difficult to apply, but it goes back to the casino wanting you to make noise about their game, motivating you to share and post. While in the gaming world players stream and that seems natural, for casinos, SM will be helpful as well.
Gamification Trend – Goal Setting
It's all about setting goals when it comes to gamification. The casino wants you to stay and play. In order to achieve that result, they must provide some kind of excitement and anticipation along the storyline. That usually comes up from the goal setting they create for you. It might be related to how do you achieve the next level, or upgrade a character. Literally, anything can be your goal as long as it keeps you motivated and not bored! All the casinos are incredibly creative when it comes to offering you game-like elements.
Eager to try some gamification casinos?
More Gamification Casinos
| | | |
| --- | --- | --- |
| | | |
| | | |
| Newest Casino Site in January 2018. This is clearly a high roller place with lots of gamification features that comes with a cool and interactive theme. A must play casino, probably one of the best casinos for 2018. | Visit one of the Best online casinos in the US and meet the Captain Rizk and Lucky the Super Dog that will guide you through the epic casino adventures. You will also like the wheel of Rizk, an exclusive and unique rewarding feature. | A different design with a airline/sky theme with an enormous range of online slots and game developers. A must play casino for any online gaming fan. |
The Best Casinos that Use Gamification
More than 1,300 PC games and 500 games fully available on any mobile devices
A wide variety of different currencies including EUR, GBP, USD, CAD, ZAR, CAD, SEK, NOK
An Exclusive VIP Program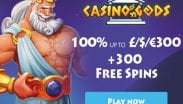 Graphics & Gameplay - 93%
User friendly gaming interface
A lucrative bonus and promotions segment
All the games are brought to you by the world's best software providers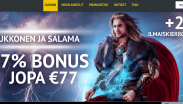 Graphics & Gameplay - 86%