Side Bet City & Best Live Casinos to Play at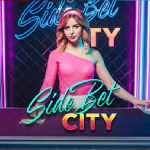 Unarguably, Poker is one of the most difficult casino live games out there. You must memorize all of the card combinations, predict which ones will appear, and bluff your opponent all at the same time. If you're looking for a simpler version, look no further than Evolution Gaming's Side Bet City! The game, which is streamed from their studio, has a memorable neon aesthetic from the 1980s. The entertaining dealers and high-definition video make you feel as if you're watching the cards being dealt right in front of your eyes!
Top Casinos for Playing Live Side Bet City
Cadoola is a flashy online casino with a vast game library that appeals to a wide variety of players. Cadoola Casino manages to hold its own against the ferocious rivalry in today's online gaming landscape by offering slots from nearly all relevant providers. The Curacao government has approved the casino, which provides a safe gaming environment. Aside from a diverse game selection, Cadoola offers a number of other benefits, including a variety of banking choices, simple withdrawals, and enticing promotions for both new and existing players.
Nomini Casino is a brand-new online casino with a fruity theme that offers a wide variety of online casino games as well as a variety of other gaming advantages. The online casino, which is owned and operated by Araxio Development N.V., first opened its doors in 2019. This online casino is a good choice for players looking for a creative and modern online gaming platform with a wide selection of games and a number of bonuses. The casino's welcome incentive package also includes cashback, match deposit, and free spins bonuses. Based on their preferences, players can choose one of these seven deals. The first promotion offers a cashback bonus of 10% up to €200.
N1 Interactive Ltd., the corporation behind a variety of profitable casinos around the world, owns Wild Fortune. The platform has been granted a license by the Malta Gaming Authority, ensuring the casino's legality. Wild Fortune's slot range is amazing, with over 2000 games to choose from. Original games from Amatic, NetEnt, Novomatic, PlayTech, Endorphina, iSoftBet, Booming Sports, and other developers are included in this collection. Wild Fortune offers a range of payment options for fast transactions. Just a few of the choices are Visa, MasterCard, bank transfers, and e-wallets like Neteller and Skrill.
RR Invests N.V. owns and operates Tsars Casino, a brand new online casino. It includes a betting experience and a live casino, as well as a wide range of popular and exciting online games. This casino promises exclusive discounts and deals to all of its customers. It offers a range of promotions, including a surprise bonus on Wednesdays, occasional cashbacks, weekend reload incentives, and more. The welcome package includes four different incentives totaling $2,000 in bonus money and 200 free spins for the first four deposits. Their highly qualified customer service representatives will be available to you 24 hours a day, seven days a week.
Gallery and Screenshots for Side Bet City
What is The Side Bet City Live?
With perfect play and a three-card hand, the RTP for this game is 96.69 percent. Bigger hands shell out more, but with a lower RTP to compensate. A single deck is used in Side Bet City, which is reshuffled after each round. Despite the name, this game does not allow for side bets. You can only place bets on the game's four key bets. For three of the four key bets, you will normally collect payouts for the same wins. However, the amounts they pay are vastly different! Royal Flush is the best-paying card combination for three of the key bets. It will pay 100:1 for the low-risk three-card hand, which is excellent. However, it pales in comparison to the 500:1 payout for a seven-card royal flush, or the 1000:1 payout for a five-card royal flush!
Side Bet City Live Game Elements
Evolution Gaming has developed a game that is surprisingly easy to play. As a result, this release does not have any side bets. Along with the relatively secure main bets, side bets typically deliver a high-risk wager. That is unnecessary for Poker Side Bet City, as those unpredictable bets are already available as five-card and seven-card hand bets. When you look at the RTPs, you can see it. The RTP for three-card hands is 96.69 percent, while the RTP for five-card and seven-card hands is 95.21 percent and 94.34 percent, respectively. The RTP of the all-lose option is 96.29 percent. For three-card hands, a straight flush pays 40:1, a standard flush pays 4:1, a straight pays 5:1, three of a kind pays 35:1, and a pair pays 1:1. For a straight flush, you get 250:1 odds, 100:1 odds for four of a kind, 50:1 odds for a full house, 40:1 odds for flush, 25:1 odds for straight, 7:1 odds for three of a kind, 4:1 odds for two pairs, and 1:1 odds for JJ-AA pairs of five cards. Finally, a straight flush pays 100:1, a four-of-a-kind pays 50:1, a full house pays 7:1, a flush pays 5:1, a straight pays 4:1, and a three-of-a-kind pays 3:1. When you win, you get 0.7:1 if you lose all of your bets.
How to Play Side Bet City Live?
Players can select one of the available coins when a round starts. Choose a coin and drop it into one of the four options in front of you. As long as the traffic light stays green and yellow, you can play and change this wager. Bets are closed when the color changes to red, and the stakes you set will be used in the next round. The cards would then be dealt by the dealer. For the three-card hand bets, he would first draw three cards. If you bet here and a winning hand forms, you will collect your winnings right away. Meanwhile, if you have a five-card hand, the dealer will draw two more cards, and if you have a seven-card hand, the dealer will draw two more cards. Except for All Lose, all wins are awarded immediately after being drawn. It has to wait until the round is over before paying out, and it only does so if none of the other three choices have won.
CasinoDaddy's verdict on Side Bet City Live
Side Bet City is most likely to appeal to those who are just getting started in the game of poker. It allows you to quickly learn all of the different hand combinations while still winning prizes. The idea that you can manage your variance by selecting your bet is pleasing to everybody. You can stick to three-card hands for protection, or you can take a chance with five-card and seven-card hands! With this game, Evolution Gaming has truly produced something extraordinary!
Directory of All Live Casino Games Reviewed by CasinoDaddy.com and Top Casino for Playing