Book of the East Slot
Make your adventure unforgettable in Book of the East Slot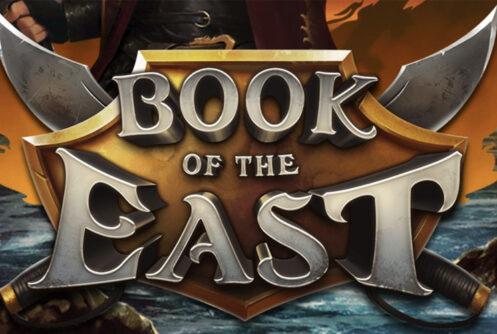 Our Opinion
Graphics & Gameplay - 95%
Review
Crystal Golem Slot definitely won't dissapoint you so enter the magical world of online gambling now!
SLOT INFORMATION
Return to Player:

94.23 %
Volatility/Variance:

High
Progressive Slot:

Slot type:

Video Slot
Rows:

3
Reels:

Five Reel Slot
Paylines:

10
Slot Layout:

5×3
SLOT FEATURES
Minimum Bet:

$0.20
Maximum Bet:

$40
Maximum Win:

$16,000.00
Gamble Round Feature:

Bonus Buy Feature:




OTHER KEY FACTS
Date Launched:

26 october 2021
Jackpot:

Gamification:

Special Symbols:

Wilds

Wild Multipliers

Scatters

Wild Scatters
| What we liked | What we did not like that much |
| --- | --- |
| Satisfying gaming experience | There is no jackpot |
| Free spins around every corner | |
| Authentic atmosphere | |
Intro to the Book of the East Slot
Book of the East is a brand new slot game by the fantastic software developer called Swintt that is ready to impress you in many ways as it is launching on October 26th! To be honest, one of the most thrilling things about this new game is its stunning graphic design of the East. The visuals of the game will blow your mind and go beyond your imagination with its authentic Japanese aesthetics. You will be mentally transported in the ancient times of Japan and get introduced to its extremely interesting history though the whole process of gaming. But that's surely not everything that this new slot has prepared for you! In this article, we will be going into heavy details about the most thrilling things that Book of the East offers you so stay tuned and let's get started!
Book of the East Slot Online
There are many benefits that come along with playing online slot games and now we are going to share with you some of the main ones! Firstly, you get to experience an authentic atmosphere of a different era that is way back historically. Moreover, the gameplay is very attention-keeping due to the great graphics and visual design and the new features that come along through your whole gaming experience. Additionally, the slot game is said to be very beneficial as it not only provides you with a phenomenal welcome bonus but it also supplies you with startling bonus and promotion offers during your whole process of gaming but if you want to learn more about this topic in particular, keep reading until the end of the article!
Book of the East Slot Return to Player – RTP – 94.23 %
The return to player percentage is a very important characteristic of a slot game for every gambling enthusiast out there! And there is a strong reason for that – by this percentage you can see how beneficial one casino game really is. Here you can take a look at the table that shows different variations of the RTP:
The RTP of Book of the East Slot is just above the average that is considered in the iGaming industry – it ranges to 94.23%! Be sure that this slot game is very advantageous for you and to learn more reasons why it is that way, keep reading!
Gallery and Shots of Main Slot Features
Book of the East Slot Review
We can already tell that Book of the East is going to be one of the best final gaming products that the game developer Swintt has provided this year! This game definitely contributes to the great world of online gambling that is full of endless winning opportunities! Exactly with this slot you are provided with more than 243 ways to win which is very impressive. Additionally, we have to tell you that this is the Swintt's first game with Buy Feature mechanic sounds very intriguing. We are not overreacting when we tell you that this slot is very beautifully designed and you will see it as soon as you hit the playing button. The storyline here takes you to the Far East to the times in history boat battles where brave warriors have participated. It seems like Swintt really knows how to keep the attention of the player through the whole gaming experience! Moreover, your process of gaming is going to be very pleasing and convenient for you as everything is working in your favor!
Book of the East Slot Paytable
There is a tendency for paytables of certain casino games to look very complicated to some players. However, this is definitely now the case with Book of the East slot as we will talk you through it in a very easy-to-understand way! Simply explained, Book of the East has 5 reels and 3 rows which is a classic, commonly seen model for slot games. This 5×3 layout gives gamblers many stunning opportunities to win! Additionally, this slot has 10 fixed paylines which is also great. Keep in mind that with Book of the East the maximum amount of money that you can win is 4,434x your own bet that you have placed! All that said, strike your try now and see how much you can potentially win with this phenomenal new slot game!
Book of the East Slot Symbols Explained
The next thing that we are going to take a look at are the symbols of Book of the East slot! Our team at CasinoDaddy.com will try to explain to you in the easiest way possible the meaning behind the symbols in this startling game. As we already mentioned, the design of the game is stunning and so are the symbols. Firstly, you have the simple symbols like different letters and numbers. Secondly, you have the symbols that trigger thrilling bonuses, free spins and other promotions – Book Symbol, Expanding Symbol, Key Symbol. You should really pay attention to the last three symbols because they are going to be the main reason why you get rewarded with bonus money and free spins! We are going to deeply talk you though these tempting offers in the end of the article in a specific paragraph so keep reading!
How To Play the Book of the East Slot
Unfortunately, there is not a secret magical way that you can win every single time you play a certain casino game. Loosing is part of the process and you have to learn to accept it and deal with it in your own way with patience and calmness. However, there are some things that you can do that will definitely contribute to your successful gameplay at Book of the East Slot! First of all, educating yourself on the topics related to the certain casino game that you are currently interested in is the first and most important step to success! How do you expect to win if you don't know the rules, technics and mechanics of the game? Read reviews, take notes so that way when you hit the play button, you can show off your great gambling skills to everyone! Secondly, playing the free demo version will benefit you in many ways but we will talk to you about this later. Last but not least, we suggest you reading carefully the terms and conditions of every new casino game that you start playing because this will help you a lot in the future!
Book of the East Slot One-Line Betting Strategy
We would like to start this paragraph by making one thing clear – slot games are much more based on luck, rather than skills. Therefore, there couldn't be a stable betting strategy that will guarantee you that you will win every time you play a certain slot game. However, there is one strategy that our team at CasinoDaddy.com has come up with due to the many years of experience and it is proven to work most of the times. It is called one-line betting strategy and all you have to do is hit one reel multiple times until you hit a winning combination. Go ahead and try it yourself to see if it also works for you!
How to Play Book of the East Slot?
Book of the East is a new slot game that is said to be played very easily by both new beginners and well-experienced gamblers! As we already mentioned, in order for you game to lead to success, you have to be previously prepared. This can be done when you read information related to the slot that you are interested in as you are now doing with this review for Book of the East. This slot game in particular is played with 5 reels, 3 rows and 10 fixed paylines which is a classic model for slots. This not only makes it easier for players to absorb the information, but it also provides you with many winning opportunities! Knowing the symbols and the paytable of the slot will also help you in the process of gaming. Our team at CasinoDaddy.com always strives to make your gaming experience as convenient for you as possible but since this slot hasn't launched yet, we still can't provide you with very detailed practical information. We will keep you updated on it so stay tuned!
Our 100 Spins Challenge on Book of the East Slot
Our team at CasinoDaddy.com does all the hard work to provide you with every important detail that you can think of in any casino game! Therefore, we always do our 100 spins challenge where we gamble on 100 free spins on a specific slot to check from a first place if everything about the game is correct and fair. Moreover, this way we can assure you in the high quality of the features and the actual gameplay of the slot. You can go ahead and watch the one for Book of the East slot now!
Does Book of the East Slot Work on Mobile?
The great news is that Book of the East is a slot that is fully mobile-compatible! You can play this spectacular slot game wherever you want, whenever you decide which gives you a lot of freedom! Whether you choose to play it in the comfort of your own house or on the go, just know that the quality of the gameplay will be on the same high level. You decide what device and platform you would like to use when playing Book of the East!
Try the Free Play Mode
Trying the demo free mode of a certain slot game before playing the actual game is a very important step in your process of preparation of gambling! There are many benefits that come along with trying the free play mode and now we are going to share the main ones with you! Firstly, you get to see how the game works, its features and you get to decide whether it suites you and your needs or not. Additionally, you gain experience and practice your gambling skills without having to risk your own money which is spectacular! Our team suggests you taking advantage of every game that provides you with a demo mode and go ahead and try the free play mode of Book of the East as soon as it launches!
Bonus Features and Free Spins
Finally, the most interesting part of this slot review has come! We are going to talk you through the tempting bonus, free spins and promotion offers of Book of the East slot that will be very hard for you to resist! As we mentioned above, the symbols of this game have a big impact on the bonuses and free spins that you are going to win so be careful with them! When it comes to free spins, by landing 3 Book Symbols trigger 8 Free Spins with Expanding Symbol that is selected randomly at the beginning of the Free Spins. Free Spins can be re-triggered and you can be rewarded with extra 8 spins.
Moreover, by collecting 3 Key Symbols the Book Feature is launched, random Expanding Symbol is selected and chances for winning up to 4,434 x your bet are increased. Keep in mind that the game also has a multiplier which is fantastic for you – 3 or more Book Symbols appearing in any position trigger the Free Spins and Multiplier Win! Free Spins can be re-triggered with additional 8 Free Spins and corresponding Multiplier Win.
There is something more that you need to know about the Expanding symbol – randomly chosen at the beginning of the Free Spins. During the Free Spins and after the payout of regular symbols, the Expanding Symbol may expand to cover 3 positions on the reel and play like the regular symbol but pay on non-adjacent symbols and on all lines played. Expanding Symbols only expand if enough symbols for a win a present. Luckily, you can get awarded with an Expanded Symbol if you collect 3 Key Symbols!
Book of the East Slot Volatility
The volatility of every slot game depends mostly on the RTP percentage of it. When you take into account that the RTP of Book of the East ranges from 92.24% to 96.18%, you can easily tell that the volatility of it is high! This is great news for both small stakes and high rollers because it offers something for every gambler!
Recent News and Promotions about Book of the East Slot and other Swintt Slots
Our Conclusion on this Slot Review
As a conclusion to this carefully prepared review especially for you, we can confidently say that Book of the East is about to impress you a lot as soon as it launches on October 26th! Stay tuned because you are going to experience spectacular gameplay, stunning graphic and visual design, and phenomenal new features like the Buy Feature mechanic! Don't forget about the irresistible bonus and promotion offers that you are going to be bombarded with this game! It all leads to the conclusion that Book of the East is a game that is definitely going to be worth your time! We wish you a stroke of luck and we strongly believe in your potential success in this fantastic slot game!
1+ More Hot Slots by Swintt
FAQ about the Book of the East Slot
Why is the Book of the East slot so popular?
Can Book of the East Slot trigger big wins?
Can you play the Book of the East slot with bonus money?
Can you play the Book of the East slot on Mobile?
Is there a winning strategy in Book of the East Slot?
What's the minimum bet in the Book of the East slot?
Play Now at Our Top Pick: