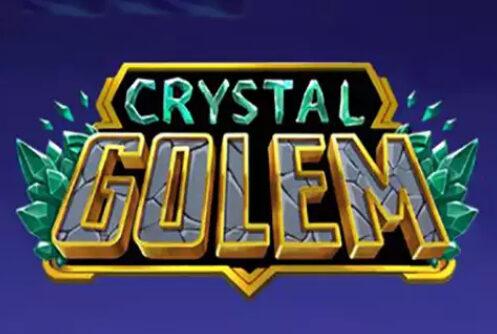 Our Opinion
Graphics & Gameplay - 95%
Review
Crystal Golem Slot definitely won't dissapoint you so enter the magical world of online gambling now!
SLOT INFORMATION
Return to Player:

96.51 %
Volatility/Variance:

Medium to High
Progressive Slot:

Slot type:

Video Slot
Rows:

3
Reels:

Five Reel Slot
Paylines:

20
Slot Layout:

5×3
SLOT FEATURES
Minimum Bet:

$0.20
Maximum Bet:

$100
Maximum Win:

$20,758.00
Gamble Round Feature:

Bonus Buy Feature:




OTHER KEY FACTS
Date Launched:

26 october 2021
Jackpot:

Gamification:

Special Symbols:

Wilds

Wild Multipliers

Scatters

Wild Scatters

Sticky Wilds
| What we liked | What we did not like that much |
| --- | --- |
| Satisfying gaming experience | There is no jackpot |
| Free spins around every corner | |
| Authentic atmosphere | |
Intro to the Crystal Golem Slot
Crystal Golem is an online slot which is a collaboration between Print Studios and the casino leader Relax Gaming and even only by the sound of this partnership we already know how impressive the slot is going to be! Crystal Golem is going to be the newest release of Print Studios which is going to enter the casino scene in October 2021 which is why we have gathered all of the needed information on it in this in-depth review in order to get you prepared for what's coming! As the title suggests, the theme of the slot transfers us to a magical and shimmering place full of enchanted crystals that are protected by a giant golem. Of course, the partnership of Print Studios with Relax Gaming reminds us that the slot is going to be full of special features that are going to satisfy players' expectations.
Crystal Golem Slot Online
The online gambling industry has been one of the most competitive markets in the recent years as there is a never-ending demand for fresh and new content that software developers are expected to create. Even though this can only be seen as a plus for the casino players themselves, casino operators and gaming companies are constantly on the lookout for a new feature that they might add up in order to stay on top of the competition. Print Studios are the perfect example for a progressing software developer that decided to partner up with a leader in the industry which ended up in a title that is definitely going to be a hit once it is released. The collaboration between the two companies not only led to a beautifully crafted slot but it also created a new special feature – SuperSpinners mechanic which we are going to investigate in the following segments!
Crystal Golem Slot Return to Player – RTP – 96.51 %
If you are not familiar with what a Return to Player rate is, this segment is all you need in order to understand the basics around the term. The Return to Player rate is showing gamblers what percentage of their wagered funds can be potentially won back at a specific slot which is considered one of the most important characteristics of a casino slot. The primary RTP of the Crystal Golem slot is 96.51% but thanks to the Bonus Buy feature, the RTP can be increased to 96.99% which is a lot higher than the average percentage for the casino industry as a whole.
Gallery and Shots of Main Slot Features
Crystal Golem Slot Review
Crystal Golem slot is a project that came to life thanks to a successful partnership between the smaller gaming studio – Print Studios and the world-known software developer Relax Gaming. The setting presents a beautiful and magical place with loads of valuable crystals that are hidden behind a giant golem which players need to overcome in order to get to the prizes. The creature Golem has its roots in the Jewish folklore and it is believed to be made of mud, clay and magic, of course! The mission of a Golem is considered to be protection of a very important object which means the gameplay has some amazing awards in store! What is more, the SuperSpinners mechanic game feature is present in the slot and can boost players winnings up to 20,758x of the original stake!
Crystal Golem Slot Paytable
Understanding the slot's paytable might be a hard task for some online gamblers but it is definitely essential in order to end up with some big wins. Crystal Golem Slot is spread on a 5×3 grid and has 20 different pay lines which players can bet on. The betting range which players should have in mind is between $0.2 and $100 which works perfectly for players who are trying to have some fun and not wager a big amount of money and also for high rollers that are playing for the big money. The paytable at the Crystal Golem is full of beautifully crafted symbols and a lot of special features such as Cascade, SuperSpinners, Wild Golem Symbol, Free Spins Bonus, Retrigger and Bonus Buy which we are going to take a look at in the following segments.
Crystal Golem Slot Symbols Explained
The symbols in the Crystal Golem Slot can form winning combinations by landing 3 or more of the same symbol types on adjacent reels and they are divided in lower, medium and higher paying ones. The lower-paying symbols are presented by the colors green, purple, blue and red. Landing 5 of the same type of the lower-paying crystals is going to award you with a prize between 0.75x and 1.25x of the bet. The medium paying symbols are presented by mushrooms that are colored in blue, yellow and red which can award you with a multiplier between 2.5x and 6x of your original bet. The higher paying symbols are presented by a crystal bat and a stone snake which can give out a multiplier of 10x to 20x of the player's original bet.
How To Play the Crystal Golem Slot
Although online slots are believe to be one of the easiest casino games to grasp and play, some of the online gamblers that are just entering the casino world will definitely struggle to understand what they should look out for when they start playing a given game. Players should always do their research before wagering any real funds in order to prevent big losses. The Crystal Golem slot is a 5-reeler which reminds players to try out a betting strategy such as the One-Line betting one in order to focus their efforts on only one line rather than be constantly on the lookout and become overwhelmed. Also, players should keep in mind the betting range and carefully decide how much money they are ready to wager on the given slot. Last but not least, it is very important for gamblers to be aware of the special features that are included in order to be able to boost their winnings additionally.
Crystal Golem Slot One-Line Betting Strategy
Even though there is no betting strategy that is known for being applicable for every casino slot, there are a few popular ones that can be tried such as the One-Line Betting strategy which is extremely popular among newly joined players. The One-Line Strategy allows players to focus only on one betting line which allows them to maximize its winning potential which can be incredibly fruitful!
Our 100 Spins Challenge on Crystal Golem Slot
The 100 Spins Challenge is the perfect opportunity for players to see all of the explained information in this review in real action. The challenge actually shows a 100 random spins and their outcomes which can act as evidence of the RTP rate, the special features and the volatility of the slot. In this way players can get a sense of how the gameplay can potentially be for the initial 100 Spins but it is important to point out that gambling is a game of luck and no 100 spins can look the same way!
Crystal Golem Slot Work on Mobile?
Print Studios and Relax Gaming are both companies that are fully aware of the casino trends that are currently taking place in the industry which is why Crystal Golem slot is fully compatible with any type of mobile device. The online gambling industry is thriving and with the increasing number of competition, mobile compatibility is definitely a must that should not be missing from a slot's features if the software developer wants its title to be a hit. Players value their comfort and convenience and they highly appreciate the ability to access a certain casino game from anywhere.
Try the Free Play Mode
The Free Play Mode is another amazing casino feature which allows players to take a look at the real gameplay without the need to wager any type of real funds. In this way gamblers receive the opportunity to get a feeling of the gameplay, design, features, symbols, background music and everything important and make the final decision whether this specific casino game is meeting their expectations. However, we are confident that the Crystal Golem slot would end up being even better than you can imagine so we highly recommend you give it a try right away!
How To Win at Crystal Golem Slot
Even though winning at s casino slot is mostly based on the player's luck, there are a few things that players should keep in mind. The easiest way to expect a win in Crystal Golem Slot is to depend on landing a winning combination of paying symbols which can be quite generous. However, the big wins are triggered by the special symbols in the game. The Crystal Golem is the wild symbol in the slot and can award players with 50x of the original stake but it can also trigger some special features, along with the scatter symbol of the magical portal which we are going to take a look at in the next segment.
Bonus Features and Free Spins
The Crystal Golem slot has a lot of special features to offer including Cascade, SuperSpinners, Free Spins and more. The Cascade feature is activated by a winning combination which disappears from the reels once it has served its purpose. The new symbols are used to fill up the empty positions and this process continues until no new wins appear on the reels. The SuperSpinners are crystal shaped symbols with different numbers on them. If you are lucky enough to trigger a winning combination that includes one of theses SuperSpinners, you are going to receive your winning multiplied by the number shown on the crystal. There is also a Free Spins bonus feature that is activated by landing 3 or more scatter symbols and can give you 8, 12 or 16 free spins.
Crystal Golem Slot Volatility
The volatility of the Crystal Golem slot is considered medium to high which is tightly connected with the RTP rate of the game. The higher the volatility of a slot is, the bigger risk a player takes which means the slot is not going to pay out small wins regularly but it is going to pay out bigger wins but a lot less frequently.
Recent News and Promotions about Crystal Golem Slot and other Relax Slots
Our Conclusion on this Slot Review
Crystal Golem slot is going to be the first successful collaboration between Print Studios and Relax Gaming but we are sure it is not going to be the last one. By the information which we have gathered and carefully assessed we can definitely come to the conclusion that this online slot is going to be one of the hottest releases in October 2021 so be sure to check it out in order to win some awesome prizes that can go as high as x20,758 of your original bet!
10+ More Hot Slots by Relax Gaming
FAQ about the Crystal Golem Slot
Why is the Crystal Golem slot so popular?
Crystal Golem slot owes its popularity mainly to its developers Relax Gaming and Print Studios.
Can Crystal Golem Slot trigger big wins?
The highest multiplier that can be triggered is 20,758x of the original bet!
Can you play the Crystal Golem slot with bonus money?
Yes, you can! You can use the bonus money to play the Crystal Golem slot.
Can you play the Crystal Golem slot on Mobile?
Yes! Crystal Golem is fully compatible with all types of mobile devices!
Is there a winning strategy in Crystal Golem Slot?
Unfortunately, there is no proven winning strategy in the Crystal Golem slot but there are a few popular ones that players can check out such as the One Line Betting strategy.
What's the minimum bet in the Crystal Golem slot?
The minimum bet in the Crystal Golem slot is $0.20.
Play Now at Our Top Pick: Celsius Casino