Fruity Beats Xtreme Slot
If you are searching for a fruity slot adventure to captivate your heart and excite your eyes, then this is the right game for you!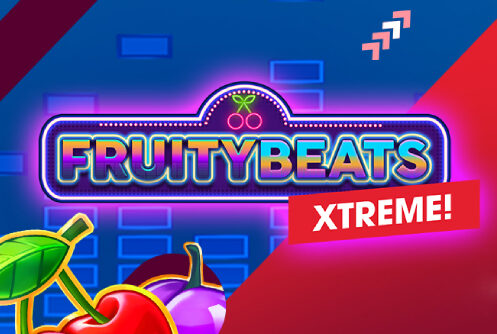 Our Opinion
Graphics & Gameplay - 95%
Review
Prepare yourself for Xtreme gaming experience with Fruity Beats Xtreme Slot!
SLOT INFORMATION
Return to Player:

99.08 %
Volatility/Variance:

High
Slot type:

Video Slot
Rows:

3
Reels:

Five Reel Slot
Paylines:

25
Slot Layout:

5×3
SLOT FEATURES
Minimum Bet:

$0.25
Maximum Bet:

$100
Maximum Win:

$1,000,000.00
Gamble Round Feature:

Bonus Buy Feature:




OTHER KEY FACTS
Date Launched:

13 july 2021
Theme:

Fruit Machines Themed Slots
Jackpot:

Gamification:

Special Symbols:

Wilds

Wild Multipliers

Scatters

Wild Scatters
| What we liked | What we did not like that much |
| --- | --- |
| 9 fantastic symbols | Yet another Fruit based slot game |
| Great bonuses and many promotions included | |
| One of the highest RTP of 99,08% | |
Intro to the Fruity Beats Xtreme Slot
The exceptional Spinmatic are true pioneers of the iGaming industry, their amazing slot games have set the standard in the industry for years. Now more than ever their brand new Fruity Beats Extreme goes the long way with state of the art graphics, and incomparable features to deliver a fantastic gambling experience. Additionally, this game comes with many bonuses, and is fully compatible with all mobile devices, making it easier for players to enjoy it from any given spot.
Fruity Beats Xtreme Slot Online
This game incorporates a retro look that transfers players back in the past where a unique experience awaits. Similarly, to many other slot games developed by Spinmatic this game also offers a 5 by 3 design that most players are used to making it easy to play for all types of gamblers beginners and veterans alike. In addition, the game boasts a total of 25 paylines which allow you to trigger amazing winning combinations all the time.
Moreover, this game has one of the highest if not the highest RTP percentages available on the market with an RTP standing at 99.08%, which guarantees that you are never left short-handed. To make things even better this game holds a medium volatility rate making it ideal to enjoy by all types of players. Also, this game has a mobile-friendly design that allows players to access all of the slot's features from any location at any time. It's difficult for slot gamers to resist this fantastic slot with such gorgeous graphics, a large paytable, and, most importantly, incredible features.
Fruity Beats Xtreme Slot Return to Player – RTP – 99.08 %
With regard to the RTP percentage, there are very few online slot games that can compare with this one, Fruity Beats Extreme holds an RTP percentage of 99.08% which is as high as it gets.
Additionally, this high RTP percentage is one of the reasons why players are so excited about this slot game and look forward to playing it.
Gallery and Shots of Main Slot Features
Fruity Beats Xtreme Slot Review
Multiline slot games are slots with numerous paylines that give players several winning possibilities through their wager methods, which may produce huge combos, according to the iGaming community.
Fruity Beats Xtreme, like its predecessor, has an appealing retro look: a vintage equaliser, disco-style music, and an 80s colour palette, all of which are mixed with the original slots' popular components – sevens, bells, fruits, and the BAR sign. Fruity Beats Xtreme, on the other hand, offers it all for gamers to have the most enjoyment. The characteristics of this game are also extremely traditional, such as 5 reels and 3 rows, 9+1 symbols, 25 fixed paylines, and the Expanding Random Wild, as it is a Standard Video Slot game with classic fruits combined with a vintage equaliser motif. During each spin, this symbol, which is encircled by neon lights (of course, no vintage party would be complete without some neon lights!) hovers above the reels and may halt and grow at random. With its basic yet colourful appearance, classic fruity slot games have long been popular.
Fruity Beats Xtreme Slot Paytable
There is currently no official paytable that lists all of the highest payouts on this slot game, but we do know that players may make a lot of money by successfully triggering all of the big combos. Not only that, but by triggering the Expanding Random Wild symbol, players may obtain the maximum prize, ensuring that the rewards are nothing short of amazing.
Fruity Beats Xtreme Slot Symbols Explained
The beautiful 5-reel design will quickly catch your eye when this slot game is placed in front of you, and the vivid 80's colours will make the game even more pleasant and thrilling. The symbols you'll see include the traditional ones, such as the low-valued A, K, Q, J, and 10s, as well as the high-paying symbols, which come in a variety of forms and sizes. Fruits, the Expanding Wild, and a slew of other icons from the Fruity Beats Xtremes of the 1980s are among the high-paying symbols.
How To Play the Fruity Beats Xtreme Slot
It should be mentioned that his game is ideal for all sorts of players, including veterans and novices because it provides a wide betting range that allows gamblers to carefully control their bets and strategy. Players may also modify their betting possibilities by using the Advanced Setting settings, which allow them to change single win and loss limitations. Additionally, similar to most other slot games, there is an AutoPlay option that allows you to unwind while the reels spin.
This Spinmatic game is excellent in every way; it gives slot players complete freedom with a beautiful user interface, and it is really realistic, which is rare for a slot game. Furthermore, the game gives clear instructions on how to wager, but what actually sets it apart is the abundance of bonuses, deals, and promotions accessible to players, all of which they can utilize to boost their winnings.
Fruity Beats Xtreme Slot One-Line Betting Strategy
Given that this game has the potential to produce enormous profits, it is reasonable to conclude that, despite the 99.08% RTP, it has medium volatility that must always be considered, which is why players must exercise extreme caution while betting. Nonetheless, we are unable to provide slot players with a definitive betting strategy; after all, this is a gambling activity with inherent dangers; the only method we can recommend is that players alter their betting range to minimize their losses.
The Extra Spins Bonus on Fruity Beats Xtreme Slot
At the moment, the developers at Spinmatic have not yet released all of the information regarding all of the amazing bonus features which are yet to be incorporated into the game. Therefore, we cannot conclusively say how players will be able to activate the free spins bonus, but one thing we are sure of is that this type of bonus will definitely be present in the game itself.
Fruity Beats Xtreme Slot Work on Mobile?
All of the slot games created by this well-known game developer that can be found on the iGaming market, including this one, are completely accessible from all mobile devices. Players may play Luchador Wilds on any iOS or Android smartphone because it is compatible with all HTML5 platforms.
Try the Free Play Mode
Fortunately for the less experienced, players may currently enjoy this amazing game without having to risk their own money, thanks to the excellent work of the specialists at Spinmatic. The creators have provided a free sample version for anyone interested in giving the game a try.
How To Win at Fruity Beats Xtreme Slot
As you might expect Fruity Beats Xtreme is built around the Wilds game engine, which was designed to trigger more paylines which can lead to wins. However, at the moment, Spinmatic has not released much information regarding the mechanics of the slot and how the majority of features are triggered. We do know however that there are plenty of betting adjustments players can make in order to try and maximize their earnings, but the game is still highly volatile.
However, in order to really take advantage of all of the slot game's wonderful features, players need to become familiar with the Free Spins bonus and the Expanding Wild bonus, both of which may increase your paylines, allowing for enormous payouts.
Bonus Features and Free Spins
It goes without saying that such a large slot release will include a variety of features and bonuses designed to offer players a boost. This game will have the traditional Stacked Symbols, Stacked Wilds, and a slew of other helpful features, as expected. However, as of this moment there is no concrete information regarding all of the amazing highlights this game is set to include. Furthermore, one of the most prominent elements in this game is the Random Expanding Wild, which may result in massive payouts. Microgaming's creators have also stated that a free spins feature would be included, allowing you to enhance your earnings even more. Ultimately, we can safely say that this game is set to deliver a variety of exciting moments for players once all of the bonus features are put in place and set to go.
Fruity Beats Xtreme Slot Volatility
In terms of the statistics, we have analyses based on the game's 99.08% RTP percentage, which may conclude that this game has medium volatility. However, because the game is still relatively new, more playing hours are required to establish the precise volatility, but for now, this is the conclusion.
Recent News and Promotions about Blue Fortune Slot and other Spinmatic Slots
Our Conclusion on this Slot Review
We feel that this slot game will please a lot of players with its 5 reels and 3 rows that may trigger hundreds of winning possibilities, not to mention the wonderful Free Spins bonuses, Wild symbols, and Scatter symbols that are expected. There are a variety of elements that may contribute to enormous winning chances for players, but don't forget to employ the wild symbols because they can open up even more winning combinations, resulting in even greater winds. Because players may double their original wagers by a huge percentage, this game allows them to bet little and win much.
Furthermore, it goes without saying that gamblers are familiar with the Fruity design; while this subject is common in many slots, the visuals and vivid design of this slot game set it apart. Players have a variety of symbols shown on the reels, which is a lovely sight to behold, especially when a combo is triggered. Moreover, the brilliant creators of this game ensured that it is entirely compatible with all HTML5 platforms, allowing you to play it on any mobile device, desktop PC, or tablet device.
2+ More Hot Slots by Spinmatic
FAQ about the Fruity Beats Xtreme Slot
Why is the Fruity Beats Xtreme Slot So Popular?
Because it is still relatively new on the market, the game is still gaining popularity, but with a profitable design and a plethora of features, it is sure to win the hearts of slot enthusiasts in no time.
Can Fruity Beats Xtreme Slot Slot trigger Big Wins?
This game allows you to trigger several winning possibilities, but the fact that you may win hundreds of times your initial wager is very amazing.
How Do You Get Free Spins on Fruity Beats Xtreme Slot?
At the moment there are no concrete details around what Free Spins bonuses players can trigger and how they can do so, but there is no doubt that Spinmatic has implemented such a feature.
Can You Play Fruity Beats Xtreme Slot with Bonus Money?
Players can safely use the Bonus Money to play whatever game they want, and that means that if the casino they are receiving the money from allows them to do so, they can easily play their bonus money on this slot game.
Why is this slot Fruity Beats Xtreme Slot?
It goes without saying that this game's name comes from the bright fruity motif, which has watermelons, cherries, lemons, and a variety of other fruits bursting up on the screen.
Can You Play Fruity Beats Xtreme Slot on Mobile?
Players may access this game from any mobile device, including laptops, desktop computers, tablets, and smartphones since it is compatible with all of the devices stated.
Play Now at Our Top Pick: