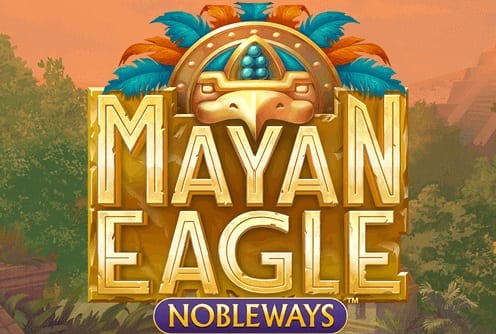 Our Opinion

Graphics & Gameplay - 92%

Review

Mayan Eagle Nobleways is a 6 reel, 15625 payline slot from All41Studios with a 96.32% RTP.


Notice: Undefined variable: postid in /home/casinodaddy/public_html/wp-content/themes/Responsivo/includes/modules/review-slots-functions.php on line 187


SLOT INFORMATION

Return to Player:

96.32 %
Volatility/Variance:

High
Slot type:

Video Slot
Rows:

5
Reels:

Six Reel Slot
Paylines:

15,625
Slot Layout:

6x5
SLOT FEATURES
Minimum Bet:

$0.20
Maximum Bet:

$20
Maximum Win:

$260,000.00
Gamble Round Feature:

Bonus Buy Feature:




OTHER KEY FACTS
Date Launched:

7 july 2020
Jackpot:

Gamification:

| What we liked | What we did not like that much |
| --- | --- |
| | |
| | |
| | |
Intro to the Mayan Eagle Slot
The tropical jungle pyramid forms the backdrop to the Mayan Eagle slot, the first Nobleways game from All41 Studios and Microgaming. Boasting exceptional sound and visuals, Mayan Eagle is played using a 6 reel machine where the number of ways to win is fixed at 15,625. Highlights of this highly volatile slot are Rolling Reel wins, mystery symbols that transform into the same symbol, and a Free Spins feature with limitless multipliers.
Mayan Eagle Slot Online
The one of a kind Mayan Eagle slot uses a Nobleways game mechanic. This unique slot offers 6 reels and 5 rows, on each spin you'll have more than 15,625 ways to create a winning combination. That can be achieved by landing matching symbols or wilds on adjacent reels, starting from reel 1. Stakes wise, it's pretty standard. Players can play from between $0.20 and $20 per spin. There are options for up to 100 auto spins if required. There's no turbo mode included though, nor win, loss or stop on feature limits.
If you like the thrill offered by high risk but potentially high reward slots, Mayan Eagle should appeal. This is a high variance slot. The Mayan Eagle volatility is extremely high. As we've said, it's a high-risk slot. It can deliver massive prizes of over 13,000 x your bet per free spin though. As usual for a slot from All41 and Microgaming, the game interface is neat, crisp, and very easy to use.
Mayan Eagle Slot Return to Player – RTP – 96.32%
How does it compare with other slots? Click on the different RTP percentages below for listings of slots reviewed by our team:
| | | | | | | | | | | | |
| --- | --- | --- | --- | --- | --- | --- | --- | --- | --- | --- | --- |
| | 89% | 90% | 91% | 92% | 93% | 94% | 95% | 96.32% | 97% | 98% | 99% |
The Mayan Eagle return to player rate is 96.32%. That's on the high side of the medium range. This number compares quite favorably with many new slot games. The hit frequency is also high at 37.6%.
Gallery and Shots of Main Slot Features

Notice: unserialize(): Error at offset 0 of 1 bytes in /home/casinodaddy/public_html/wp-content/plugins/responsive-gallery-with-lightbox/responsive-gallery-short-code.php on line 30

Warning: count(): Parameter must be an array or an object that implements Countable in /home/casinodaddy/public_html/wp-content/plugins/responsive-gallery-with-lightbox/responsive-gallery-short-code.php on line 32

What are Multiline Slots?
The online casino community refers to multi-line slots, as slots that offer multiple paylines and gives players the opportunity to amass countless winning opportunities through various paylines.
Mayan Eagle Slot Review
Microgaming partner All41Studios is the genius behind the Central American driven slot Mayan Eagle. The theme might not be new, but the game is the first to use the in-house designed Nobleways mechanic. Sounds pretty, well, noble, but in effect, it's not the most innovative device you'll come around to find nor the most sophisticated. It plays well with the other features though, Rolling Reels in particular, but don't expect to be amazed on the whole. Speaking of the devil, buckle up for a trek through the steamy Yucatan Peninsula for some Mayan infused gaming.
Step Pyramids, temples, and carvings great players once the game loads. It's a traditional Mesoamerican view, and quite a nice looking one indeed. Not so pleasing to the eyes is the 6 reel, 5-row game area, unfortunately. There is something a little off about the symbols. Somehow they manage to be just a little too bright, yet boring at the same time. Anyway, this is not an issue you will pay much attention to, once they get going. Rhythmical drumming completes the picture, which welds to the gameplay after a while, in a throbbingly repetitive way.
Players set stakes by hitting the coin icon where options from $0.20 to $20 are located. Hold on to your seats because volatility has been rated as not just high, but 'Very High'. Testing could find nothing to refute this claim. RTP is decent at 96.43%, but what helps keep things ticking along is a rather high hit frequency of 37.6%. On the other end of the spectrum is the frequency of the free spin of 1 in 434 spins which roughly puts it in the same league as Bonanza. Encountering a dry spell can be a killer.
Mayan Eagle Paytable
This exquisite piece has a Mayan theme, it contains many ancient symbols as well as a stunning backdrop with Mayan jungle environment and fascinating architectural structures like pyramids. The game has high volatility and an eminent winning potential. Mayan Eagle has a Free spins feature as well as an interesting base game. If this sounds like a slot for you, continue to read to know all that it has to offer.
Mayan Eagle Symbols Explained
Like usual, the lower valued icons are numbers 9 and 10 and letter J to A. The Mayans believed that the eagle brought strong ancient powers. The higher valued icons are the eagle symbols in color, yellow, red, green, and blue. The highest-valued symbol is the yellow eagle with a purple background. Wild symbol substitutes for all icons except scatters. Wilds only appear on reels 2, 3, 4, 5 The wilds appear in the regular game and during Free Spins. The Mystery symbol: The mystery symbol is the tiki mask, and it transforms into any symbol except wilds and scatters. The symbol appears both in the base game and Free Spins.
How To Play the Mayan Eagle
If you are wondering whether this is a Megaways slot, the answer is a maybe. Microgaming previously added to its Quickfire platform a plethora of slots from Zero Fox Entertainment that are more or fewer clones of the Megaways reel mechanic. A Lot of hard work and effort has been put into the creation which is the debut of their reel mechanic. It has a fixed 6×5 format with 15,625 ways to win and Rolling Reels, Microgaming's trademarked mechanic for cascading symbols. As a result, you will be playing at all times on the maximum ways with every winning combo being removed to allow for new symbols to roll into the empty spaces. The process is repeated as long as new winners land after an avalanche. All wins are accumulated and paid once a spin sequence finishes.
Mystery symbols are part of your reel journey to Mesoamerica. These can land in the base game and free spins, revealing a common regular pay symbol once the dust has settled. The main event will be triggered when you land four scatters spelling M-A-Y-A anywhere on the reels within one spin sequence. An initial 12 free spins are awarded every further scatter landing on the same spin adding +2 free spins to the tally. Retriggers are unlimited by landing the same scatter combinations. During the feature, the progressive multiplier will start at x2 and increase by x1 for every winning cascade, no limits.
Mayan Eagle Slot One-Line Betting Strategy
There is no guaranteed tactic, to hit the big winnings here at this slot, however, there are plenty of good schemes that are provided in the game to guarantee that you get some huge winning opportunities. Each win can end up in a chain of consecutive wins. The winning symbols explode and are removed from the game field and replaced by new ones on the reels. This feature is not groundbreaking and you'll probably recognize it from other online slots immediately.
Our 100 Spins Challenge on Mayan Eagle
Check out another 100 Spins Challenge, where our team spins the reels in Mayan Eagle to show you what the game look like. View it now and you will get a better idea of what your own experience on this slot might be, its features, and volatility. Watch it here:
Does Mayan Eagle Work on Mobile?
This slot game is produced by one of the biggest slot developers around the world, so it comes as no surprise that this game is compatible with all mobile devices on the market. There is no issue if players wish to access the features of the game from any mobile device, be it iOS or Android.
Try the Free Play Mode
There is no information provided on the slots' website that signals that they offer a demo version that allows players to play the game just for the fun of it. However, you can try and play the game with minimum stakes just to get a feel for it.
How To Win at Mayan Eagle Slot
Mayan Eagle's centerpiece is the trademarked Nobleways mechanic. In essence, Nobleways is 15,625 fixed win ways over the game's 6 reels. There are a lot of win ways to have in play at once, though maybe not quite a slot revolution. Still, the high number of win ways combined with Microgaming's Rolling Reels can be a potent mix.
There is nothing complicated about winning on the Nobleways system. Three or more symbols, left to right, create a winning combination – just two or more in the case of the golden mask. Matching symbols may sit in any row, hence the high number of win ways. Landing a win triggers the Rolling Reels feature which clears those symbols off the grid. New ones fall into the spaces causing a chain of hits one after the other. When no new wins appear the sequence is over and the total price paid.
Bonus Features and Free Spins
As far as advanced features of the Nobleways system go, it's similar to the Megaways slots. When 3 or more symbol combinations match you'll receive a winning spin. The Wild appears on reels 2 and 5. Or, to be more specific, the middle four rows. It completes a winning combination when it replaces close by symbols.
The Rolling Reels is just another name for the Cascades. Or, the Tumble Reels feature we've seen in so many slots. When you strike a winning combo of 3 or more symbols. The Rolling Reels feature kicks in. Winning symbols go away from the reels and new ones replace them. As a result, you land successive wins on a single spin. The Rolling Reels feature keeps on rolling as long as you hit a winning combination. As far as the feature goes that's a wrap.
Players can activate the Random Mystery feature on any random spin. The beauty of the Mystery Feature is that it adds an extra 8 symbols which becomes a single symbol. So far the feature looks interesting, but we're not sure how many times it pops up. The only downside is that you cannot trigger the feature during the Rolling Reels. Or, cascades for that matter. You can get a random Mystery feature at times. Which adds 8+ symbols on the reels, all of them transforming into a single regular one. Players will not be able to receive these during Rolling Reels though.
Mayan Eagle slot Volatility
This special slot game has quite the high volatility, but it comes along with some serious winning opportunities and bonuses that players can take advantage of. Although, the volatility and risk are high, don't forget so are the rewards.
Recent News and Promotions about Mayan Eagle Slot and other Microgaming and All 41 Studios Games
Our Conclusion on this Slot Review
If you've played and enjoyed Megaways slots, we expect that you'll enjoy Mayan Eagle. The Nobleways game mechanic is very similar in style. Instead of a differing number of symbols and Megaways active, the ways to win remain static at 15,625. The features are extremely similar too. You can witness transforming symbols, Rolling Reel wins and free spins with expanding multipliers in many Megaways slots. Over the years this has proved to be a popular combination and likely will be here too. One aspect where Mayan Eagle is subpar is in its design. It's a real treat for the senses. Combine that varied gameplay, stunning sound and visuals, and sky-high volatility and you have a very playable game in Mayan Eagle.
Strangely, the bankroll remained more or less neutral throughout, helped by the high hit rate and the features. Not just Rolling Reels, but Mystery Symbols popped up often enough to keep the interest level somewhat high. If we weren't conducting a review though, it would have been easy to give up after the first 500 spins lead to a whole bunch of tail chasing. The game makes no bones about being very highly volatile, so if patience is one of your virtues, then rewards are there. Specifically, the potential of up to 13,000 times the stake, if you do crack the code.
Nevertheless, once you play through free spins once or twice and receive modest rewards, it is unbelievably tough to stay motivated for the base game again. It's hard not to doubt your tenacity when faced with jogging on the spot for another neon of regular spins.

Warning: include(/home/casinodaddy/public_html/wp-content/themes/Responsivo/includes/functions/slots-test.php): failed to open stream: No such file or directory in /home/casinodaddy/public_html/wp-content/plugins/xyz-wp-insert-code-snippet/shortcode-handler.php(224) : eval()'d code on line 2

Warning: include(/home/casinodaddy/public_html/wp-content/themes/Responsivo/includes/functions/slots-test.php): failed to open stream: No such file or directory in /home/casinodaddy/public_html/wp-content/plugins/xyz-wp-insert-code-snippet/shortcode-handler.php(224) : eval()'d code on line 2

Warning: include(): Failed opening '/home/casinodaddy/public_html/wp-content/themes/Responsivo/includes/functions/slots-test.php' for inclusion (include_path='.:/opt/alt/php73/usr/share/pear') in /home/casinodaddy/public_html/wp-content/plugins/xyz-wp-insert-code-snippet/shortcode-handler.php(224) : eval()'d code on line 2

23+ More Hot Slots by Microgaming
SHOW MORE
Frequently Asked Questions about the Mayan Eagle Slot
? Why is the Mayan Eagle Slot So Popular?
This slot game is quite famous due to its Mayan theme that attracts so many people to come and explore the rewards and treasures hidden in the pyramid.
? Can Mayan Eagle Slot trigger Big Wins?
This game provides players with more than 15,625 opportunities to win, and players have a chance to win as much as 13,000 times their initial stake.
? How Do You Get Free Spins on Mayan Eagle Slot?
When you get into the groove of the game and you spin four of the scatter symbols into view anywhere, you'll activate 12 free spins in total. If there are more than four scatters visible, then you'll receive an extra two free spins for each additional scatter.
? Can You Play Mayan Eagle Slot With Bonus Money?
There are no issues of players who wish to play with bonus money gathered from the online casinos.
? Why is this slot Mayan Eagle Slot?
This slot themed is based upon a Mayan theme, that is pictured in the middle of a beautiful landscape situated in the middle of the Mayan Empire. The Eagle is a symbol of prosperity in Mayan culture and that is exactly why it's the main icon of the game.
? Can You Play Mayan Eagle Slot on Mobile?
This game is fully compatible with all mobile devices available on the market, players can access this game from any smartphone including iOS and Android devices alike. Those who wish can also play the game from tablets, laptops and Desktop computers.
Play Now at Our Top Pick: Mr. Green Casino