Casino Hold'em & Best Live Casinos to Play at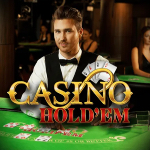 Casino Hold'em Live is a very popular game of poker introduced by Stephen Au-Yeung in 2000. After being licensed in 2007 by the UK authorities, the game becomes more and more popular among all members of the gambling society around the world. Different than the original Poker, this variation is designed to be hosted by a croupier. This means you will be playing with the house and not against other players. Very similar to Texas Hold'em, in this game you can place Ante bets as well as AA bets. We will get into more details about the game, rules, and strategy in the following paragraphs, so stay with us. Don't miss to check out the best online casinos that offer Casino Hold'em provided by Evolution Gaming and Play'n'Go.
Top Casinos for Playing Live Casino Hold'em
The first brand we're about to review is Savarona Casino. This cryptocurrency casino has more than 1600 slots and 85 live games available, including Casino Hold'em. Pay with Bitcoin, Litecoin, Ethereum, or any other crypto and you can benefit from the numerous advantages this method of payment offers. All games are developed by top-notch providers such as Yggdrasil, Play'n'Go, Nolimit City, Quickspin, and many more brands. Thanks to the latest technologies, the platform is supported by all devices so you can now play from your PC, laptop, tablet, or smartphone. Register now and you get the chance to win up to a $300 welcome bonus!
Join the beckoning cat and enter the world of Maneki Casino! This orient-themed platform owns a license issued by the Malta Gambling Authority and is a safe place to play and have fun while betting. With more than 3000 titles, this online platform will satisfy all of your wishes. Sign up today and you will have access to various tournaments, weekly promotions, and lucrative deals at all times. The overall conception represents something different and innovative – every player gets their talisman cat to bring them luck and guide them through the journey to the win! Full mobile compatibility, fast transactions, a variety of languages supported, and currencies accepted – all that you will find on Maneki Casino!
Skol Casino is the place for all of you seeking quality and diverse games. With more than 2000 games from 120 providers, the platform is a brand-new addition to our collection of premium online casinos. Microgaming, NetEnt, Yggdrasil, and BetSoft made mobile betting a reality so you can play from any device. Licensed in Malta, Sweden, and the UK, Skol Casino keeps all player's personal and financial data safe with the latest safety technologies and SSL encryptions. All card game lovers will be happy to discover there is a large selection of Blackjack, Roulette, and Poker variations to have fun with.
Play 4 slots at the same time in one window only in Spinia Casino! Escape the boredom and discover thousands of slots coming with generous bonuses for everyone. Play Casino Hold'em and more than 140 other games with a live dealer. All croupiers have experience and skills and speak English, German, Finnish, Norwegian, Polish, and Russian. The exceptional staff of Spinia is available 24/7 and will answer any topic related to the games and bonuses. No issue will remain unsolved. You only need to use the live chat and a representative of customer support will take care of you as soon as possible.
Slоt Wоlf оffеrѕ а wіdе rаngе оf оvеr 3000 famous titles. All of the slots and live games are ѕuррlіеd bу world-famous dеvеlореrѕ ѕuсh аѕ Аmаtіс, Вооmіng Gаmеѕ, Веtѕоft Gаmіng, EGT Online CasinosЕGТ, аnd mоrе. The people responsible for the amazing concept are various artists, technicians, graphic designers, and analysts with years of experience in the gambling industry. This is why the platform is highly competitive and is an excellent example of a fast-developing casino with content clients. Members of Slot Wolf Casino can use convenient payment methods such as Visa or Mastercard. If you prefer to use an e-wallet like Skrill or Zimpler, you are also welcome.
Gallery and Screenshots for Casino Hold'em
What is Casino Hold'em Live?
Casino Hold'em is a variant of well-known Texas Hold'em Poker game. This solution provided by Evolution Gaming and Play'n'Go gives you the opportunity to play against the dealer by placing Ante Best or AA side bets. Why play, you wonder? This unique variation of Poker lets you win a payout of up to 100 to 1. Casino Hold'em is played with one 52-card deck and your goal is to beat the dealer by getting the best possible five-card hand. As mentioned above, you can take advantage of the AA bets when a Pair of Aces or higher card is dealt in the first five cards.
Casino Hold'em Live Game & Table Elements
In the Play'n'Go interpretation of the Casino Hold'em you will find a traditional poker table with two seats. Differently from classic Poker, you will play against the house represented by a dealer. In the down right corner, you can choose from 5 sizes of chips. Bets start from $1 which means not only high-rollers can join the table. When you select an amount, place an Ante bet and start the dealing of cards. If you're feeling uncertain, cancel the bet by pressing the Clear All button. The display shows the exact amount of your bet and after you see the cards, you can choose to Fold or Call. By calling you will get two more cards and might make a winning combination of colors or numbers. For your convenience, the developer integrated a special Rebet button, so you can easily repeat your previous move. When you feel lucky, use the AA bet option. It pays out if you get an Ace in the first 5 cards and doubles your chances to win the hand. In the setting menu, you can turn on or off the sound, music, and background voices. For a customized betting experience enable the auto-start of the game round after Reber or turn on the Fast Play mode.
How to Play Casino Hold'em Live?
Luckily for beginners, this variant follows simple rules which you can learn in no time. The game begins by placing an Ante wager but if you want to multiply the fun you can also place an AA bet. The dealer then gives the player and himself two cards face down and three cards face up to the board. Now is the time to decide if you want to fold or to call. If you decide to quit, you give up your cards and lose the Ante bet. In case you choose to call, keep in mind the Call bet doubles the Ante bet. Then the dealer will deal two more cards to the table, for a total of five, and will then turn over his own two cards. Whichever of the two hands gets the higher poker value, wins the game. To qualify, the dealer must have a pair of fours or better. If he loses, you will be paid out according to the Ante paytable available in the menu, and Call bet will push. If he qualifies but you win, you will be paid both bets. When the dealer qualifies and beats you, you will lose both Ante and Call bets. In case of a tie (meaning both hands are qual), all bets are push and there is no win or lose.
Casino Hold'em Live Strategy
Of course, we could never predict the actions in a certain game and tell you what exactly you need to do, but we can, however, guide you through the most important moves in the game. As you already know, regular bets are called Ante bets, and trust us when we say they are your best chance to win. As appealing as AA bets can be, there is no guarantee you will get an Ace in the first 5 cards. This is why you should stick to the Ante wager mostly. To be precise, it will be best to rise approximately 82% of the time and fold about 18% of your hands, and here are the reasons why. If you have a good hand, let's say a Straight, Three of a kind, Two Pairs, or One pair, you will get a payout of 1:1. For a flush you get 2:1 you bet while full house pays 3:1. Four of a kind will give you 10:1 and a Straight flush will be 20:1. Lastly, the best course of events would be to have a Royal flush (Ace, King, Queen, Jack, and 10 in the same suit). In this case, you can make a fortune as your bet will be paid at 100:1! But, before proceeding with the real game, get to know the rules closely and game some confidence by practicing on a simple demo version. You can find a cool free version on the Play'n'Go platform.
Directory of All Live Casino Games Reviewed by CasinoDaddy.com and Top Casino for Playing