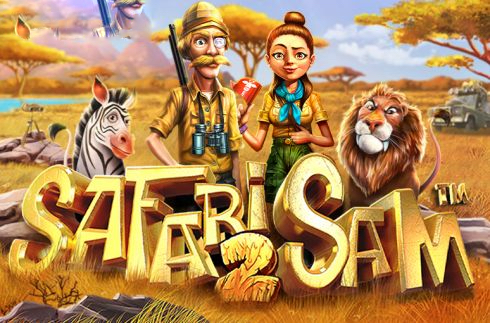 Our Opinion
Graphics & Gameplay - 94%
Review
Yet another exciting video slot from BetSoft!
SLOT INFORMATION
Return to Player:

96.30 %
Volatility/Variance:

High
Progressive Slot:

Slot type:

Video Slot
Rows:

4
Reels:

Five Reel Slot
Paylines:

50
Slot Layout:

5×4
SLOT FEATURES
Minimum Bet:

$0.20
Maximum Bet:

$24
Maximum Win:

$505.00
Gamble Round Feature:

Auto Play Feature:

Multiplier Feature:

Bonus Buy Feature:




OTHER KEY FACTS
Date Launched:

30 april 2021
Theme:

Wildlife Themed Slots
Jackpot:

Gamification:

| What we liked | What we did not like that much |
| --- | --- |
| Average RTP of 96.30% | Another Safari-themed slot |
| Maximum win of up to 505x your total stake | No Jackpot included |
| Multiline Slot | |
Intro to the Safari Sam 2 Slot
Have you missed Safari Sam? If so, BetSoft has some pleasant news for you. The famous and respected software provider is about to release a sequence of the fascinating slot, under the name Safari Sam 2. The release day is set for April 22, 2021. Prepare yourself to go on a safari journey with Sam and Pam for some massive winnings. What makes the game so special is the bonus features which will assist you to trigger a life-changing winning. Find out what the game will offer and turn yourself into the next lucky player in the iGaming Industry.
Safari Sam 2 Slot Online
BetSoft has proven to be one of the game developers which are particularly innovative. Each game created by the company has an amazing bonus feature and engaging themes which will appeal even to the pickiest casino player around the globe. In this guide, we would like to assess the upcoming slot release of BetSoft and in particular Safari Sam 2. The game will definitely have much to offer. Apart from its excellent bonus features, Safari Sam 2 will have amazing winning potential. The game can be accessed in one of the online casinos which collaborate with BetSoft. If you are willing to find an awesome online casino that is supported by the game developer, you can visit our overall listing of the best online casinos in the iGaming Industry on our main page.
Safari Sam 2 Slot Return to Player – RTP – 96.30%
How does Safari Sam 2 Slot compare to other slot games? Click on the listed RTP percentages here to read more slot reviews from our team:
As far as the Safari Sam 2slot is concerned, the RTP has been confirmed to be 96.30, which is in the typical range for BetSoft's games.
Gallery and Shots of Main Slot Features
What are Multiline Slots
Over the years, online casino players have been playing different casino games. However, nowadays, there is a tendency for punters to play multiline slots the most. We believe that the main reason for that is that multiline slots offer more opportunities to players. Namely, more bonus features are available and thereby more winnings. Likewise, multiline slots are much more engaging because of the themes which inspire the slot. For instance, some slots might happen to be inspired by your favorite movie or God, or the action can just take place in a city that you have ever wanted to visit. All in all, multiline slots are much more exciting nowadays. As far as the Safari Sam 2 slot is concerned, it will have 5 reels and 50 pay lines which guarantees that you will experience amazing action as soon as you load the game.
Safari Sam 2 Slot Review
The Safari Sam2 slot has not been released yet. The exact date when you will be able to experience the game first-hand is expected to be April 22, 2021. This means that we still have not placed any bets on the game and we are therefore uncertain how good the game will be. On the other hand, BetSoft has proven to deliver excellence over the years. For that reason, we have high expectation in terms of the Safari Sam 2 slot. Taking into account the theme of the slot, it is inspired by a safari expedition. This means that it is high time you packed your bag and take a trip to the savannah for an expedition, where you can go wild. See amazing animals in their natural habitat while playing the Safari Sam 2 slot. What is more, some pretty generous bonus features will be available. These will be assessed below, so if we have provoked your interest, we encourage you to keep reading.
Safari Sam 2 Slot Paytable
Understanding the paytable of an online casino slot is the first step if you want to have a positive gaming experience. Being able to work out how each winning combination will contribute to your bank account is of immense importance so we wholeheartedly encourage you to double-check the paytable. So far, we have no precise information in terms of the paytable. On the other hand, you can rest assured that we will update the review once we experience the game ourselves.
Safari Sam 2 Slot Symbols Explained
Safari Sam has been released in 2012, so it sounds strange that after such a long period of time a sequel will be released. Well, it is a matter of time for this to happen. As with its predecessor, Safari Sam 2 is inspired by the wild wife and a safari expedition to be more precise. The background image will have the savanna and the reels will be placed on the side of a great African tree. In terms of the symbols that can be landed on the reels, you will notice the symbols of Sam and Pam, which are the main characters of the game. Furthermore, expect symbols such as lions, zebras, Acacia tree, compass, tent, off-road vehicle and royals to appear on the reels. In other words, everything that you will see if you go on a safari yourself.
How To Play the Safari Sam 2 Slot
BetSoft's products are particularly straightforward to be played. This is because the company wants to ensure that even though you might not have any prior gambling experience you will be feeling comfortable playing the company's products. Taking into account the Safari Sam 2 slot you can expect gameplay that is both intriguing and generally simple. There is an Auto Play mode that will spin the reels on your behalf. In other words, you should merely admire the spinning of the reels. You can easily turn the feature off whenever you want. Likewise, you can also manage the sound effects of the game with just one click on the screen, usually at the bottom. Below we will talk you through the betting strategy for this game and the bonus features that you should be aware of.
Safari Sam 2 Slot One-Line Betting Strategy
The betting range of the Safari Sam 2 slot is generous for all kind of casino players, regardless of their financial capabilities. Generally speaking, you can choose from $0.20 to $24. The betting range can easily be adjusted, so it will depend on your preferences and your funds, of course. Accordingly, we advise you to keep track of your funds on a regular basis as we do not want you to end up disappointed. In terms of the payout rate, the Safari Sam 2 slot will pay up to 505 times your initial bet. The game is expected to be so intriguing that you are highly likely to forget doing that as you will feel as if you are on an expedition.
Our 100 Spins Challenge on Safari Sam 2 Slot
The slot machines we recommend to our readers are always reviewed by our team at CasinoDaddy.com to make sure we give you the best game choices! We gambled on Safari Sam 2 slot on a special 100 Spins Challenge to show you how the game works and what you can expect from it as far as bonus features and cashouts are concerned. Below, you can watch it:
Does Safari Sam 2 Slot Work on Mobile?
Playing on the go is one of the most fascinating improvements in the iGaming Industry. Fortunately, you can be ensured that the Safari Sam 2 slot will be accessible wherever you are from your electronic device. The game is completely mobile-friendly. All you need to have is a supported device. These include iOS or Android.
Try the Free Play Mode
The Free Play Mode is another development that is particularly appealing for online casino players. Have doubts and second thoughts about whether a game will live up to your expectations? Well, currently, you have the significant opportunity to make use of the Free Play Mode which will enable you to comprehend the basics of the game, namely its winning potential, the winning combinations, the symbols etc. The best part of using the Free Play Mode is that you do not have to invest any Real Money. That is right you should simply access your favorite casino operator which works with BetSoft and make use of the Free Play Mode.
How To Win at Safari Sam 2 Slot
In order to win at online casino slots, you will need to be a responsible player. Always have your mind straight and play for fun and entertainment not solely for money. Should you happen to do this, you will find out how pleasant the iGaming Industry actually is. Of course, every player wants to trigger a massive win. Well, when it comes to the Safari Sam 2 slot you can rest assured that this is possible. The best way to trigger such a win is by making use of the bonus features of the game which are particularly generous.
Bonus Features and Free Spins
The first feature of the Safari Sam 2 slot that we would like to bring to your attention is the Safari Stacks. When an entire reel features 3 identical symbols stacked vertically each other, a 3 of a kind prize will be given away. What the feature does is to have the matching symbols collapsed resulting in new symbols dropping down for even more chances to win. This bonus feature can be reactivated until there are no more triple atop matches.
Call of the Wild is yet another exciting feature of the Safari Sam 2 slot. The Compass is the Wild symbol and can substitute for all other symbols apart from the Scatter. So, if you manage to trigger this feature, up to 4 reels will be entirely covered by Compass Wilds.
Last but certainly not least, let us discuss the Free Spins feature. You will need to land at least three Scatter symbols. Here, the Acacia Tree is the Scatter. During the Free Spins round, each Free Spins will feature a Call of the Will. Additionally, during this round, new symbols which replace vertical Safari Stacks will be turned into Wilds.
Safari Sam 2 Slot Volatility
Court of Heart is a game of medium volatility. This means that the game is perfectly suited for both risk-takers and players with limited funds.
Recent News and Promotions about Safari Sam 2 Slot and other Red Tiger Slots
Our Conclusion on this Slot Review
Generally speaking, even though the Safari Sam 2 slot has not been yet released, we have really high expectations. The features of the game will make it pull ahead of the competition for sure as they are rather generous. What is more, the design of the game is once again amazing, something that is typical for BetSoft's products. Compared to the first release, Safari Sam 2 has 50 pay lines. We consider this to be an outstanding update. In terms of the payout rate, Safari Sam 2 pays up to 505x your stake. The game's hit frequency is 36.44% during the base game, which is decent. All in all, we do encourage you to at least place some bets on the game as soon as it enters the gambling world.
7+ More Hot Slots by BetSoft
Why is the Safari Sam 2 Slot So Popular?
Safari Sam 2 slot is an upcoming slot by BetSoft. The game revives the story of Safari Sam, however, the current version will be improved with greater symbols and more pay lines.
Can Safari Sam 2 SlotSlotTrigger Big Wins?
Safari Sam 2slot has a medium variance and an RTP of 96.30%. This means you are highly likely to land some massive winnings, especially taking into consideration to highest payout which is 505x your stake.
How Do You Get Free Spins on Fishin Frenzy Spin Boost?
You should at least 3 Scatter Symbols, Acacia Tree, in order to win some Free Spins.
Can You Play Fishin Frenzy Spin Boost With Bonus Money?
Yes, you are most likely allowed to play the Safari Sam 2 Slot with Bonus Money. However, make sure you familiarize yourself with the terms and conditions of your favourite online casino operator before trying the game out.
Can You Play Fishin Frenzy Spin Boost on Mobile?
Yes, Safari Sam 2 is completely mobile-friendly, meaning that you can play it on the go as long as you have a supported mobile device.
Play Now at Our Top Pick: Mr. Green Casino