Viking Runes Slot
Dive deep into the mysterious world of the vikings with Viking Runes Slot!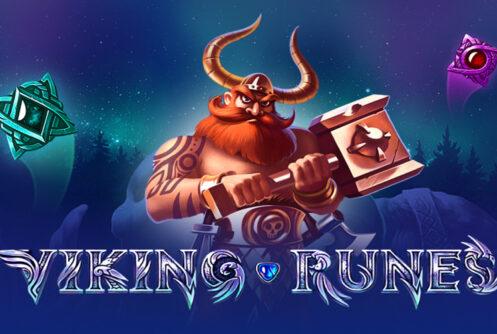 Our Opinion
Graphics & Gameplay - 94%
Review
Viking Runes Slot by TrueLab Games is here to introduce you limitless winning opportunities!
SLOT INFORMATION
Return to Player:

96.37 %
Volatility/Variance:

High
Progressive Slot:

Slot type:

Video Slot
Rows:

9
Reels:

Nine Reel Slot
Paylines:

cluster pays
Slot Layout:

9x9
SLOT FEATURES
Minimum Bet:

$0.40
Maximum Bet:

$40
Maximum Win:

$1,000,000.00
Bonus Buy Feature:




OTHER KEY FACTS
Date Launched:

16 december 2021
Jackpot:

Gamification:

Special Symbols:

Wilds

Wild Multipliers

Scatters

Wild Scatters
| What we liked | What we did not like that much |
| --- | --- |
| Amusing and enjoyable theme | Average visuals |
| Special Bonus Features | |
| Great 9x9 layout | |
Intro to the Viking Runes Slot
Released by TrueLabs on December 2021, Viking Runes is a massive 9×9 grid cluster pay slot game based on nordic mythology and the mighty Vikings. Match mysterious runes on a huge playing field to uncover hidden prizes! Utilize all the features you have at your disposal and you have a chance to take home wins of up to x25 000 times your stake!
Viking Runes Slot Online
Viking Runes will take you back to the time of Vikings! The art style is outstanding and its music will captivate you and keep you on your toes as you uncover the secret of mysterious runes from times long past. Other than its sheer scale which allows countless possibilities and endless combinations of runes to be unlocked, Viking Runes also has a lot of interesting features to try out, such as cluster pays, two different wilds symbols, cascading reels, runic shuffles, and much more!
Viking Runes Slot Return to Player – RTP – 96.19%
This slot has an RTP of 96.37% which is above average for the industry standard. The average win frequency is 31.8% on average, which means that you will get a win about once every three spins. The return to player rate on this slot is good for both casual gamblers and high rollers alike.
Gallery and Shots of Main Slot Features
What are Multiline Slots?
Multiline slots have become increasingly popular in recent years. By definition, multiline slots are ground-based or online slot games with more than one active payline. Viking Runes is special in the sense that it isn't a standard multiline slot, but instead, players win by forming clusters of 6 or more symbols.
Viking Runes Slot Review
Somewhat cartoonish, Viking Runes is a nordic-themed slot. What sets it apart from its competitors, however, is the huge 9×9 play grid. This visually pleasing slot is packed with features such as random multipliers, the Runic Shuffle, Viking sorcery, Spell of Ancestor, and more! Viking Rune is not your typical multiline slot game, but instead, players will need to form clusters of 6 or more rune symbols to make wins. Bets are placed by choosing the appropriate bet level which ranges from 1 which is a 0.4 EUR bet all the way up to 24 which is a 400 EUR bet.
Viking Runes Paytable
Most of the regular symbols in this slot are actual Norse runes used by the elder Vikings. Now, in order to play, you don't need to be a history major or even brush up on your runic alphabet skills for that matter. The game has a detailed table of their regular and special symbols you can check by clicking on the information button.
Viking Runes Symbols Explained
Excluding the 9 regular symbols, we have some more symbols which might need further explanation. To start off, we have 2 different wild symbols. The regular wild symbol substitutes all other symbols with the exception of the Lightning Wild. The 4 Lightning Wild symbols can be seen at all times on the right side of the playing field. Starting with the green one at the bottom, every winning cluster will send off a Lightning Wild symbol and land in a random spot across the reels. This symbol will remain in place for the duration of the cascade but is removed once the spin is officially resolved.
How To Play the Viking Runes Slot
This slot plays like other 9×9 grid slot games. Match 6 rune symbols to form cluster wins across all the available reels. Players are given plenty of features to play around with, with the Lightning Wilds being the main feature of the game. Bets are set by choosing a bet level, with the lowest bet being 0.4 EUR and the highest one 400 EUR. Even though this game's RTP is slightly above the industry standard, we recommend that players start off with the demo to get a feel for the game and learn all of its mechanics, then move onto small bets, slowly progressing into bigger ones with time.
Viking Runes Betting Strategy
The one-line betting strategy is a commonplace technique used on slots that have either one or adjustable paylines on which the player can isolate a single payline so as to maximize its output. While this is a fine strategy, it will not work on a slot game like Viking Runes. Instead, players can apply other commonplace strategies such as setting a daily, weekly, and monthly loss limit, using the autoplay option which can be customized to the players' liking, and gradually increasing bet size.
Our 100 Spins Challenge on Viking Runes
We at CasinoDaddy.com strive to review all slots games before we recommend them to our readers. This is why we spin the wheel of fortune a further 100 times on Viking Runes to show our readers what they can expect from this slot game. Be sure to check out our playthrough below:
Does Viking Runes Work on Mobile?
The creators of this slot have made sure it is just as easily accessible to mobile users as it is to those using their personal computers. Viking Runes was developed using HTML5 technology which makes it fully compatible with all mobile and computer devices.
Try the Free Play Mode
Players should always play the demo mode first when playing a new slots game for the first time. It is the ideal way to see what the game can offer you, to get a good feel for the volatility and the RTP percentages, and to learn all the various mechanics and symbols of the game.
How To Win at Viking Runes Slot
Winning on this slot is all about fully utilizing all of its different features and modes. The best opportunity for major wins comes from the multipliers in the free spins mode, which is granted by the Lightning Wilds and the cascades. The slot gives the players the opportunity to win up to 25 000 times their stake. The slot has a bit of an unusual paytable, so make sure you check out what each individual symbol means and learn all the available features of the game.
Bonus Features and Free Spins
Viking Runes is jam-packed with features, each one granting plenty of opportunities for major wins! The Cascading Reels feature is triggered each time 5 or more matching symbols land. This removes successful symbols from the grid and replaces them with new random symbols. This repeats each time a new winning cluster lands. Successful clusters also trigger the Lightning Wilds feature, which are the 4 runes always on display on the right side of the playing field. Starting with the yellow one and moving up from there, every time a Lightning Wilds is triggered it will fly off and land in a random position. This repeats until the spin is resolved.
Then we have the 3 modifiers which trigger at random intervals throughout the game. The first one is the Runic Shuffle. This feature shuffles all the symbols and guarantees a winning cluster. Then we have the Spell of Ancestor, which triggers at the end of a cascade. This feature transforms the lowest paying to the same higher-paying rune stone. The last modifier is the Viking Sorcery, which randomly adds between 3 and 9 wilds to the grid at the end of a successful cascading sequence.
The Bonus Round is triggered once the player lands at least 5 cascades in a row, granting them 6 free spins. This feature also grants the use of all 4 Lightning Wilds, which move to new random positions at the end of each spin. Free Spins can also be bought by clicking on the buy bonus button on the right side of the playing field and adjusting your bet level.
Viking Runes Slot Volatility
Even though it has an expected RTP of 96.37%, this slot is also highly volatile. Players can expect the biggest and most frequent hits utilizing the game's many features, however big hits in the base game on regular spins will be rare and far in between.
Recent News and Promotions about Viking Runes Slot and other TrueLab Slots
Our Conclusion on this Slot Review
Overall we believe that TrueLab has done a splendid job on Viking Runes. Not only does it bring a breath of fresh air with its 9×9 grid and great math model, but it also surprises with the volume of interesting features and its outstanding art and sound design. It is a great slot for new players and veterans alike.
More Hot Slots by Crazy Tooth Studio
4+ More Hot Slots by TrueLab Games
Frequently Asked Questions about the Viking Runes Slot
Can Viking Runes Slot trigger Big Wins?
Yes, it most certainly can! The max bet is 400 EUR, and players can take home up to x25 000 times their stake!
Why is the Viking Runes Slot so popular?
TrueLab have clearly drawn inspiration from similar Norse-themed slots, however with their own unique twist. The 9×9 grid and all the interesting features this slot has to offer have drawn plenty of players in, making this slot fairly popular.
How do you get Free Spins on Viking Runes Slot?
Every time the player successfully lands 5 or more cascades in a row, they are granted 6 free spins. This comes with a progressive multiplier. Also, players can purchase free spins from the buy bonus button.
Can you Play Viking Runes Slot with Bonus Money?
Some of the biggest casinos have included Viking Runes in their generous bonus money promotions. Check out which online casinos offer the most generous bonus packages on this page!
Why Іѕ Тhіѕ Ѕlоt Called Viking Runes ѕlot?
Nowadays the Norse theme is a popular one, and how could it not be? The ancient Vikings are thrilling, and their mysterious runes continue to mystify and excite us to this day!
Can you play Viking Runes Slot on Mobile?
Yes! Viking Runes was developed on HTML5 technology, which grants players the ability to enjoy their favorite slot games on both PCs, and on all of their mobile devices as well!
Play Now at Our Top Pick: